We got these pet items for free in exchange for an honest review we loved them all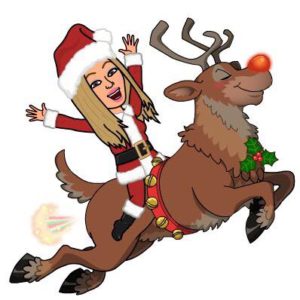 Looking for the perfect gift for your pet this year.  We have found some great gifts your furry friends will love
Side By Side Pet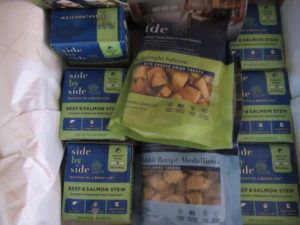 When the holidays come around, we are always thinking of what to get our furry friends.  Why not give them better nutrition that they will love?  Side by side has something your pets are going to love.  This one is a little different you don't just read the little paragraph they write and pick from that. See full review here 
Headlight Harness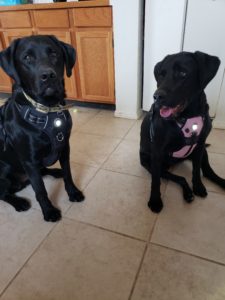 I can not tell you how much I love the Headlight Harness These are truly amazing for any dog owner.  As most of you know I have 2 black labs.  Going out at night is harder because if we are walking them there is no way anyone can see them.  One of our babies is my sons service dog so they are always together day or night.  Now We can have them with us and feel safer while Pokemon Hunting or just walking to the park.  These great Harnesses not only light up on the front, but they are highly reflective.  If you have a furry friend you bring with you everywhere make sure to have this one your list this year. See full review here
Kong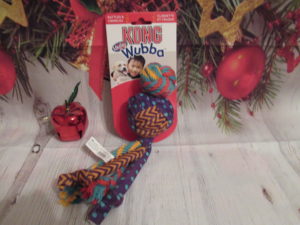 Kong has been a favorite for our puppies forever.  For years they have been my go to toy for our fuzzy friends and our family's friends.  the Kong Wubbs is perfect for my two monsters.  they love to play together and they have been playing tug of war with this for a week now.  I love that it can stand up to both of them most toys can't.
Precise Zen Clippers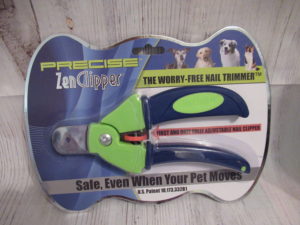 Do you always worry when you have to cut your pets nails?   Precise Zen Clippers is a must check out.  The are safe even if your pet moves.  They are the first and only filly adjustable nail clippers. My little ones are always on the move so its nice to find a pair I can use and keep their nails down. The Precise Zen Clippers are a must for active puppies.
Smart leash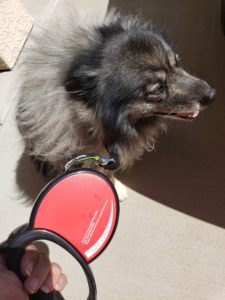 Waking with a new pet can be hard.  If they are not trained yet the smart leash is a must have.  It auto locks if they try to run making it easier to start their training. It is expandable so if they are being good they can go farther and check things out.  If they try and bolt it stops them right away.  Now with Kava (pictured above) this is not so much a problem she stays right next to you.  With my two little monsters on the other hand having a  little extra helps is always great.  When they see something they want they go for it and this stops them right away.
Bow WOW Labs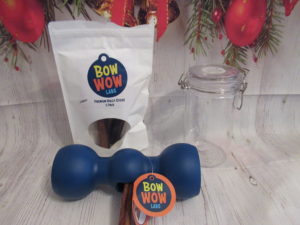 If your puppies are like mine they love bully sticks.  Yet when they get to the end its not so safe my babys will try and swallow it whole.  Now with Bow Wow labs I can safely give it to them and now worry about the little end part. They have bigger ones like this for our bigger dogs and smaller ones if your dog are smaller.  They help hold the end so they can not swallow it.  They also have some great bully sticks your pooch is going to love.  I know my dogs went nuts for them.
Venison Joes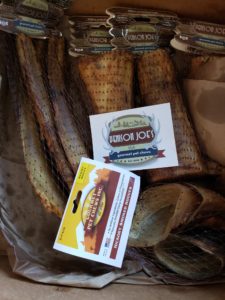 I am always on a look out for great goodies for my little ones that will last a little while.  They eat goodies so fast that sometimes it does not seem worth the money.  With Venison Joes I can give them a great goody they love at a great price and they are actually chewing on them for awhile.  They loved them all and were extra good just to get one.
Healthybud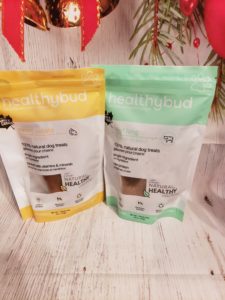 Treats are a must in my house.  I am always worried about what I am giving my baby's I want them to always have the best and the Healthybud are perfect for them.  They loved them and I know I am giving something that is good for them.  Healthybud provides tailored, purposeful nutrition for pets, while making pet care simpler for pet owners.
Oxyfresh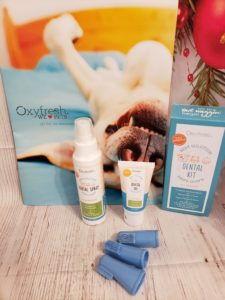 Do you know a pooch who's breath is just bad?  Did you know dogs need their teeth cleaned too?  Oxyfresh has the perfect gift for them. Our brand new Pet Dental Kit helps to Fight and Prevent Periodontal Disease (and bad breath). Gently brushing with our Pet Dental Gel Toothpaste works to combat gingivitis in dogs and cats without harsh enzymes, flavors or fragrances.
Saddle Box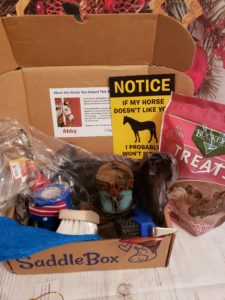 I love that there are awesome presents out there for all our pets.  Did you know there is a subscription box for Horses.  That's right every month you can get an awesome box filled with great stuff for your big friend.  Saddle Box is going to be huge in the horse world and you can start your horse loving friend on a subscription box now.   Even better you know I love a company that gives back All sales benefit horse rescue shelters, and U.S. shipping is free!.  Show your horse you love them every month and help a rescue.
Ooh La Lemon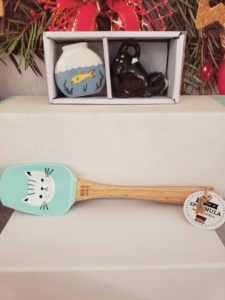 I struggled to decide, should I put this under gifts for her or gifts for pet lovers.  It really does fit into both.  I decided here because if you are already shopping for your best furry friend why not get a little something for yourself too.  Ooh La Lemon has a wide range of gifts and they are all adorable.  The cat salt and pepper shaker are perfect for any cat lovers kitchen they has some whimsical fun to any kitchen.  The Cats Meow Spoonula is too cute.  The cook and the cat lover will go nuts for both of these.  
Wag More Bark less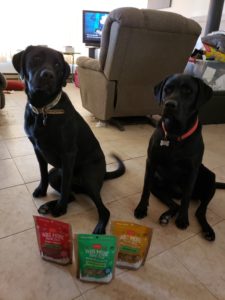 Goodies are always a perfect gift for your fuzzy friend.  My little ones went nuts for the Wag More Bark Less from Cloud Star .  With Mini Biscuits: Gingerbread and Honey Baked Ham and Mini Jerky: Turkey & Cranberry and Duck & Apple. How are your furry friends not going to love them?  These treats are also Grain free so no worries if their dogs have allergies.  We loved them
Tiki Cat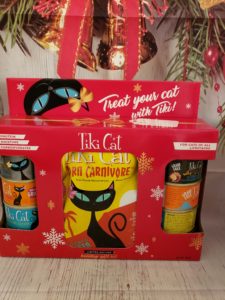 I know all the cat lovers I have ever meet go big for their furry friends for the holidays.  I think my cats stocking is bigger then mine. lol  Tiki Cat has a fantastic gift set you can buy that is ready to give.  This is a limited-edition holiday gift set only available in Petco from November 10 through December 26.  You want to make sure you get there in time their holiday sets sell out fast.  This set comes with caned cat food, chicken broth, salmon broth, stix chicken, and carnivore dry food. They are going to feel spoiled with this set
Dogswell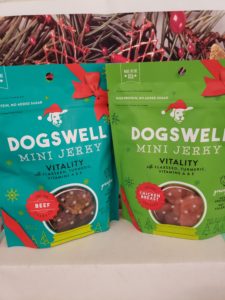 Treats that will give your dogs a little extra can always be a plus.  Dogswell has flavors like Turducken, Chicken and Beef.  These are made with 100% real meet. They also have special treats for Hip & Joint, Immunity & Defense , and Skin & Coat.  Make sure to check out their full like and be stocked up for the holidays.
Catnip Bath Wipes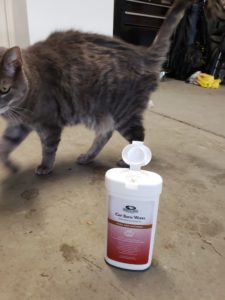 Whyte Gate has some great Catnip Bath Wipes.  We all know cats normally clean themselves.  If you have a cat like mine you know the mess they can be.  My cat is also 19 years old so he could care less if he is clean anymore.  These great wipes help me clean him and he seems to love the,  Maybe he likes that he is making me do all the work, maybe he loves the Catnip oil infused into them I have no idea lol. A great gift for cat moms! It reduces hairballs, dander, and allergens. Plus, the natural catnip oil leaves your cat happy and calm.
Stain and Odor Remover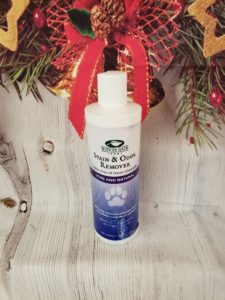 With 2 black labs and a 19 year old cat accidents happen.  They happen more then I would like to admit.  Having the Stain and Odor Remover on hand is a must.  Especially during the Holidays, when I have people over i want my house to smell fresh and clean not like the animals have run amuk. Enzymatic product works on urine, feces, vomit, blood, and other organic stains and odors.
Oatmeal & Organic Aloe Shampoo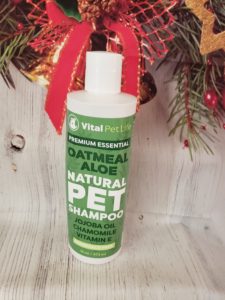 Bath time is always fun in our house.  When I finally do get them in the bath I don't need them to get a reaction from the shampoo.  My first angel had such sensitive skin and we learned it was from all the extras they put in dog shampoo.  The Oatmeal & Organic Aloe Shampoo is perfect for my babys.  It lathers fantastic and leaves them smelling clean and fantastic. Their shampoo does not contain any Sulfates, Parabens, or Isothiazolinones that are common in so many other pet care and human hygiene products. Perfect for the pet lover.
Vital Pet Life's Wild Salmon Oil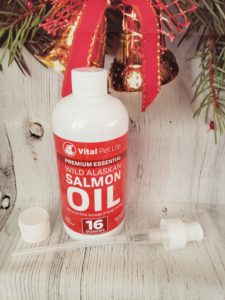 I had a friend who has the most beautiful back lab you have ever seen. Shhh she might be my baby's mama.  I asked him how she always has such a beautiful shinny coat and he told me his secret he add's Salmon oil to their food.  I started with my baby's and their coat is just like their mama's. Salmon oil helps your pet's skin and coat, helps itching, scratching, and allergies, and helps inflammation.
Charlee Bear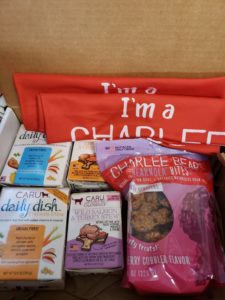 Are you looking for great food for your cats and dogs?  Then Charlee Bear is going to be a winner.  Kava is a very picky eater we have only found like 5 things she will eat and that includes goodies.  She has gone nuts for Charlee Bear especially the goodies.  If you are looking to fill their stockings this year then make sure to stock up they are going to love it.  The new Bearnola Bites from Charlee Bear are everything they're baked up to be, and perfectly sized for training or just for fun. They're crafted with real oats, honey and vanilla right here in the USA.  Tiger is always a picky eater and he loves the stew.  You can get so many great flavors from Caru Pet Food's Classic Stews for cats are slow cooked in small batches to look, smell and taste like homemade. Crafted to nourish both cats and kittens
On The Go Large Folding Pet Carrier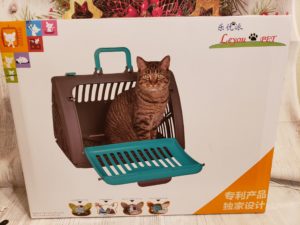 As most of you know I have a 19-year-old cat.  He does what he wants when he wants to, yet he has been with us so long he knows when the house starts getting packed up, we are moving.  What does this mean we must have a cat carrier out and ready for him the whole time of packing.  To him it tells him he is going with us and not to worry.  The problem is for years we have had this big bulky Cat Carries sitting around gathering dust.  Not we have a great On the Go Cat Carrier that's fold flat.  I can store in any bag and when its time to go I just take out pop up and he is happy as can be.  If you have a cat that travels with you then this is a must for your furry friend this year.
Heed Foods
Heed provides customers with one of their flavorful Human-Grade Toppers, which can also be purchased separately, providing your pup with three new and different flavor at every meal. Treat yourself and your pup with Freeze-Dried Probiotic Apple Treats in between meals keeping your pup happy and going throughout the day. Heed Foods keeps your pup healthy and longing for their next meal.