As we all know men are hard to buy for. We have a few new ideas that he is going to love. Why run out at the last moment when you can start your shopping today and get everything you need ahead of time.
Galen Leather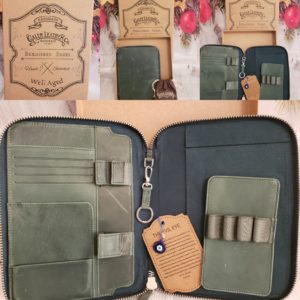 Men are so hard to buy for. Every once and awhile you see a product that you know is going to be a huge hit. Galen Leather has a huge selection to choose from. No matter what your man loves you are sure to find the perfect gift. We reviewed the LEATHER ZIPPERED RHODIA A5 NOTEBOOK & IPAD MINI FOLIO – CRAZY HORSE FOREST GREEN. Not only are these made to order they have room for everything he needs. the perfect way to store your everyday essentials for work, study or personal use. It has 4 credit card holders and a long pocket that keep your passport or your iPhone 6 / 7 / 8 . Under left side there is sleeve for storing your iPad device. This beautiful folio has removeble 4 slots pen holder ,extra 2 pen slots and a slot for charger , earphones or cable. And a removable keychain in the middle of the cover.
Happy Pop Socks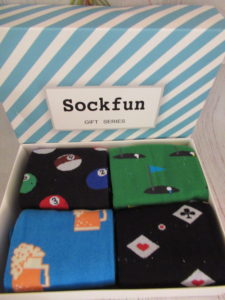 Happy pop Socks as a ton of cute and design socks for him. Hubby has to dress up for work now and he loves having some fun dress socks. They Sock Fun gift set is not only a fantastic price but the socks are comfortable. This set came with 4 different pairs Pool, Gold, Beer, and of course poker. These are the perfect gift for the guy who dresses up for work but still wants a little fun in his life. Maybe next year, I'll get him a more personalized gift. I always wanted to get those socks that allow you to PUT ANY FACE ON SOCKS; those seem fun.
Bic Made For You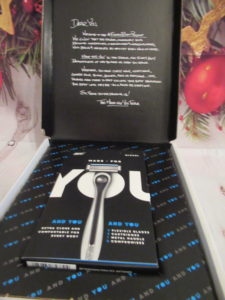 Every year we try and find a great new razor for hubby. Working in the business world means he has to be clean shaven every day. With the Bic Made For You its no problem with flexible blades, a metal handle, and 2 cartridges he is ready to go. Gender-neutral razor that includes two five-blade refills in the starter pack
GoFish Cam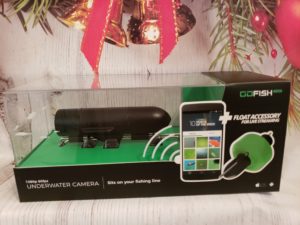 When I first saw the GoFish Cam I thought of like 10 guys I know that would go nuts for it. We are a huge fishing family and all our friends fish. This is so easy to use and you are going to get some epic pictures this fishing season. GoFish Cam captures all the underwater action in HD and makes for a far more vivid memory than a still image. Footage can also be easily shared on social media. (For anglers, it's also proof that the "big one" really did get away.
ThreadJar Socks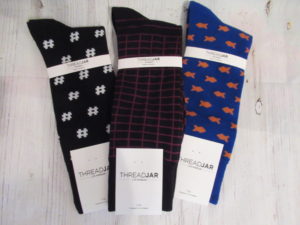 Socks in our family have to be fun they are part of your style. When you have to dress up all day its nice to have a little flair to your everyday outfit. ThreadJar socks are made up of 80% cotton and are hand-sewn at the toe for comfort. We only use the finest threads to ensure a long-lasting and colorful sock. This is a great sock Subscription service your man is going to love.
Epic Water Filters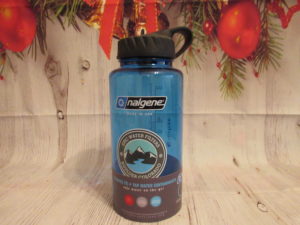 There is nothing worse then not being able to drink your water. With Epic Water Filters they have a whole line of water filters that will get your water ready to drink in home and on the go. Epic Water Filters has one of the best systems out there you will not be disappointed in their line. I love the bottles for your man on the go if he likes hiking, heading out into the woods, or just works hard and drinks a lot of water during the day he is going to love this
Kiss My Bass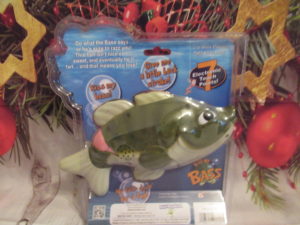 A fun game for the whole family to play that the man in your life is going to love. Kiss My Bass great game from Play Monster is sure to be a hit do what the bass says he will talk back to you, but if he farts that means you loose. Novelty gift! The talking fish includes batteries and features seven electronic touch points. For 2 or more players.
Decktool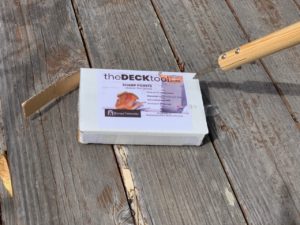 Do you have a man that is always bending over cleaning the deck. The Decktool is what he needs. he will get his work done in half the time and save his back in the process. It is available at theDECKtool.com for $19.95 with Free Shipping
Airplane Pocket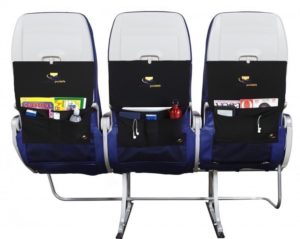 Now this one too is really a fantastic gift for anyone who travels. The Airplane Pocket easily slips on the tray table in front of you in the plane, so you can place everything you need in the pockets. Then when its time to get off the plane just remove your airplane pocket and you have everything you need in one place.
Space Pen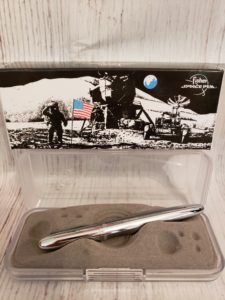 This unique pen can wright at any angle. Its compact and ready to use at any time. The Space Pen comes with it's own case. I love that they have a whole line of pens with different designs and collections. They have the perfect pen for the man in your life. Sleek and unique he will love it.
Cubii Jr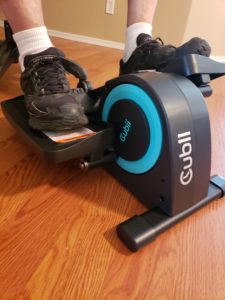 A lot of times we should be moving a lot more then we are. Of course work and life gets in the way now with the Cubii Jr you can get some movement in while you are working. The Cubii was very easy to set up and I was off and getting a workout while typing in no time. I love the different setting and that it was so easy to use. This is a must have for anyone that is stuck at a desk all day. Cubii Jr. is the original compact elliptical with a patented ergonomic design to fit easily into people's lives, allowing users get fit while they sit, so they feel healthier, happier, and more balanced.
Vont LED Lantern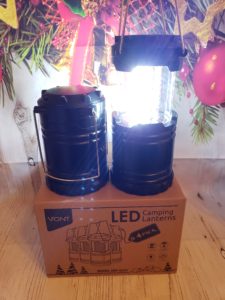 OMG the light that comes out of the Vont LED Lantern is awesome. I hate when we loose power i'm that crazy lady with a candle looking for a flashlight that I never find. These are perfect to keep around the house and just pull up to light up the room. They each take 3 AA batteries and you are ready to go. If you have a man that loves to go camping then these are a must have. They are compact yet give off great light. No need to be tripping in the dark any more. I would not only recommend these for your outdoors men but also get a few sets for the house.
Cobra Kai Season 1 and 2
Movies are always a great go to for holiday gifts in our house. I know a lot of men and woman that would love to have this great collection this holiday season. SEASONS 1 & 2 LIMITED COLLECTOR'S EDITION DVD AVAILABLE NOVEMBER 12 PACKED WITH BONUS FEATURES AND DOUBLE-SIDED HEADBAND COBRA KAI SEASON 2 ALSO COMING TO DIGITAL NOVEMBER 12 pre buy from
Walmart
Leatherhead Football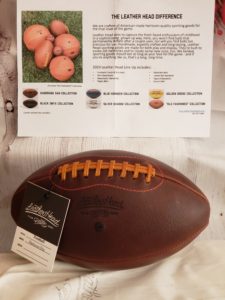 My boys love their Football. Its a must in our house and what can be better then a heirloom quality ball. They make a huge selection of balls your guy is going to love. You can even personalize your ball. Make the perfect gift for him. The quality of Leatherhead balls is amazing. Now some will buy this for a statement piece in their office for my boys they will be getting outside and playing with it. The memories they are going to make will be priceless. They have a few different skins you can choose from different colors and even have a Python Skin one. This is going to be an amazing gift.
AXE for Holiday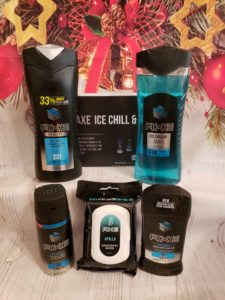 AXE is a fantastic gift for him this year. Give him the gift of smelling good. They have so many different scents you are sure to find the perfect scent for him. They have AXE On-the-Go Deodorant, Wipesand Ice Chill Pocket Sprays, AXE Apollo On-the-Go Deodorant Wipes, Body Wash, and 2 in 1 shampoo and conditioner. They have so many to pick from you can make a fantastic gift basket to give them this year.
No Stress Chess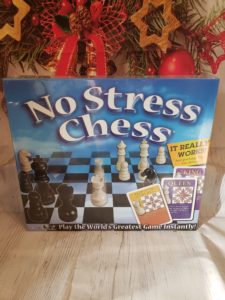 My hubby loves to play chess. There are not many people that can play with him. I just don't understand it. With No Stress Chess I can play with him and so can friends that come over. Unlike any other Chess teacher, No Stress Chess teaches you how to play using illustrated cards and an illustrated 2-sided board. A great gift for the man in you life that loves to play you can not play with him and learn while you go.
13 Dead End Drive
We love great board games in our house. 13 Dead End Drive is going to be a great holiday gift for the guys who love game night. Your goal is to be the last surviving heir and inherit Aunt Agatha's fortune. Which one of her motley crew of friends and employees will it be? This game is such a blast and you can play over and over with different results.
NBA's "DWade" Fashion Sock Line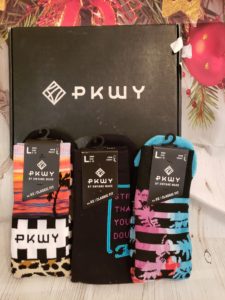 There is a running joke that every man gets his year supplies of socks and underwear during the holidays. In our family this is so true. That does not mean they have to get boring ones. For example did you know that you can now Put any face on boxer shorts? Last year I got my hubby a customized pair of boxer shorts with my face printed on them. His reaction on the big day was absolutely priceless. Socks are always a winning gift too. Why not spice up his sock collection this year? My hubby is known to always have fun and fashionable socks at work and the PKWY by Dwyane Wade sock collection is perfect for him. They have great designs and are so comfy that any man is going to love them. The socks are uber comfy and they offer quality at an affordable price. PKWY by Dwyane Wade is available nationwide in Target's men's department and online at PKWY.com.
Grease Monkey Wipes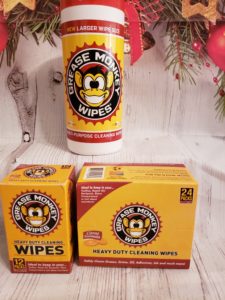 I don't know how but if there is grease to find your man will find it and go to your nice clean sink to scrub his hands. Now you can stock his stocking with some great Grease Monkey Wipes. They are perfect for any man and they really do work fantastic. Oil, grease, gunk … there's no telling where your hands are going to find themselves, and if there's no soap and water within reach, you end up just spreading the mess around. Grease Monkey Wipes tackle grease, grime, oil, road tar, adhesives and even permanent marker. The natural citrus formula cleans it all from hands, and even metal.
5-in-1 Golf Tool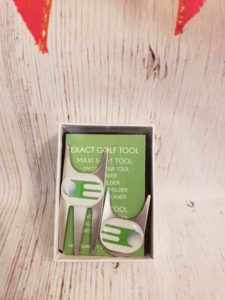 Do you have a golf lover in the family. Hubby loves to gold he would go every day if he could. Finding the perfect golf gift for him is hard. He already has a favorite Ball and clubs really are something they need to try out to buy. The 5-in-1 Golf Tool is perfect for his stocking. Everything he needs yet had no idea he needs it yet. The 5-in-1 Golf Tool fits right into your pocket and it's cigar holder, ball marker, groove cleaner, club holder and divot repair.
The Amazfit GTR Smartwatch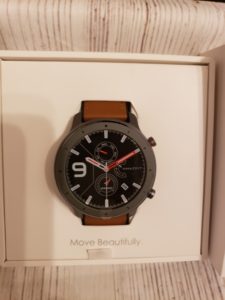 OMg I think I know about 20 guys that want a Smart Watch this holiday season. I love that the The Amazfit GTR Smartwatch is a stylish Smart Watch they will enjoy wearing. For people who doesn't like the geeky design of a regular smartwatch, Amazfit GTR is their choice! Launched in October, this new GTR smartwatch has a classic design with a touch of modern features. There are two different sizes, 47mm and 42mm, each size contains four different color schemes, making it a perfect gift for both men and women. Below are some features of GTR:
Shinesty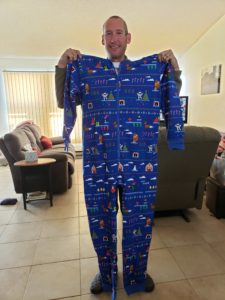 I have been a huge fan of Shinesty for over a year not. They have such a great collection that is going to make your holidays even brighter. I of course picked this out for me, but i realized I bought the wrong size and hubby was all over it. It now belongs to him lol. This year they have a great Christmas Pajamas Collection that the family is going to love. We love dressing up at the holidays and Shinesty has us covered.
Project Genius and AMIGO Games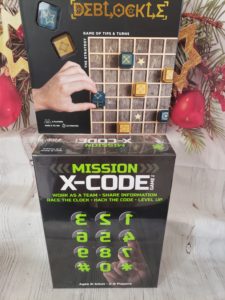 I love to give games that will keep their mind busy as me and the kids make a huge mess of Christmas morning. These are great games for the whole family. Make sure to check out some great games like X-Code and Deblockle they are going to make a great add to your game collection this year.
I got these awesome products free to test for the mens holiday guide all opinions are my own