We got Steven Universe The complete Collection Free In exchange for an honest review.  All opinions are our own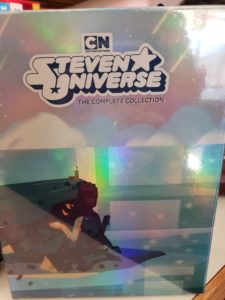 Do you have a Steven Universe Lover?  Then the complete collection is going to be a must have.  For years I keep all my sons favorite shows on the DVR.  When one would get accidently erased we would all be in trouble.  Then I started buying the complete collections and everyone was happy.  Little guy had his favorite whenever he wanted them and I got my DVR back.
Steven Universe is a great show for kids that always teaches them a lesson while they are having fun watching it. With 15 disks you are getting all the episodes to enjoy over and over again.
"The Crystal Gems are a team of magical beings who are the self-appointed guardians of the universe. Half-human, half-Gem hero Steven is the "little brother" of the group. The goofball is learning to save the world using the magical powers that come from his bellybutton and he goes on magical adventures with the rest of the Crystal Gems, even though he's not as powerful — or smart — as fellow group members Garnet, Amethyst and Pearl. Despite his shortcomings, Steven usually finds a surprising way to save the day."