YOU'LL HAVE BUTTERFLIES IN YOUR STOMACH WITH THE FEBRUARY LOOT CRATE!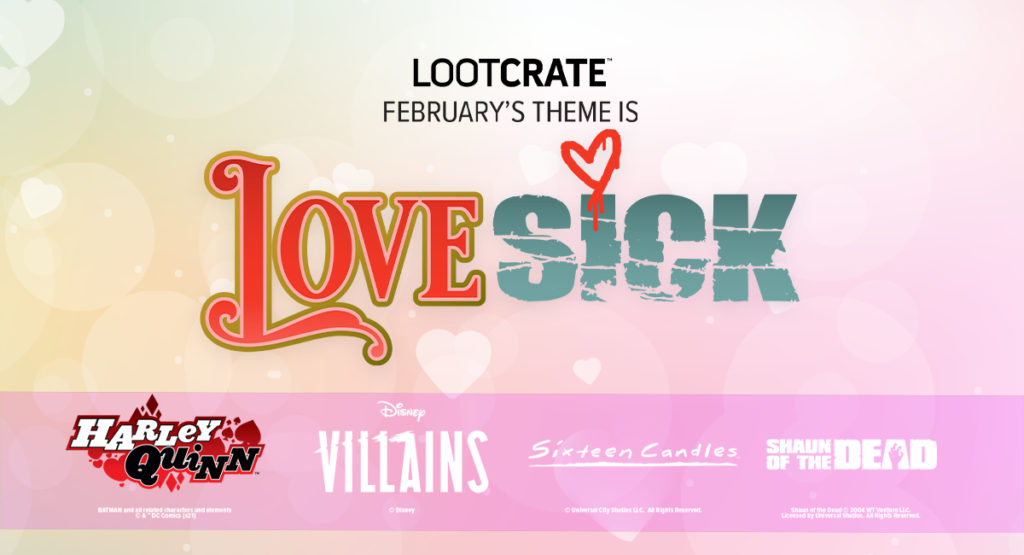 Loot Crate wants you to feel the love with their February themed "Lovesick" crate. Celebrate pop culture's lovesick heroes with collectibles and gear from Harley Quinn, Disney Villains, Shaun of the Dead, and Sixteen Candles! This crate is a lovefest filled with collectibles and goods you won't find anywhere else.
Our "Lovesick" crate will make your heart go a flutter with this exclusive Disney Villains T-Shirt. Pair it with your Harley Quinn Dad Hat and make everyone fall in love with your super sweet outfit. This month's crate also includes collectibles from Shaun of the Dead and Sixteen Candles.
There's even a Megatron or Cobra Commander Figure Premium Add On item available to order alongside your "Lovesick" crate.
Loot Crates start at $24.99 plus shipping and handling. Supplies are limited. Be sure to order by February 20 at 9:00pm PST!
Fall in love all over again when you subscribe to Loot Crate!
Artwork

About the Loot Company
The Loot Company™ is a leading subscription eCommerce service for fans of pop culture, video games, anime, and more. The Loot Company collaborates with global entertainment properties such as Disney/Pixar, Marvel, Fox, Viacom, Crunchyroll, and NBCU to help audiences discover their favorite products. With over 20 premium consumer product lines in themed and limited-edition crates, as well as crowdfunded Loot Launcher exclusives and limited-edition capsule collections, fandom is delivered directly to subscribers' doorsteps. Loot Crate was acquired by the Loot Company in 2019 and is supported by the heart of a diverse subscriber community affectionately known as Looters. The Loot Company is a wholly-owned subsidiary of Money Chest LLC, with sister brands including NECA, Kidrobot and WizKids. To sign up for a Loot Company subscription, visit www.lootcrate.com