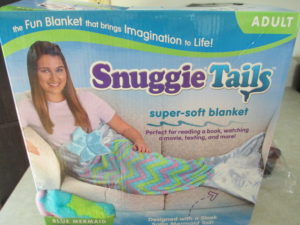 I was so excited to see the Snuggie Tails out.  Not only do they have them in kids sized but they even have the mermaid in my size.  My mom always told me she thought I was meant to be a mermaid.  I could spend all day in the water I could.  Now when the cold hits I have an adorable mermaid tail blanket to cuddle up in.  The colors on this are beautiful and the stitching was perfect.  There were no loose threads at all.  This is a perfect present for the mermaid in your life.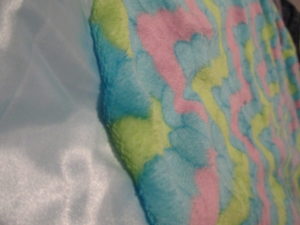 I love that they have different ones for the kids and a mermaid tail for you.  You can all be cuddly and warm this holiday season.  If a Mermaid not your little one's style, not to worry there are quite a few different designs to choose from.  You are sure to find the perfect one for your little one.
The Snuggie Tails are hands free so no trying to keep them up while you are cuddling you can also use them in the car.  If you are going on a road trip this holiday season your kids can have their cuddly snuggie tail and be nice and warm. Also, a little side note for our moms out there.  They are Machine washable so if they spill or you do just toss in the washing machine and you are ready to snuggle again.
The mermaid body is velvet soft material and a sleek satin makes up the tail.  This holiday season give them something cute and special.  Snuggie Tails makes a great gift for the whole family.  Everyone can cuddle up in their Tails and have a great family movie night.  They are at a great price and if you buy now you can make sure to have them in hand before the Holidays.
I got this free in exchange for an honest review
Don't forget to check out our full Holiday Gift Guide