We got the chance to try these great coffees and we love them.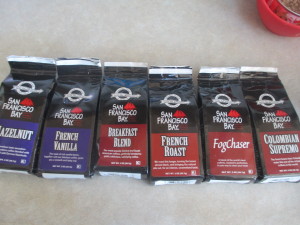 San Francisco Bay Coffee has been in business since 1979 and is one of the nations few remaining Family brewing coffee companies.  They have a ton of different coffees to choose from and even single brew cups.  For you pumpkin lovers out there as I am writing this they have their pumpkin coffee 20% off.  Stock up before they run out for the season. There 3 lbs bags of coffee are starting at just $19.99.
We got a few to try.
French Roast
Breakfast Blend
Colombia supremo
Fog Chaser
Hazel nut
French Vanilla
The Fog chaser was hubby favorite a nice smooth strong flavor.   The breakfast blend was fantastic a little lighter then the fog chaser and he said is perfect to dunk his morning donut in.  The French roast and the Colombia were a medium roast for him he likes them but he says he would go for the fog chaser first.  They were all wonderful coffees and even thought the fog chaser was his favorite he would be happy drinking any of these any these.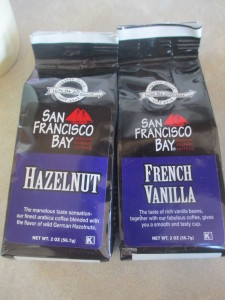 The Hazel nut and French Vanilla were very nice flavored coffees.  They had a slight flavor to them so they were not over whelming.  He had these as nighttime desert drinks and loved them.  He usually does not drink coffee at night but he said he could not resist.  One night he mixed in ice cream and the French vanilla and loved every sip.  They were all wonderful coffees and I cannot wit to try the single serve cups.  This is not only a great coffee company, but they ship fast and were very great to work with.
The San Francisco Bay Coffee Company makes some fantastic coffees that I would recommend to everyone.
To join them on facebook head here
To tweet with them head here
To buy your own head here.
I received one or more of the products mentioned above for free using Tomoson.com. Regardless, I only recommend products or services I use personally and believe will be good for my readers.