deVine Lip Shimmers
I love deVine Lip Shimmers.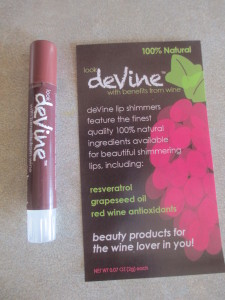 I got to try the lip shimmers in Cabernet.  deVine lip shimmers brings the magic of wine to your lips. deVine lip shimmers are 100% natural alcohol free, gluten free, cruelty free, pesticide and paraben free.  Your lips will be soft and ready for your night out, without all the chemicals.  They have come up with some great colors for our lip stick /wine lovers out there.
Bordeaux: deep black cherry gives you lips deep pink shimmer.
Cabernet:  Cooper-bronze look with fruit appeal
Champagne: light creamy shimmer with a hint of strawberry.
Chardonnay: creamy un tinted balm with light shimmer and a hint of vanilla.
Merlot:  Deep red berries with a smooth shimmer
Rose: Soft pink with a light fruit finish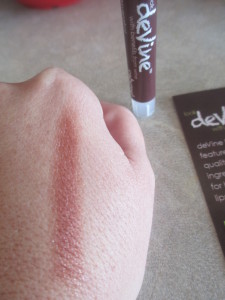 As you all know I am a lip stick/ lip gloss lover.  I never leave the house without them.   When trying a new one my first thing I think about is the color of them.  This one has a fantastic color that did not go on to dark it was just the right amount.  The second thing I think about is, is it sticky this one was not sticky at all.  It went on nice and smooth and left my lips feeling soft.  I have to be honest one thing that I do love is that this is a smaller packaging which means when I put in my jean pockets you cannot even tell its in their I don't have that weird looking bulge in my pockets.  I know a weird thing to love but I always feel a little off when I have that bulge in the pocket.  They have truly come up with a one of a kind product that give you great color and feel great on your lips.  You can get your own for $4.50 using the link below.
Also keep an eye out for a cyber Monday sale woo hooo.
I would recommend this product to everyone.
To join them on facebook head here
To tweet with them head here
To buy your own head here
To see more tabbys pantry reviews head here
I received one or more of the products mentioned above for free using Tomoson.com. Regardless, I only recommend products or services I use personally and believe will be good for my readers.