Your bedroom is supposed to be your haven. It's the place for you to get away from it all and rest your weary head. But, if you're stuck in an outdated room with uninspiring furniture, it might be causing more stress than you need. Perhaps you've decided a remodel is in order. Yet, your funds are tight. Well, the good news is remodeling your bedroom does not have to be complicated. It can be as simple as new furniture or new paint, or discovering new furniture through a quick search online to stores similar to Antiques World. If you are interested in getting some new furniture then it might be a good idea to check out a company like furniture in fashion. Here are some simple tips for remodeling your bedroom on a budget.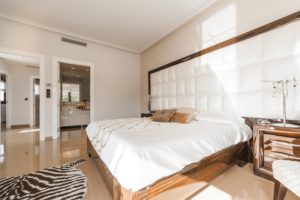 Plan your bedroom remodel
If you are on a budget, the most important step is the planning stage. You can't just walk into a furniture store and pick out whatever you want. So, before any shopping is done–decide what your room needs to accomplish. Is it a guest bedroom? Does your entire family congregate in the room? Is it a master bedroom?
Once you have decided what you need, it is time to think about the pieces you need to update the most. Is your bed sinking into the floor? Could your walls use new paint? Is your bedding a bit worse for wear? Is any of your furniture falling apart? Can anything be repaired with elbow grease, or will new items need to be bought? Might you even want professional installation and upgrades from the likes of a Pella-Certified Contractor for example? Some items normally included in a bedroom remodel:
Replacing windows

Repainting or wallpapering walls

Updating the closet

Changing light fixtures

Replacing flooring

Replacing the bed

Updating furniture or furnishings
In general, the average minor bedroom remodel can cost anywhere from several hundred dollars to over $9,000. How much can you comfortably afford to spend? If you have a budget of several hundred dollars, then you have to focus on discount stores and DIY. You probably won't have the funds to hire a professional. On the other hand, if you know someone with design experience you could ask them for some free advice. Since it also will include a lot of DIY, you must figure out how much time you can commit to doing the project yourself.
Repaint
One of the least expensive and easiest ways to remodel your bedroom on a budget is with a new coat of paint. A new color can add life to your room. If you've lived with boring off-white, perhaps try a seafoam green or turquoise blue. The thing about paint is when you tire of it, you can always paint over it with a new color. The most important aspect is figuring out how the colors make you feel. Which colors are relaxing for you? On the other hand, would you like a room that's more intimate? If so, you might go with a red. Don't forget your ceiling and moldings–you can paint those too.
DIY
You don't have to get a whole new bedroom set to freshen up your bedroom. You can always buy used, second-hand furniture at yard sales, Goodwill and places such as the Salvation Army. Don't worry about the finishes, since you can always repaint and re-stain these items yourself. Even knobs and handles can be replaced with new pieces. Think of how much you would spend on a one-of-a-kind piece of furniture. The cost can go upwards into the thousands. When you add your personal touch to used furnishings, you can be sure it will be interesting and no one else will have the same piece.
Look for great art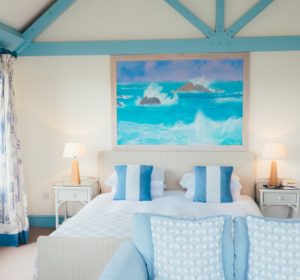 Do you have any art hanging up in your bedroom? Many people don't, and adding art can immediately change the look and feel of any room. Of course, you want to pick a piece that is meaningful to you. The good news is you don't have to spend a lot of money. If you need extra cash, check out these seven ways to save money this week.
Flea markets are a great place to get pieces of art on a budget. You can also shop on Etsy, which sells handmade items from artists throughout the world. You might even visit an art school. Another option is to create something yourself. Take a painting class or attend a paint and drink class–you might find you're quite talented. Just buy a blank canvas and write your favorite quote in nice, cursive writing.
Change your headboard
Maybe it's time to liven up your bed with a new headboard. You don't even have to buy something new. In fact, you can sand down and repaint an old door for a headboard with character to spare. You can also cover your old headboard in fabric and quilt batting. You might even use old mirrors to create a new headboard. Once you start working on your piece, you'll find it's not as difficult as you think.
Accessorize on a budget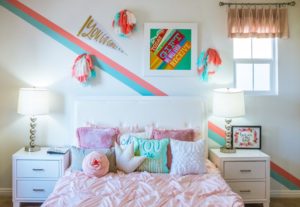 The smallest items can add a magical touch. Cover old lamp shades with inexpensive silk scarves. Turn old, wooden luggage pieces into a side table. Use a vintage dining seat as a side chair. Store your jewelry in a ceramic pot. Place flowers in a mason jar. The possibilities are endless.
Remodeling your bedroom does not have to cost an arm and a leg. You can start with one piece and continue as your budget allows. Plus, DIY is fun and repainting really will change its look in an instant. Before you start remodeling your bedroom, consider having a service similar to Tampa Pest Control just in case you encounter some pests you didn't expect to find in your home when you're moving your room around.
Bio: Katrina Manning has been a freelance business and lifestyle writer for the past 10 years. Currently contributing valuable articles for a full-service construction company Tex Con Construction. She enjoys the learning process most and focuses on writing from experience. In her free time, she plays with her male ginger cat, browses IG, tries new restaurants and volunteers at a homeless shelter.
Photos from Unsplash