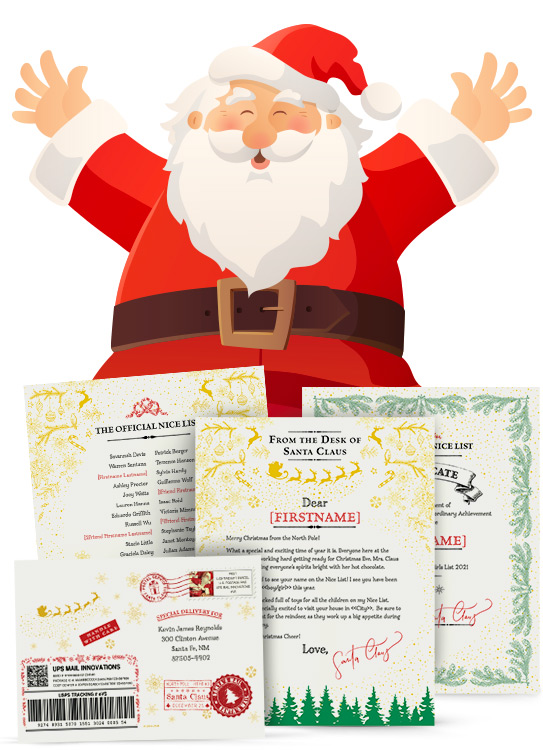 A few years ago we worked with Santa Letters from the North Pole and we loved them.   For us it took years for my son to accept Santa once he did it was on.  One thing he asked for was a letter from Santa to him.  We found Santa Letters from the North Pole and we were hooked.  I loved that they are personalized.  They are not just printed for everyone it made it so much more special for our little guy. They are sent from our address in North Pole, Alaska.
How cool is this idea I know when I was a kid I would have gone crazy for a letter from Santa.  I would have also noticed where it was sent from. lol
What is included in my purchase?
In every letter package from Santa Your child will receive their
personalized official letter from Santa,
a special map showing the route Santa will take from the North Pole to their home,
an official copy showing their name, as well as the name of a friend ( must fill out on form) on Santa's Nice list and a special Nice List Certificate, for the child to proudly display.
All sent in a decorative Santa envelope mailed directly from the North Pole.
After you order your packages for your kids they also have other packages you can order for Christmas Eve, and Santas Gold package.  They are so cute and they are affordable.  This is the perfect gift for any kid.
Gold Christmas Package,
Includes everything above as well as a door hanger with a special message for Santa, window sticker to proudly display for Santa, a magical mix of reindeer food made by Mrs. Claus herself and a package of magic snow which makes you feel like you are in the North Pole.
Christmas Eve Package
Comes with a collectible plate and mug for your child or grandchild to leave cookies and milk on Christmas Eve, along with a magical bell right from Santa's suit.
I also loved that they give back.  You all know I love when a company thinks about others. 10% of all profits from SantaLetters.org  goes to Toys for Tots!!