We got Norm of the North: Family Vacation free in exchange for an honest review. All opinions are my own.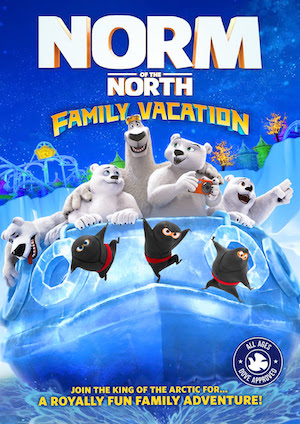 Norm is back in a new adventure. Norm of the North: Family Vacation arrives on Digital, DVD, and On Demand Feburary 25 from Lionsgate.   Norm now thinks his great adventures are over now that he is king.  He struggles to find his right place in this new world when his crown goes missing and he once again had to go on an adventure to find it.
OFFICIAL SYNOPSIS
Overwhelmed by his Kingly duties, Norm struggles to make time for both his kingdom and his family. But when his crown is mysteriously stolen in the dead of the night, Norm must embark on an epic journey — disguised as a family vacation. Norm sets out to track down the thief and find his crown, and learns the valuable lesson that by working together as a family, nothing is impossible.
CAST
Andy Toth                   TV's "My Little Pony: Equestria Girls Specials," G.I. Joe: Valor vs. Venom
Brian Drummond        TV's "Hot Wheels Highway 35 World Race," "Death Note"
Cole Howard               TV's "Gintama," "Dragon Ball Z Kai"
James Higuchi            Santa Baby, TV's "Sabrina: Secrets of a Teenage Witch"
Jennifer Cameron       TV's "Gintama," Thimbleweed Park
Jonathan Holmes        Hulk Vs., TV's "Stargate SG-1"
Lee Tockar                  My Little Pony: Equestria Girls, TV's "Slugterra"
Lisa Durupt                 Shall We Dance?, TV's "Psych"
Paul Dobson               TV's "ReBoot," "Inuyasha"