We got Arctic Dogs free in exchange for an honest review. All opinions are my own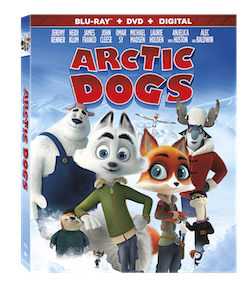 What happens when Swifty the arctic fox discovers an evil plane to melt the Arctic.  He of course puts together a group of group of unlikely heros to help save the Arctic and their home.  This is a great adventure of some unlikely friends that have a lot to overcome to save the Arctic from melting and catch the bad guy.  This was such a fun movie I have to admit this review is late because I did not know it showed up.  My son saw it went nuts and has been watching it in his room over and over.  You know its a fantastic movie when they watch it over and over and still want to watch it again with you.
It's time to run with the big dogs when Arctic Dogs arrives on Digital January 28 and and Blu-ray™ Combo Pack (plus DVD and Digital), DVD, and On Demand February 4 from Lionsgate.
OFFICIAL SYNOPSIS
Arctic Dogs follows the hilarious misadventures of Swifty the Arctic Fox (Jeremy Renner), who stumbles upon a dark scheme by the villainous Otto Von Walrus (John Cleese) to melt the Arctic. To stop this sinister plot, Swifty enlists the help of his ragtag group of friends: PB (Alec Baldwin), a neurotic polar bear; Lemmy (James Franco), a scatterbrained albatross; Jade Fox (Heidi Klum), a brainy engineer; Leopold (Omar Sy) and Bertha (Klum), two conspiracy theorist otters; and Magda (Anjelica Huston), his grouchy boss.