Miraculous™: Tales of Ladybug & Cat Noir: It's Ladybug!
                                                         In Stores April 11, 2017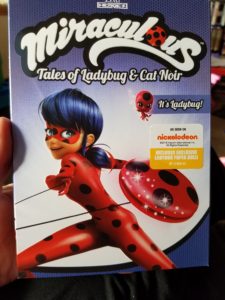 This could not have showed up at a better time.  My sons Other Miraculous DVD is now so worn out.  We love this show and enjoy watching it together.  The charters are cute and entertaining.
Los Angeles, California – The most Miraculous adventures of Ladybug and Cat Noir continue! Paris' favorite crime-fighting duo return in a new volume of the action-adventure, romantic comedy that will have you on the edge of your seat.
The action-packed CGI animated TV series Miraculous™: Tales of Ladybug & Cat Noir: It's Ladybug! will be available on DVD April 11, 2017, from Shout! Kids, in collaboration with ZAG. This release includes six amazing episodes on DVD and a Ladybug paper doll, while supplies last.
When Paris is threatened by super villains, two amazing heroes are our only hope: Ladybug and Cat Noir! With the help of their magical kwamis, this incredible duo team up to outwit the forces of evil… but their biggest challenge might be getting through school. In their normal lives, Marinette and Adrien are just a pair of young students, but in reality, this terrific twosome must juggle schoolwork, friends, family and growing up in a world where every day is a high-flying adventure!
A top TV show, Miraculous™ is quickly becoming a worldwide phenomenon. It's Ladybug! is available now for pre-order on Amazon.com and Shout Kids.
Miraculous™: Tales of Ladybug & Cat Noir: It's Ladybug! episodes include:
Princess Fragrance
Gamer
Reflekta
The Puppeteer
Antibug
Volpina
I got this free in exchange for an honest review. Want even better news.  One lucky US winner will get their very own copy.  Enter below for your chance to win.