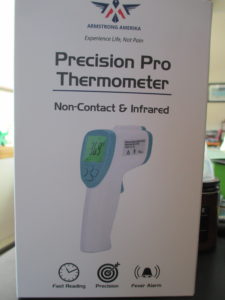 In our family when the little guy gets sick he gets a bad temperature. He can get up to 105 at times and we have to keep an eye on him all night and all day. I hate when he finally falls asleep and I have to take his temp, I always wake him up. We often use stick on fever indicators so that we don't have to wake him up but it looks like we've left it at Grandma's! We've been using out back up thermometer but it means waking up a very tired and exhausted baby and then it's hours of crying and cuddling just to get him back to sleep. With his temp, I can't just leave him and not check him. So, when I got the chance to try the non-contact & Infrared Thermometer I was so excited.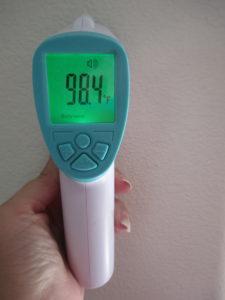 Now all I have to do is point and click and I get a temp reading on my little guy without waking him up. It gives a very fast reading and even has a fever alarm so if you are half asleep and doing it no worries about mistakes. This thermometer will also give you milk temp, water temp, and ambient temp. It took me awhile to learn how to change the settings from c to f but once I got it I was on a roll.
My son also has a blast checking out the temps of other stuff in the house and the cat and dogs. This is so easy to use even he can use it. If you are looking for a great way to not only check your sleeping baby's temp but also other products around the house this is a must have. I have tried it out on a ton of stuff and it has always worked. I am very impressed with this one. This also came with a travel bag. I can just stick it in the bag in my night stand and have it handy any time I need it.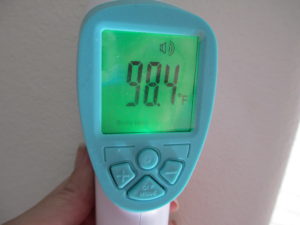 #kidsthermometer #babythermometer #armstrongamerika
I got this free to try in exchange for an honest review.