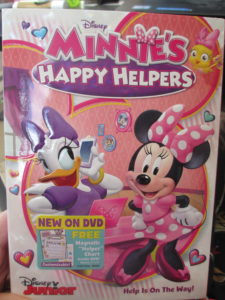 When Disney Junior comes out with a new DVD we must have it.  Minnie Mouse is one of my nephew's favorite.  He can watch her all day long.  So, this DVD is not only perfect for when he is not feeling well but also when we travel.  Just pop it in and he is as happy as can be.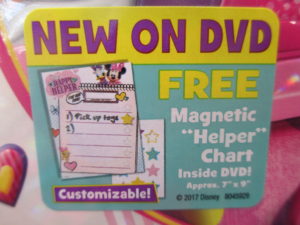 This DVD has 6 episodes and even a bonus episode.  It also comes with a magnetic "helper" chart your kids will have their very own chart to keep track of how they have helped you.  If you have a Disney lover in the house Minnie's Happy Helpers is a must have.  I love that it is a great cartoon that also teaches them how to help others.
Minnie and Daisy are here to tackle adventures big and small! MINNIE'S HAPPY HELPERS will be making its Disney DVD debut on July 25th, and you won't want to miss these best friends in action! The Happy Helpers make friendship fun; going around town helping their loved ones with a song and smile. From antics like babysitting an egg about to hatch to planning the perfect party, MINNIE'S HAPPY HELPERS is an entertaining tale fueled by friendship, fun, and going the extra mile!
Join Minnie and Daisy as They Run Their Own Temp Agency
Helping Friends and Neighbors!
MINNIE'S HAPPY HELPERS
Bring Home the Adventures on Disney DVD July 25th
Includes a FREE Exclusive Customizable Happy Helpers Chart!
Synopsis: The Happy Helpers are on their way!
When Minnie and Daisy aren't racing around Hot Dog Hills, they're helping their friends with fun, odd jobs as TheHappy Helpers. And no task is too big or too small for them to tackle! With a quick spin in their Turn-Styler, theHappy Helpers are ready for anything that comes their way. Whether they're babysitting an egg that's about to hatch, planning the perfect luau for a client, or fixing London's Big Ben just in time for tea, Minnie and Daisy are ready to go the extra mile, with a song and a smile!
Voice Cast: Russi Taylor as Minnie Mouse; Tress MacNeille as Daisy Duck; Bret Iwan as Mickey Mouse; Daniel Ross as Donald Duck; April Winchell as Clarabelle Cow; Jim Cummings as Pete; and Bill Farmer as Goofy.
Executive Producer: Rob LaDuca
Co-Executive Producer and Supervising Story Editor: Mark Seidenberg
Episodes:         Egg-Xasperating!
                        Happy Hula Helpers!
Tea Time Trouble!
Happy Birthday Helpers!
Bed, Breakfast and Bungled!
Gone Fishin'!
Bonus Episode: Teed Off!
I got this free in exchange for an honest review