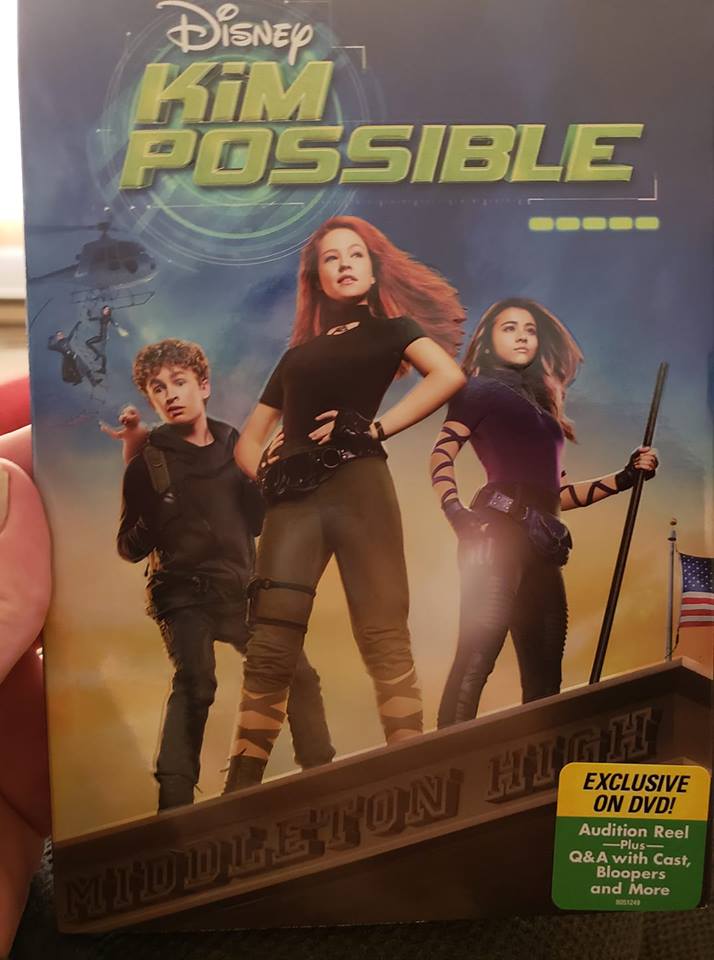 Did you know we have a new Disney Channel's Live-Action Kim Possible?  I don't know what could be better.  I watched  Kim Possible a lot when i was younger now I am seeing it come to life on my T.V.    The start of this movie starts with a bang.  You jump right into it so pay attention.  Have the popcorn ready you are not going to want to be running around. 
Kim's first day of High School does not go as planned.  She has planned everything for the next month.  From the second she heads to the bus something is against her.  I guess it is true nothing ever goes as planned. Now I have to say it might just be that I do not trust anyone , but when Athena showed up I did not trust her.  Was I right?  You will have to watch to find out.
I have to say I love that I know so many of the actors in this movie.  It made the movie so much more fun seeing actors I already love staring in a show I already love.  They are just how i pictures their real life characters would look like.
Based on the global hit animated series, the live-action "Kim Possible" Disney Channel Original Movie follows everyday teen hero Kim Possible and best friend and sidekick Ron Stoppable as they embark on their freshman year of high school, all while saving the world from evil villains. By their side every step of the way is teen tech-genius Wade and new friend Athena, who also happens to be a Kim Possible super fan and is eager to join Team Possible. While Kim and Ron have always been one step ahead of their opponents, navigating the social hierarchy of high school is more challenging than the action-hero ever imagined. With Drakken and Shego lurking in the wings, Kim must rely on her family and friends more than ever. Now it's up to Team Possible—Kim, Ron, tech-genius Wade, new friend Athena and Rufus, a naked mole-rat that Ron meets along the way—to stop these super villains.
Cast:                                     Sean Giambrone as Ron Stoppable, Ciara Wilson as Athena, Todd Stashwick as Drakken, Taylor Ortega as Shego, Alyson Hannigan as Dr. Ann Possible, Connie Ray as Nana Possible, Issac Ryan Brown as Wade Load,Erika Tham as Bonnie Rockwaller and Nancy Cartwright as Rufus. Special appearances by
Christy Carlson Romano and Patton Oswalt.
Directors:                     Adam Stein & Zach Lipovsky
Executive Producers:      Bob Schooley, Mark McCorkle, Zanne Devine
Bonus Features:               Blooper Reel (DVD exclusive)
                                                Q&A with Sadie Stanley and Sean Giambrone (DVD exclusive)
                                                Cast Auditions (DVD exclusive)
                                                                -Sadie Stanley
                                                                -Sean Giambrone
                                                                -Issac Ryan Brown
                                                Music Video
                                                Trailer
Release Date:                    March 26, 2019