Have you checked out Adore Box yet?  I get so excited when this shows up every month.  I get to discover new great beauty products every month for one low price.  Normally for the price of one item I get 5 products.  A lot of them are full size and a few trial sizes to try out.  I love that I am not paying big prices to find products that I will love.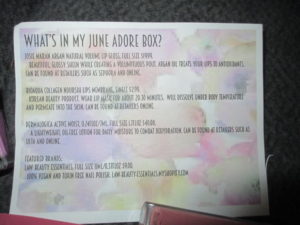 In this month's box, I got a beautiful Josie Maran Argan Natural Lip gloss.  It had a beautiful color and went on smoothly.  I loved that it was not sticky at all.  This one is definitely a keeper.  I also go to try the Bioaque Collagen Nourish Lips Membrane.  I had been dying to try these for a while now.  I know for a lot of us besides lip gloss or chap stick we all forget to take care of our lips.
  That's not all there was more in the box the Dermalogica Active Moist it was a great light weight moisturizer.  It went on smoothly and soaked right into my skin.  I also got a great color of nail polish from Law beauty Essentials.  This box was fantastic and I really did love everything I got to try.
  If you are looking for a great beauty box every month that will not break the bank Adore Box is a must.
  I got this free to try in exchange for an honest review.