We all know My Little Pony is a great cartoon for our little ones.  I love that they are not only cute but each show teaches our kids a lesson.  My son is not always the best at making friends it's not that he is mean to anyone, but he is one of those kids that is ok just sitting by himself.  I love that these episodes not only were cute but also helped give him a few tips that were useful in making friends at school and how to keep them.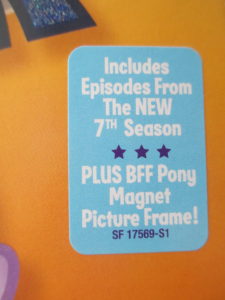 MY LITTLE PONY – FRIENDSHIP IS MAGIC:
TWILIGHT AND STARLIGHT
COMING TO DVD May 30, 2017
Los Angeles, CA –Everypony knows the best gift is the gift of friendship! My Little Pony – Friendship Is Magic: Twilight and Starlightis coming to DVD on May 30 in the U.S. and Canada from Shout! Kids in collaboration with Hasbro Studios. 
Now that she's fully reformed, Starlight Glimmer still has a lot to learn about friendship.  And who better to teach her all about friendship than the studious pony who once had to learn the valuable lesson herself: Twilight Sparkle? Join Twilight and her best friends — Spike, Pinkie Pie, Applejack, Rainbow Dash, Rarity and Fluttershy — as they embark on the quest to give Starlight the most powerful magic of all… friendship.
My Little Pony – Friendship Is Magic: Twilight and Starlight carries a suggested list price of $14.98 and is now available for pre-order atamazon.com, amazon.ca, and shoutkids.com.
Episodes Include:
No Second Prances
To Where and Back Again, Part 1
To Where and Back Again, Part 2
Celestial Advice
All Bottled Up
Bonus Feature:
Sing-Along
I got this free in exchange for an honest review