We got these fantastic gifs for free in exchange for an honest review.  This post may contain affiliate links.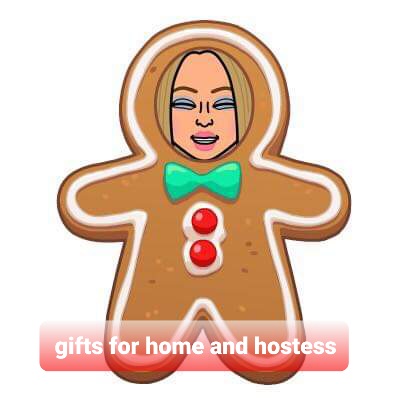 Looking for the best gifts for the Hostess or home this year.  We have found a ton that they will love.  We have always been told when you are invited to a party to make sure to never show up empty handed.  The Hostesses go threw so much work to make it a great night for their guests a little gift for them can show you appreciate  the effort they went threw.
Kuma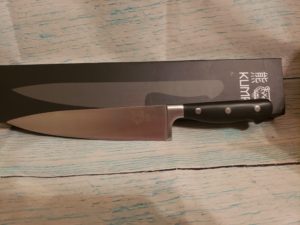 I al always looking for an awesome Knife.  Chopping if the worst part for me when i am cooking because my knifes are always dull.  The Kuma sliced threw everything like butter and I am in love.  Every house should have this knife in their set.  This Knife is sharp right out of the box ready to use.  BEST KNIFE FOR YOUR MONEY: A truly amazing knife should be attainable for everyone. Our 3Cr13 steel is a key material that allows us to create high quality knives that are affordable to all households.
Harney & Sons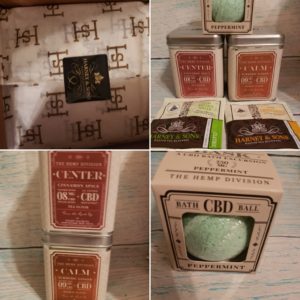 I have been a huge fan of their tea for years.  I love relaxing at night with a great cup of tea and they have never been anything but awesome.  They have a wide range of teas and even have some other awesome gifts for the hostess like the bath balls.   If you are looking for a great gift to give yourself or the hostess how about a nice tea they come in there awesome tins that will also be a great add to any gift basket you make this season.
Blue City Toffee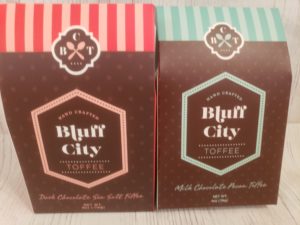 I know one of the best gifts I get from people is some great treats.  I know I bake all day normally , but let's be honest sometimes its awesome to have a fantastic treat that I can just enjoy and not have to cook or clean up after.  I love toffee and Blue City Toffee makes some fantastic flavors and I fell in love at first bite.   When you head over to the party this year be pre-paired and pre but this year.  The hostess is going to love this gift.  Let her hide it and not share so when the evening is over she can relax and enjoy your present. Bluff City Toffee (www.bluffcitytoffee.com) a dessert company rooted in Memphis traditions.  Our desserts are hand-crafted, gluten-free, and made using locally-sourced ingredients.
Moonlight Meadery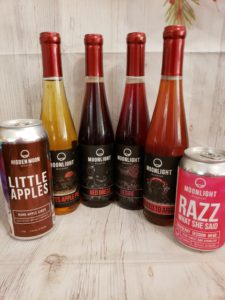 If you have not heard of them yet they are a must.  I love that they are low lower in alcohol but still have the alcohol.  So you can have a few more drinks and not worry about getting to drunk.  Moonlight Meadery has great flavors and any of them would make a great hostess gift. They have over 100 varieties of mead (wine made from honey); barrel aged ciders and beer. They ferment from certified organic honey from Brazil and their meads and ciders are gluten free.
BUSHWICK KITCHEN GIFT KITS ($39.99 – $49.99)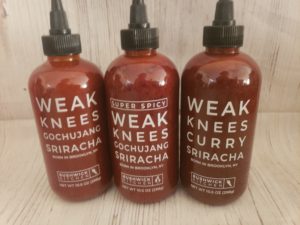 Give the gift of flavor with Bushwick Kitchen's signature gift kits including the Bees Knees Honey Trio ($49.99), Weak Knees Maple Trio ($49.99) and Weak Knees Sriracha Trio ($39.99). Bushwick Kitchen serves up finger-licking, flavor-addicting sauces and condiments for every kitchen creative and foodie looking to elevate their meals or share a unique culinary gift with friends and family. The bespoke line of honeys, maple syrups and sriracha provide a unique flare to kitchen staples by infusing them with hand-picked, flavor-packed ingredients like gochujang chili paste to revamp ordinary taste to make extraordinary pairings. Starting with strategically sourced, pure ingredients, every bottle of deliciousness is infused, mixed, packaged, and shipped from the Northeastern Region in the U.S.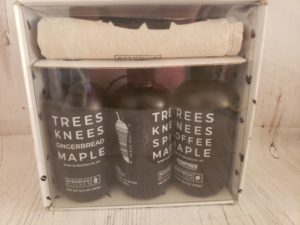 This collection is perfect for the foodie sin your life.   Bring them the gift of some great new flavors they are going to fall in love with these collections and they make a great gift at a pot luck party. Full product menu is available at BushwickKitchen.com with retailers including Walmart, Amazon, Sur La Table, and more.
Dorothy Lane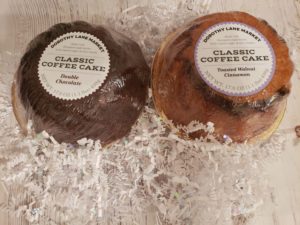 Brining a great snack could be the perfect gift for the hostess. Dorothy Lane has a few different desserts to choose from and you can get them sent right to your door.  I love that this is also the perfect gift to send for the family and friends we will not be able to see this year. The Coffee Cake was so good and melted in my mouth.  The Brownie was also great and had a chocolate kick I  needed this time of year. The packaging was not only beautiful, but they came quick and in perfect condition.  I was truly impressed.
Thermometer Magnet 
London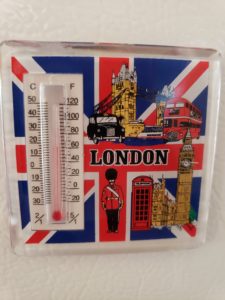 I love London I have been there twice and this London Magnet brings back such awesome memories.  Why not give them an awesome Thermometer that will be back great memories all year long when they see it.  Better yet this goes for $7.34 and is free shipping.  PERFECT SOUVENIR FOR GUESTS! For corporate events, hen (bachelorette) or stag (bachelor) parties, restaurants or hotels, or as wedding favor, our London Everything / Union Jack Thermometer Magnet will surely impress your guests!
Savor Patisserie
When Hostess does not love a great gift of some awesome treats.  I love that Savor Patisserie has not only different flavors to choose from, but you can get them sent right to your door.  They came with an ice pack and they were ready to eat or just put in fridge to enjoy later. Just in time for the holidays is the Christmas Collection, with green Christmas Cookies, Mexican Hot Chocolate, Gingerbread, Candy Cane and Eggnog! Or make your own box. Either way, know that they're all made from a  perfect mix of almond flour, egg white and sugar surrounding a filling of ganache, buttercream or jam — but less than 100 calories each and gluten free!
Hairless Dog Brewing Company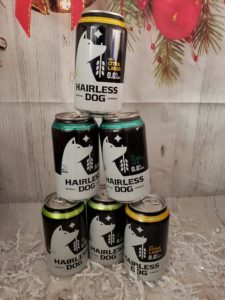 Have you ever been pregnant during the holidays?  A lot of us that have been would have love to have a drink with our family.  That of course can't happen so Hairless Dog Brewing Company is the perfect gift this holiday season.  They have great taste so you can sip along with everyone this year, but no alcohol.  They have some great flavors and you can even buy a mixed flavor case.  They ship right to you so no need to go out searching for it.
8-piece baking set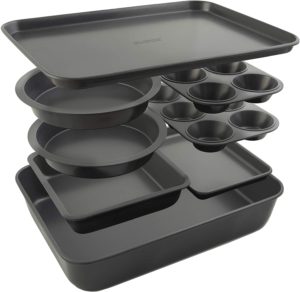 Anyone who bakes as much as I do would be over the moon to get this awesome baking set.  Not only is it an awesome price it all stacks together and fits as one pieces when you are not using it.  This set is amazing.  I love that it has cooked my cakes perfectly and the clean up is easy.  Guys this set is a bakers dream come true. DISHWASHER SAFE All items in the Stack 'n' Store Baking Set are 100% dishwasher safe. DURABLE & HEAT RESISTANT The Stack 'n' Store Baking Set is made from 100% non-stick carbon steel and is heat resistant up to 450° F.
Somrus Coffee Cream Liqueur: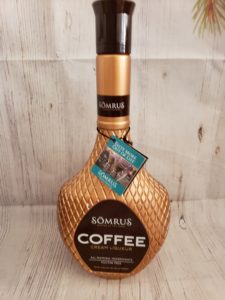 I know one gift that always goes over huge at partys is a great liqueur.  The Somrus Coffee Cream Liqueur is going to be a huge hit.  The bottle alone is beautiful, but when you taste the Coffee Cream Liqueur its going to be a whole new ball game.  It taste fantastic and goes down smooth.  You could easily mix this with hot coco, coffee or even just drink over some ice.  Based on South India's "kaapi," Sōmrus Coffee Cream is made from coffee and chicory, together with real dairy cream from Wisconsin and quintuple distilled Caribbean rum. The end result is silky and creamy, with rich roasted coffee notes, a hint of sweetness, and notable depth of flavor. Packaged in an eye-catching rose gold bottle.
Tom of Finland Organic Vodka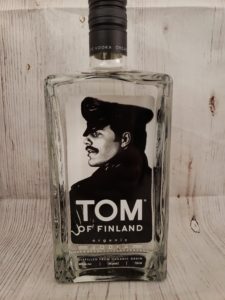 Like above a great drink is always a fantastic hostess gift.  Throwing a party can get expensive if everyone brings something it can help take some of that expense away from the Hostess, plus its always great to bring something new and exciting. The Tom of Finland Organic Vodka is a perfect gift to bring to the party. Named for the eponymous artist who created the gay male "leather" iconography we take for granted today, Tom of Finland Organic Vodka is distilled at Lignell & Piispanen, the oldest distillery in Finland, from 95% wheat and 5% rye, with water from the surrounding Arctic region. A full 5% of all sales go back to Tom of Finland Foundation
Wrist Dispenser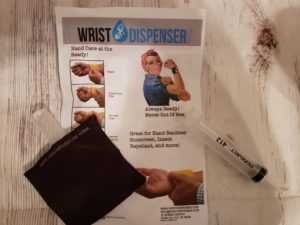 Now the truth is I debated on if this should go into the Stocking Stuffers or for the Hostess.   I decided with the way the world is right now this would be a perfect gift for the Hostess.  We might not be having as big of parties, but we still want to keep the Hostess who is throwing this awesome party safe.  The Wrist Dispenser will keep their hands free and they can still keep their hands clean all night long. Wrist Dispenser is an innovative new way to carry and dispense hand sanitizer. It's a wearable device that allows you to sensitize hands free with a stylish and customizable look. The product is used by pulling the small nozzle out of the band and squirting it onto your hand, and when you finish you simply tuck the nozzle back in the band.
Taza unbreakable wine glasses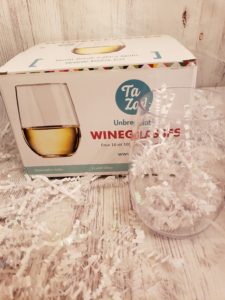 We all know some great wine glasses are a great gift for the hostess.  I want to throw out another reason why there are perfect.  They are unbreakable and that makes them also perfect for the kids that want to cheers with you too.  My son loves fancy wine glasses, but lets be honest I am not giving him glass.  Look how crystal clear you can see threw the glass.  These come in a set of 4, they look fantastic and they are easy to clean.  I love the TaZa unbreakable glasses . and think they are a perfect Hostess gift this year.
BJ THOMAS CANDLES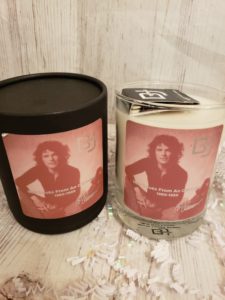 A great candle is always a hit for the hostess or even your own home.  I love that BJ  THOMAS  CANDLES smell fantastic and they come in this adorable container ready to give as a present.  Each candle will have a song title and one will celebrate the 50th.  BJ Thomas is a Grammy award honoree, a Grand Ole Opry member, a Dove award recipient, is ranked in Billboard's top 50 most played artists over the past 50 years and his smash hit "Raindrops Keep Falling On My Head " resides in the Grammy Hall of Fame.  Now, in 2020, as "Raindrops" celebrates 50 years Lakewood Candles has partnered with the iconic singer to release a six-candle collection.
CatSpring yaupon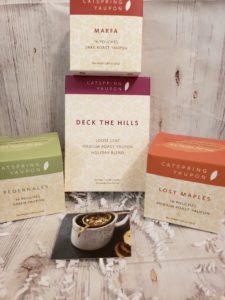 I love tea, and I love the idea of giving the hostess some great tea.  That way they can not only offer it to their guests, but they also have something to sit down and relax with after the party is over. CatSpring yaupon has a great selection and the taste clean and fresh.  You can buy them in pouches or even loose tea. What's yaupon? Well, we like to say, "it's Texan, for tea" but simply, it's the only caffeinated plant native to North America! My sister and I founded CatSpring Yaupon together because it provided us with an opportunity to return to the land, to our family values, and to American craftsmanship and goodness. If I were you I would totally go with the Multi pack.  I have tried a few of them so far and have loved every single one.
Carole Shiber Designs' Napkin Bouquets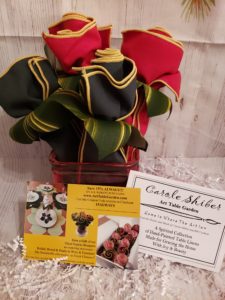 I have to say I am in LOVE with Carole Shiber Designs' Napkin Bouquets.  Every year while everyone else is setting the table I am always folding napkins.  I have always tried to fold them into roses and it never turns out as beautiful as these.  These napkin bouquets are beautiful and the perfect present for the Hostess.  Floor tipped napkins rose-rolled with hand-painted leafy Napkin-Ring-to-Coasters™, beautifully arranged and then artfully gift-boxed.  The Sustainable Napkin Bouquets keep blooming for years to come. Generous 2-" easy-care edged napkins simply re-roll into Carole's original napkin rings for an ever-fresh, sustainable floral bouquet.  Make great hostess gifts! Available in a variety of colors.
instaFizz – Personal Sparkling Beverage Bottle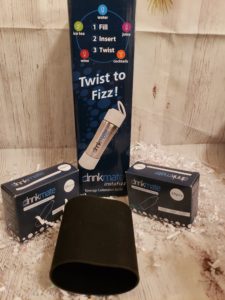 OK, now this one is really a perfect present for anyone on your list.  How much would your walking partner or hostess love to make any drink fizzy with just a twist?  I love that you can fill this anywhere then just twist and get your fizz on.   I get really bad heart burn and sometimes the only thing that helps it is a fizzy drink.  Now you can have one any where you are at your finger tips. InstaFizz is the perfect gift for everyone on your list this year.
Mix It Fresh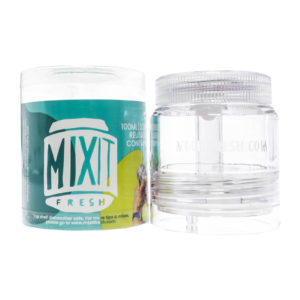 OMG this is amazing.  I love that there is no more trying to get it the same every time and having to clean a bunch of glasses and shot glasses.  MixIt Fresh provides the perfect libation (soft drinks and cocktails) from the first sip to the last drop. The completely reusable container controls the ratio of alcohol (or soft drink)  to mixer – expertly — taking the guesswork out of bartending on the go, and at home.
(1) Pour in the alcohol (or beverage of your choice) in the MixIt Fresh container to the fill line. (2) Snap it on to a can and…that is it! All you have to do is (3) drink! The patented technology extracts the can's liquid and mixes it up fresh before it gets to your mouth . The dishwasher-safe container is ready for hundreds of uses (and hundreds of fun drinks!) At just $19.99, MixIt Fresh makes a great gift for the hostess.