"An exhilarating roller-coaster that kids of all ages can enjoy!" ~ Mike Reyes, CINEMABLEND.COM
Based on the best-selling book series by R.L. Stine and starring Wendi McLendon-Covey, Chris Parnell and Ken Jeong
                                                     GOOSEBUMPS 2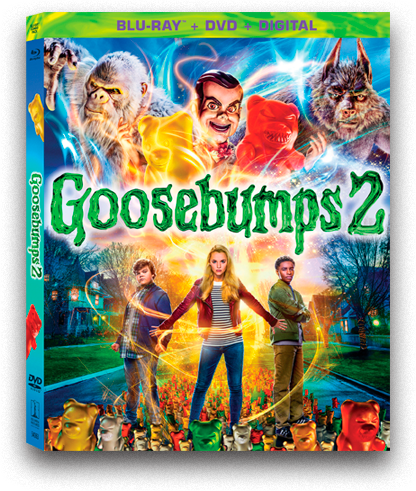 On Digital December 25th
Coming to Blu-ray™ & DVD January 15thBonus Features Include a Gag Reel, Three Deleted Scenes, Five Featurettes and 3 "Slappy-oke" Sing Alongs
I have been a fan of Goosebumps and R.L Stein for years.  I was so excited when the movies started coming out.  Now I am even more excited the #2 is released today.  If you were like me and grew up with Goosebumps I know you will be waiting to pick up your copy.
Goosebumps was one of the things that gave me my true love of Horror.  Who else gives you Horror and humor in one book or in this case movie.  This series is one of the few when i was younger that gave me a love of reading.  Now that I see them coming to life on the big screen its like I am a kid all over again.
Synopsis:
Be careful what you wish for. With their after school junk business, best friends Sonny and Sam hope to find treasure in other people's trash. But when cleaning out the old Stine house, they open a locked book that frees a supernatural nightmare- Slappy! Now, with the help of Sonny's sister Sarah, they're in a race against time to get the sinister dummy and all the creatures he's brought to life back into the pages before he unleashes total pandemonium!
Based on the beloved Scholastic book series by R.L Stine, GOOSEBUMPS 2 was directed by Academy Award®-winner Ari Sandel (2005, Best Short Film-Live Action, West Bank Story) from a story by Rob Lieber and Darren Lemke and screenplay by Lieber. The film is produced by Deborah Forte and Neal H. Moritz and is executive produced by Timothy M. Bourne and Tania Landau. GOOSEBUMPS 2 is a Columbia Pictures, Scholastic Entertainment Inc./Silvertongue Films, Inc and Original Film production.
Blu-ray, DVD and Digital Bonus Materials Include:
Gag Reel

Three Deleted Scenes:

Five Featurettes

"Thrills & Chills – The Making of Goosebumps 2"

"Meet The Monsters"

"Science With Slappy"

"Junk Brothers – Call Now"

"Slappy's Audition"

Three Slappy-Oke Sing Alongs
GOOSEBUMPS 2 has a run time of approximately 120 minutes and is rated PG for scary creature action and images, some thematic elements, rude humor and language.
Want to win your very own copy check out our giveaway below for U.S Only this time sorry all.