Golf isn't a sport that is instantly recognizable as being female orientated. Surveys suggest that only 24% of golfers who play on a course are women. This rises to 41% when you play off a course which is slightly more encouraging. However, golf is still a predominantly male-orientated sport.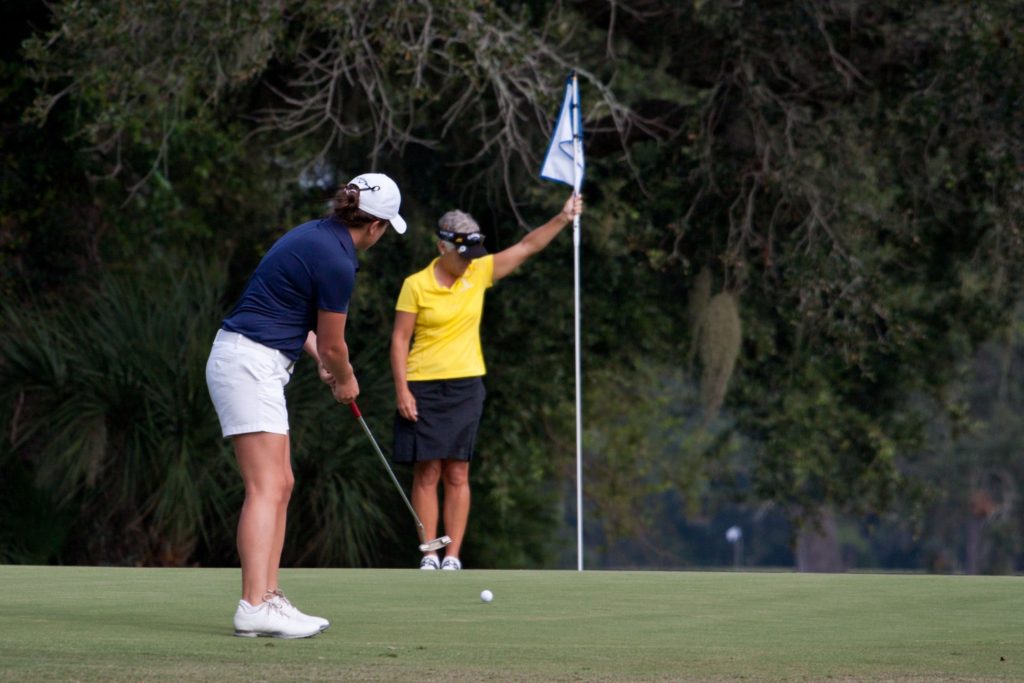 There is no denying that being a novice in golf, especially as a woman, can be challenging. There are various reasons for this, but the most common is because it might appear to be quite overpowering and daunting.
Even though the environment is changing, many women did not grow up playing golf and hence did not have any early exposure to the sport of golf. But if your curiosity has been piqued and you want to see what all the fuss is about, after all, golf is the main pastime of many presidents throughout history, and if it is good enough for a president then is good enough for everyone, this post looks at some tips for women looking to get into golfing as well as start advice.
Borrow or Buy Golf Clubs
If you are a beginner golfer, you can borrow clubs or purchase a golf club set. Many golf sets are reasonably priced and include all of the fundamental equipment you will want. For the time being, all you'll need is a driver, wood or hybrid, a couple of irons, a wedge, and a putter. Check out this buyers guide for women's golf clubs.
If you know someone who has clubs, it is acceptable to borrow them in the beginning. An extra set of clubs may be available for use by a teaching instructor or at a clinic where you are participating. As your skills develop and you begin to play more frequently, you can invest in a set of your own. Every year, manufacturers introduce the latest technology and equipment, providing consumers with a plethora of options.
Master The Swing
Although learning the golf swing principles and how to hit the ball is difficult, it can also be a lot of fun if you get your swing down. After all, what is golf if you don't get to swing the club at all? It is also necessary to provide a solid foundation.
The ideal thing, according to them, is to enroll in golf lessons with a golf professional who specializes in teaching the mechanics of the appropriate golf swing to beginners.
Many golfers swear by a teaching golf professional who can instruct and provide a solid foundation of abilities and strategies to build on as you progress through your game. 
Another excellent method of learning is to enroll in a group class or clinic. It is possible to locate such opportunities at your local golf courses or practice facilities, as well as with women's golf groups that have local chapters in your area (or even in your city).
These are a lot of fun because they are informal and low-key, and you can learn from people who are also just getting started in their careers. The best part is that it is social!
Practise, A Lot
Learning the golf swing is not the most natural movement, and it isn't easy to learn in a single 30-minute or hour-long session. Aside from that, different swings are available for different clubs! Instead of taking one class or attending one clinic and then moving on, take several lessons or attend several clinics.
Consistency is important for beginning golfers.
It is recommended that you participate for at least a six-week period, to begin with. After each lesson, make sure to put into practice what you've learned so that you can improve your muscle memory. This will ensure that you progress over time and get the most out of your classes.
Learn The Basics of How to Play The Game
When you are first learning how to hit a golf ball, you don't need to know much about the game. It is doubtful that you will be heading out onto the golf course for the very first time without having ever touched a club. After taking some lessons and practicing on the driving range, you may be able to go out and play a little golf on a real golf course.
If you do, you will need to be familiar with some of the terminology and etiquette associated with golf. 
Some handy words to know include;
Areas you will find on a golf course.
Tee Box – where you tee up the ball at the start of each hole.  

Fairway – the manicured grass between the tee box and the green.

Rough – the area off the fairways and greens in longer grass.

Bunker or Sand Trap – sand-filled areas.

Green – where the cup or hole is located.  Putting takes place here.

Fringe – the fringe surrounds the green and is just a bit longer than the green and shorter than the rough.

Flagstick or Pin – each hole has an actual target or flagstick

Hazard or Penalty Area –  these include ponds, streams, fescue, natural vegetation where a golfer may find trouble.

Out of Bounds – areas that are marked that can not be played out of.

Divots – marks, indents, or tufts of earth that have been pulled up due to a golf club or a ball that lands and marks the green.
Each hole on a golf course is designated either a Par 3, 4, or 5. The number relates to the number of shots to hole out 3 is the shortest and 5 is the longest.
The Scores are as follows;
Par –  This is given to the expected number of strokes to shoot for professionals

Birdie – 1 under par

Eagle – 2 under par

Albatross – 3 under par

Bogey – 1 over par

Double Bogey – 2 over par

Triple Bogey – 3 over par

Ace or Hole in One takes 1 shot on the drive to put the ball in the hole.
The skills can also be learned while playing with your partner if they have more expertise and are ready to teach you how to do so. This is how the vast majority of people learned to play golf. 
Find Someone to Play With
This is, without a doubt, the most crucial element, and it can be not easy at times. It would help if you made an effort to find a partner to play with. In most cases, when asked if they want to play, golfers are eager to oblige.
Golf is the type of sport and activity that everyone may participate in with anyone else, regardless of their level of competence.
In essence, you are competing against the golf course, and your primary goal at the outset is to become familiar with the game and learn how to strike the golf ball. In addition, as you get more experience, there are numerous methods to make golf enjoyable or competitive, and you can compete against other people while playing.
Check with your local golf courses, practice facilities, and women's groups for possible partners who don't have anyone to play with. They may be members of social groups that meet regularly to socialize. If you attended a clinic, check with the other participants to see if they'd be interested in playing because you'll be on the same level as they are.
Play On A Golf Course
Now that you have committed to studying golf and have gained some confidence in your ability to strike the golf ball, it is time to take your skills to the next level and play on an actual golf course.
An excellent approach is to brush up on some of the most important etiquette rules before getting on the course. If you can choose the sort of golf course, there are numerous options to consider.
The prospect of playing 18 holes as a novice can be incredibly intimidating at first. Try your hand at a 9-hole course or even a Par 3-hole course as they would probably be far more fun alternatives. A driving range is a completely different experience from playing a golf course, and you will discover this for yourself.
Start from the tees as far forward as possible, or even the family tees if they are available. They are closer to the hole, which means you will have a better time during the round. The goal of playing golf is to have a good time, not to worry about your score or the number of times you hit the golf ball.
Lastly, Enjoy It!
Golf should be fun, and if you are putting too much pressure on yourself, then chances are you won't be having much fun. Take your time and get to grips with the game at your own pace and in an environment that supports your developing skills.
Don't be intimidated to be a woman on a golf course, any golf clubs have a good proportion of female players who can help you to get the most from your game and settle in if required.