"Warner Bros. Home Entertainment provided me with a free copy of the DVD I reviewed in this Blog Post. The opinions I share are my own."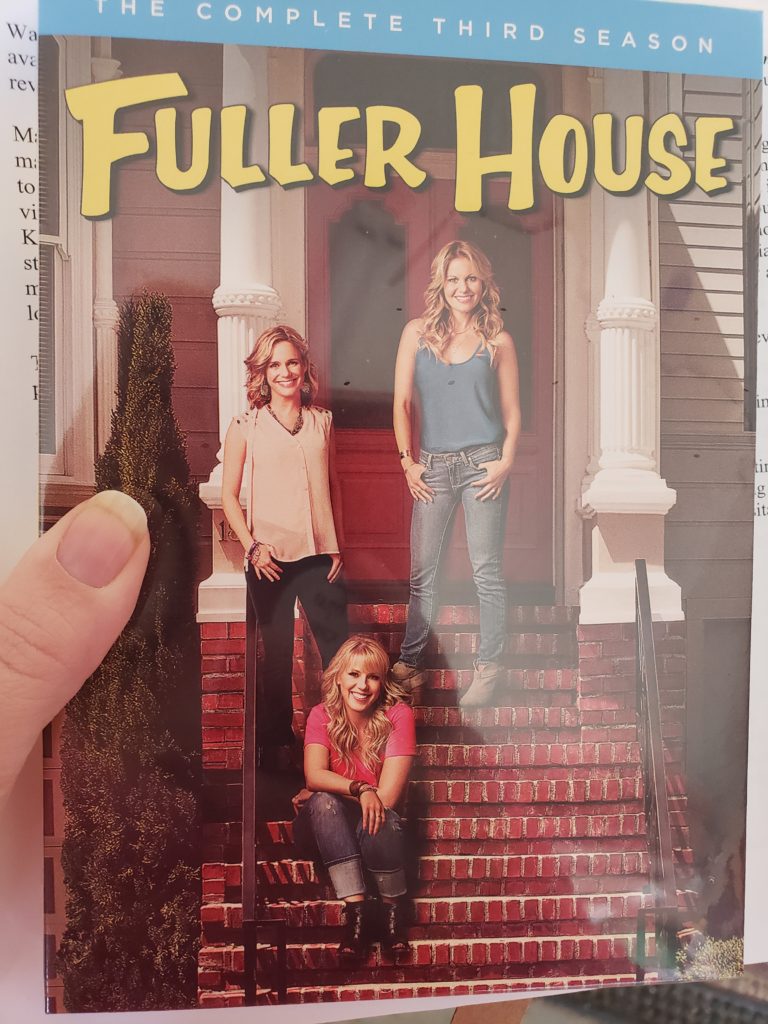 When Fuller House first came out I knew I was going to love it.  I love that they did not just re make the original they continued with the same great story I love. We have grown up with these girls so when it started I was already invested in their life.  Now that we have gotten to season three I was wondering where D.J's life was going.  She has a great boyfriend and business partner, but we all know who she really loves Steve.  Will she tell him? will she stay with Matt?
A lot of us were still invested in Steve from the 90's so I could not decide who I was voting for.  Steve is a great guy we already know.  Matt Is a great new funny guy who is great with animals.  We will see who she picks in this season and how it effects everyone else.
While all this is going on we are also following Stephanie's journey to become a month and the twists and turns that takes.  I have to say this has been the best season so far.  I love that I can have this whole great season on DVD to watch any time.
THE TANNER FAMILY ADVENTURES CONTINUE ON
FULLER HOUSE: THE COMPLETE THIRD SEASON
AVAILABLE ON DVD JANUARY 22, 2019
FROM WARNER BROS. HOME ENTERTAINMENT
Two-Disc Set Features All 18 Season Three Episodes
Major life events take place on the third season of Fuller House. Steve and C.J. make plans to get married in Japan and the gang heads overseas for the big wedding, but before anyone has a chance to say "I do," a big revelation has an impact on the nuptials. Plus, Stephanie makes plans to get in-vitro fertilization, D.J. tries to get Tommy into a prestigious preschool, and Fernando buys Kimmy's childhood home and restores it to its former glory. Meanwhile, Jackson and Ramona start high school where Ramona tries out for her school's dance team while Jackson becomes a joke at his school after slipping on a piece of bologna during lunch. Joey, Jesse and Danny come home to celebrate 30 years since they initially moved in together to raise the Tanner girls. It's an unforgettable season filled with laughter and love for the Tanners and their friends on this beloved family comedy.
The series, which has earned a 2018 Primetime Emmy® Award nomination for "Outstanding Children's Program," has already been renewed for a fourth season on Netflix.
"Fuller House is a hilarious and touching series that keeps getting better season after season," said Rosemary Markson, WBHE Senior Vice President, TV Marketing. She added, "The way in which this program came back to television after so many years and managed to completely captivate multiple generations of viewers all over again, is remarkable. We are delighted to release another season of this wonderful comedy on DVD."
Fuller House is the continuation of the '90s ABC series Full House in which eldest daughter D.J. Tanner (Candace Cameron Bure, FullHouse, A Christmas Detour) is now a veterinarian and recently widowed mother trying to raise three boys on her own.  She is joined by her sister Stephanie (Jodie Sweetin, Full House, Walt Before Mickey) and best friend Kimmy Gibbler (Andrea Barber, Full House, The Skateboard Kid 2) and Kimmy's teenage daughter Ramona (Soni Bringas), who move in to lend their support and help raise D.J.'s kids.  The Full House original cast, including Bob Saget (Full House, Entourage), Lori Loughlin (Full House, When Calls the Heart), John Stamos (Full House, Grandfathered, Scream Queens) and Dave Coulier (Full House, Robot Chicken), make guest appearances throughout the series.
The original Full House, which centered around three grown men raising three girls in San Francisco, premiered in 1987 on ABC and became an instant hit with viewers. The family friendly series became a pop culture phenomenon. It was praised by fans for its wholesome comedy, lovable characters and valuable life lessons. It aired for eight successful seasons and later aired in syndication. Fuller House premiered on Netflix in February 2016.
Featured Episodes:
| | |
| --- | --- |
| 1. Best Summer Ever | 10. My Best Friend's Japanese Wedding |
| 2. Break a Leg | 11. Troller Coaster |
| 3. Declarations of Independence | 12. Fast Times at Bayview High |
| 4. My Little Hickey | 13. A Tommy Tale |
| 5. Uncle Jesse's Adventures in Babysitting | 14. Surrogate City |
| 6. M-M-M-My Ramona | 15. Soul Sisters |
| 7. Say Yes to the Dress | 16. Happily Ever After |
| 8. Maybe Baby | 17. Fullers in a Fog |
| 9. Wedding Or Not Here We Come | 18. Here Comes the Sun |
Digital
The third season of Fuller House will be available to own on Digital on January 22, 2019. Digital purchase allows consumers to instantly stream and download all episodes to watch anywhere and anytime on their favorite devices.  Digital movies and TV shows are available from various digital retailers including, iTunes, Google Play, Vudu, and others.