We got Dolittle Easter basket and movie free in exchange for an honest review.  All opinions are my own.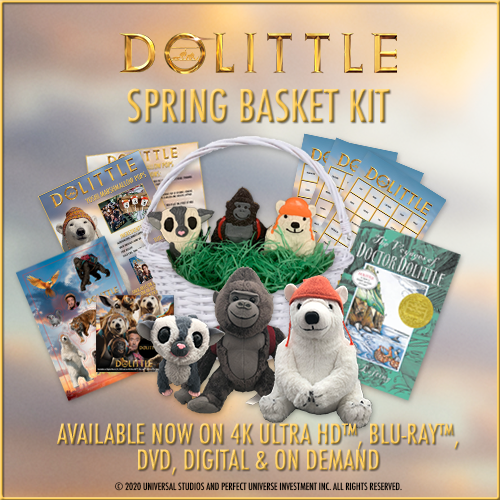 OMG I can not tell you how excited I was for Dolittle to come out.  You all know I can not pass anything up with animals and even better talking animals I am so there.  Check out our full review here 
Robert Downey Jr. electrifies as the man who could talk to animals: DOLITTLE. After losing his wife, he hermits himself away behind the high wall of his manor but is forced to set sail on an epic adventure when the queen falls gravely ill. Helping Dolittle in search of a rare cure are his rambunctious animal friends—including Chee-Chee (Malek), an anxious, self-conscious gorilla; Dab-Dab (Octavia Spencer, The Help), an enthusiastic but bird-brained duck; the bickering duo of cynical, neurotic ostrich Plimpton (Kumail Nanjiani, The Big Sick, "Silicon Valley") and chilly-but-chill polar bear Yoshi (Cena); as well as a headstrong parrot named Polynesia (Thompson). Catch incredible bonus content that you can only see on the 4K Ultra HD™, Blu-ray™, DVD, and Digital release showcasing the making of the film and insight to all the cast. 
One lucky U.S winner will Win
1 Dolittle Blu-ray
1 white basket with green plastic grass
1 set of 3 plushes (Chee-Chee, Mini, Yoshi)
1 set of 3 custom made themed cookies (to look like the plushies)
1 Voyages of Doctor Dolittle book
1 set of plastic colorful eggs
Temporary tattoos and stickers
Please note we do not have a confirmed shipping date for prize.  With all that is going on it will be shipped when warehouses open back up.
Dolittle Spring basket Giveaway