Do you have a creative little one in your life?  If so then you must check out the new 3D Doodlers your kids and even big kids are not going to want to miss out.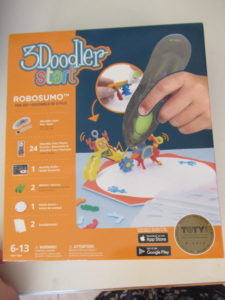 With the ROBOSUMO Pen Set™, (SRP $49.99), kids can build their own mini sumo battle-bots and face-off against each other in the ring. At $49.99, the kit includes a 3Doodler Start Pen, activity guide, two motors, one pack of plastic and two battle-bot themed DoodleMolds®, not to mention a battle ring where your finished creations can square off.
A ROBOSUMO Activity Kit™ (SRP $24.99) is also available without the included 3Doodler Start Pen.
"The beauty of ROBOSUMO is that it allows children of all-ages to learn about motion, engineering and physics through play," said Bogue. "Kids can change-up their ROBOSUMO robots on the fly, opening the way for infinite possibilities and hours of enjoyment."
The ALPHADOODS™ Character Kit (SRP $19.99) lets children create their own customizable ALPHADOOD characters for adventures of all kinds, including stop-motion and social media friendly content. A fun way to make your own individualized moving action figures. Think 3D printed Flat Stanley meets a 21st Century Mr. Potato Head®. Each ALPHADOODS™ Character Kit includes an activity guide, two plastic packs, two ALPHADOODS canvases and a DoodleMold®.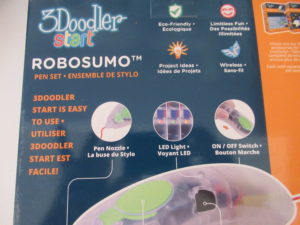 "We wanted to infuse the 3Doodler experience with the delight of creative storytelling," said 3Doodler CEO Daniel Cowen. "Whether a superhero, animal, alien, or even friends and family, ALPHADOODS offer a fun and engaging way to bring your Doodles to life."
Both ROBOSUMO™ and ALPHADOODS™ are compatible with the new 3Doodler App, featuring templates, ideas and tutorials for both products, including the ability to Doodle directly on your tablet or mobile device.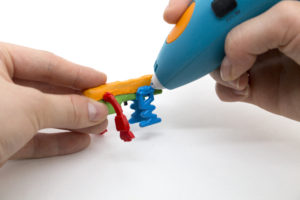 ROBOSUMO™ and ALPHADOODS™ should merit consideration for several holiday gift lists including:
Holiday Gifts Under $50

Holiday Gifts For Kids

Holiday Gifts For Creatives

STEM Focused Holiday Gifts

Techy Holiday Gifts

Outside The Box Holiday Gifts

Best Gifts For Future Scientists

Best Gifts For Aspiring Engineers
ABOUT 3DOODLER:
Owned by WobbleWorks Inc, 3Doodler is a technology company making creativity tangible through its range of 3D printing pens and accessories. Founded in 2010, the company went on to raise $3.89 million on Kickstarter to support the production of the world's first 3D Printing Pens and has since sold over two million units worldwide. 3Doodler now makes products for all ages and skill levels of creators whether they're 3D sketching, tracing shapes from templates or creating architectural models or entirely unique 3D structures. Headquartered in New York, 3Doodler 3D pens and accessories are now available online and in brick-and-mortar retail stores in more than 60 countries. To see the full 3Doodler product range, learn more about the company, download hundreds of free projects or see how the 3Doodler can make an impact in education, go to www.the3Doodler.com.
We got this free in exchange for an honest review all opinions are our own