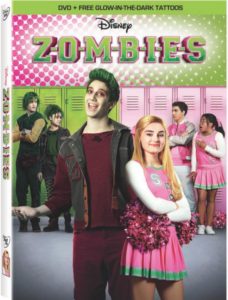 Looking for a fun twist on the Zombie craze.  One that you can enjoy with your kids then ZOMBIES on Disney DVD on April 24th is what you need.  This was such a fun-loving movie with a lot of life lessons mixed in.  Who new one soda could cause such a mess, with one spill a whole town was spit apart into the Zombies and the none Zombies.  When years have passed they were finally allowed to interact when two kids one from each side of the fence became friends.  Now they have to figure out how to get everyone else on board with the new normal.  The music was fantastic and will have your kids up and dancing.  The story line was a nice mix of old and new.  I also loved that the extras even taught you one of the dances.  Disney  has once again out done themselves.
At Seabrook High It's Zoms vs. Poms in
Disney Channel's Newest Original Movie!
ZOMBIES
At this School, it takes GUTS to be Yourself!
On Disney DVD April 24th
Featuring Exclusive Bonus Content Including Bloopers,
Deleted Scenes, Zombie Survival Guide to High School and More!
Synopsis:                             Disney's "ZOMBIES" is a music- and dance-filled story set in the fictitious world of Seabrook, a cookie-cutter community brimming with perky conformity 50 years after a zombie apocalypse. Today, the zombies pose no threat, but are required to live in Zombietown, an isolated, rundown community infused with their unique creative spirit. When zombies are finally allowed to enroll in Seabrook High School, the charming, charismatic zombie Zed, who is determined to play football, meets freshman Addison who dreams of being a cheerleader — the ultimate form of status in Seabrook. Addison takes a lot of flak for befriending Zed and his zombie friends, but comes to learn that zombies and cheerleaders aren't so different after all. Zed and Addison work together to show Seabrook what they can achieve when they embrace their differences and celebrate what makes them a community.
Cast:
 Milo Manheim as Zed; Meg Donnelly as Addison; Trevor Tordjman as Bucky; Kylee Russell as Eliza;Carla Jeffery as Bree; Kingston Foster as Zoey;
and James Godfrey as Bonzo.
Director:                               Paul Hoen
Executive Producers:       Effie Brown and Paul Hoen
Co-Producers/
Writers:                David Light and Joseph Raso
Bonus Material:                 Zombie Blooper Reel (DVD Exclusive)  – Laugh out loud at the Cast of ZOMBIES in this compilation of the funniest bloopers and outtakes from the making of the film.  TRT:  3:53
The Zombie Survival Guide To High School (DVD Exclusive) – This piece uses a visual motif of a Zombie Survival Guide, with styled infographics and hosted by the talent.  We go down the list of some of the most important survival tips for Zombies and humans on how to get along and make the best of high school.  TRT:  2:24
Dance Tutorial – Join Meg Donnelly (Addison), Kylee Russell (Eliza) and ZOMBIES Choreographer, Christopher Scott, as they show you how to dance along to the 'BAMM" Music Video. TRT:  3:38
Deleted Scene #1 (DVD Exclusive)  – It's a Cheer-tastrope  TRT:  :57
Deleted Scene #2 (DVD Exclusive) – New Jacket, New Name TRT:  1:09
Audition Tapes (DVD Exclusive)
Milo Manheim Audition TRT: 1:16
Meg Donnelly Audition TRT :57
Music Video – "BAMM" TRT 3:39
Lyric Video – "BAMM"  TRT 3:23
Trailer #1  TRT:  2:20
Trailer #2   TRT 1:50
Release Date:                     April 24, 2018
Packaging:                           DVD
Rating:                                  TV-G
Feature Run Time:             Approx. 94 minutes (excluding bonus)
Aspect Ratio:                      1.78:1 Widescreen (Enhanced for 16×9 Televisions)
Audio:                                   English 5.1 Dolby Digital, French & Spanish 2.0 Dolby Digital
Subtitles:                             English SDH, French & Spanish
Closed Captions:               English
I got this free in exchange for an honest review