Maya the bee lovers you don't have much longer to wait for the next installment.  Just like Maya the Bee 1 this one is so cute and fun loving.  It could not have come at a better time for little guy.  He is learning all about bees in school this week so he was excited to see this movie.   When the summer months don't produce as much honey as the hive needs Maya and her friends go to talk to the Empress.  The Empress makes them a deal they can compete in the homey games, but if they lose they also lose all the honey they do have.  Of course, Maya is ready to enter and win, but the others are not so sure.  Maya and the others make friends along the way that will help them.  As long as they can all work together.  I love that this also came with the digital download.  My son can now take it every where with him.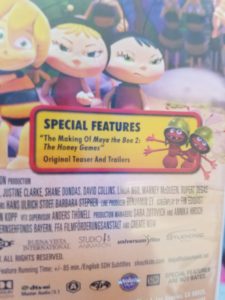 If you have a little bee lover make sure to pick this movie up on May 1st
Download the Study Guide here!
Want even better news they have offered a fantastic giveaway.  Sorry all for U.S Only 2 lucky winners will get their very own copy.
I got this free in exchange for an honest review.