This post contains affiliate links.  All items were gifted.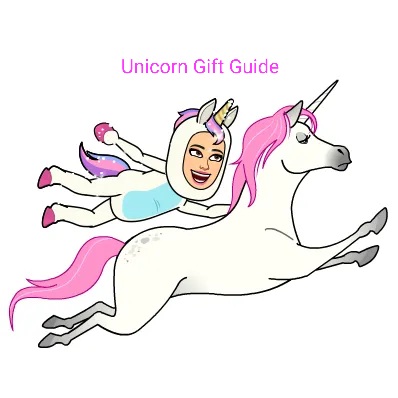 Tabbys Pantry is so excited to bring you a Unicorn Gift Guide.  We found some of the cutest Unicorn items.  Your Unicorn lover will be excited with any and all.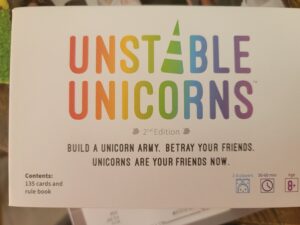 Build a Unicorn Army. Betray Your Friends. Unicorns are Your Friends Now. Unstable Unicorns is a strategic card game that will destroy your friendships but in a good way. The game was one of Kickstarter's top 100 most backed projects of all time and has sold over a million copies worldwide.  Check out over 21,000 ratings on Amazon.com.
Baby Starters Dolls are made from high-quality, plush material for a lifetime of hugs and play. Made with the highest safety standards for baby, including embroidered eye and nose details. Baby Starters Dolls are soft and snuggly for newborns, infants and toddlers without compromising on design. Extra special details and design makes each doll unique and diversified. They have recently expanded their line to bring additional adorable offerings to more families.
PoolCandy Rainbow Glitter Unicorn
Nothing says spring break more than a giant rainbow unicorn pool float. All eyes will be on you with this adorable, glittery floatie. PoolCandy is the home of trendsetting inflatables, pools, toys and more. Known for innovative and glamorous designs, PoolCandy has created floats that are beautiful, fun and incredibly sturdy. Truly the perfect pairing to any beach or pool party. Also available on Amazon.
These fabulous pink crew length socks are a perfect present for sassy women and girly girls, as well as men who aren't afraid to strut their stuff. The design features a proud prancing white unicorn with vivid rainbow hair, cute hearts and stars, as well as a message on the side that you can wear with pride: "Yaaas, I'm Fabulous!" Lavley socks are designed to hold up for years of wears and washes without fading while remaining soft, comfortable and well fitting.
Moosh-Moosh
Do your kids have Moosh-Moosh yet?  If not, you need to get on the bandwagon.  My son takes them and makes a nest with them and hangs out in his nest.  I on the other hand love to cuddle with my unicorns.  Want even better news? They also have sequins ones and they have slippers.  Your family is going to love these cute cuddly friends this year.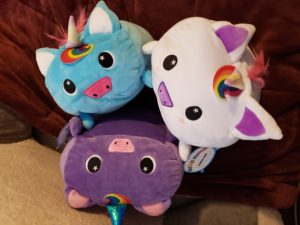 If your family does not have a pair of buddyphones go get some they are a must.  These are a great set for kids and they have Unicorns yaaa.  They also have plain ones that come in different colors that you can decorate.  they are very affordable and very effective.  As you can see  from pictures below and on social media they also fit me.  The are volume limiting, adjustable, Anti-Allergic cushion, foldable, and even have a built in microphone.   Want even better news they are wireless and waterproof with a 24 hr battery life.  These buddyphones have it all.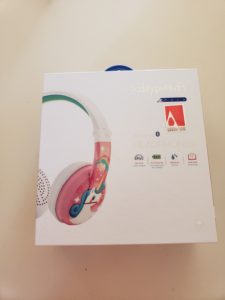 Do you have a creative kid who loves Unicorns then look no more we found Robot Safari. Yes you get to build your very own working robot and watch it walk when you are done.  This set does not only make a Unicorn it can also make a Narwhal and a few other animals.  How cool is that?  It also comes with a 32 page story book manual. This is a fantastic stem toy for your little ones ages 5-7 but older then 7 will also love it.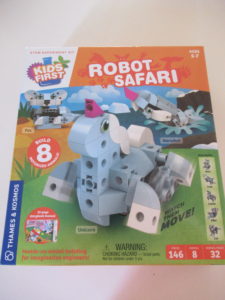 When Fingerlings first came out I already knew I was in love.  Then they started adding new animals and I was hooked on their cute Unicorns.  Gemma and Gigi react to touch, motion, and sound.  Not only are they adorable they are interactive.  These baby unicorns will also find a place in your heart.  They are a great lovable pet you can bring with you anywhere.  You can pick these cuties up just about anywhere you buy toys.  Be on the lookout for the unicorns in your store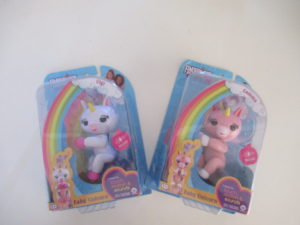 I have yet to meet a kid who does not love slime.  Now your Unicorn lovers can have their very own Super Cool Poopie Slime Unicorn Poop.  This slime is not only pretty it was very easy to clean up.  (which we all know not all slime is easy to clean up).  My son also left it out over night and it was still perfectly fine in the morning.  This is perfect for the slime lover, Unicorn loving kid in the family.  I have had a lot of questions about Kangroo products over the years.  Because their prices are so low people wonder if they are legit.  I have been a huge fan of their products for years I have always gotten fantastic quality and a fantastic price. So my advice if you see something you love by Kangaroo get it, you will not be disappointed.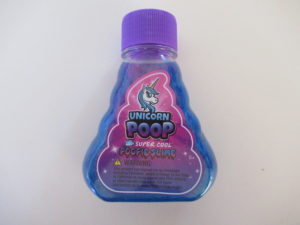 Tis the season for some sun, water and fun.  Who of us could not use a cute giant inflatable Unicorn float.  I know what ill be bringing to the river with me this year.  This float is big enough for me to float all day and still has enough room for little guy to crawl up. Coconut Float has a wide range of floats that are all fantastic.  This has the thick plastic so no worries about it popping and the colors are fantastic.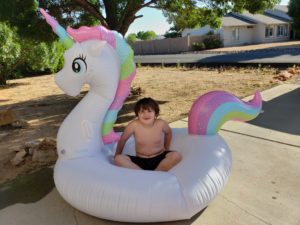 True unicorn lovers want it all, toys, bath, clothing so Hallu has brought us some awesome bath and body products you are going to love from the Foaming Body Lotion Mousse, lightable bath bomb, Unicorn Fragrance Mist and the Unicorn Rainbow-Colored Sugar Scrub Cubes.   Your bath time will now be magical.  I love that each of these had a fresh clean smell that was not over whelming.  May I also say this foaming body lotion is fantastic this time of year.  Want even better news these are under $5 each at Walmart.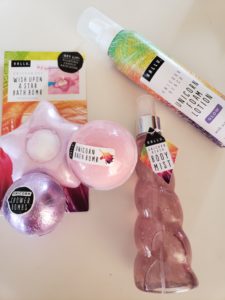 Looking to add a little unicorn in your wardrobe?  Finding stuff for adults can be hard.  Now with MomMe and More you don't have to look very far. They have these buttery soft leggings you are going to fall in love with.  The color and material are fantastic.  She has a wide range of other items you will also fall in love with.  When it comes to online shopping a lot of us are worries about the quality.  I am here to tell you MomMe And More is the real deal.  Great prices and wonderful quality.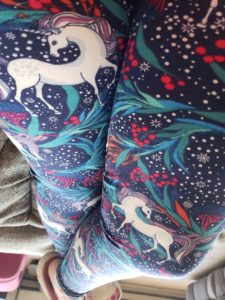 How cute are these hand crafted Unicorn Jars.  These will brighten up any unicorn lovers Bathroom or makeup table.  The detail on these are beautiful and she also has great prices.  With so many different hand made sets you are sure to find your perfect match to your home.
Pomsies are the cutest and now they even have a Unicorn.  She is way to  cute for words with her rainbow tail.  I had no idea that she also make sounds that just make you want to cuddle with her.  On another note it also made my dogs want her more then anything I have ever brought home. lol Needless to say she now lives in our room the puppies are not allowed in.  They have the bigger ones like her yet they also have Pomsie Poos that are cute and make great accessories. Now not to get you all too excited but they also have some new ones (Pomsies Lumies) coming out that are going to be way to cute for words check them out on the link above.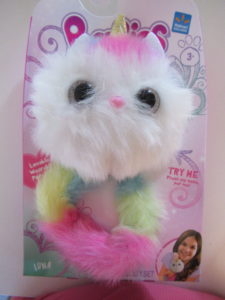 Squishmallows are a fan favorite.  i did not know when i fell in love wit them that there are collectors all over the world in love with them.  They are squishy soft and fun.  As you can see they come in all sizes and colors.  These Unicorns are some of our family favorites.  They huge size is perfect for a bring along buddy/pillow.  Squishmallows are available at Walgreens, Amazon, 5 Below, Costco and more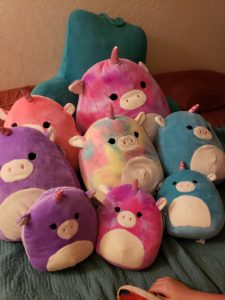 The Rainbow Co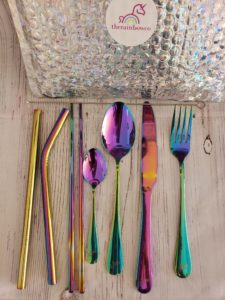 As you all know unicorns and rainbows are a must.  I could not believe that I had not heard of Rainbow co yet.  This is exactly what my kitchen set needed.  Beautiful rainbow silverware for my table.  The pieces are stainless steel.  They are easy to clean and they have a few different sets you can choose from.
These were a gift from Patty from Chatty Pattys Place Look how cute Thank you Chatty Patty I love them.
Unicorn Onesie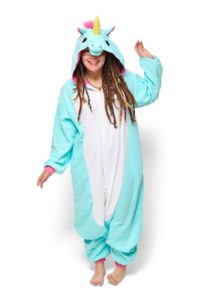 How much would you or you kids love their own Unicorn Onesie.  Looking for a cute  one then look no farther then the unicorn kigurumi.  I love that we can all be a unicorn.
Still want more unicorn no problem come check out Life With Kathy for even more unicorn fun
Want to see more of these products in action make sure to follow on social media we will be posting new photos and videos all month long.
Do you have a great Unicorn product that would fit the guide feel free to contact us any time  at [email protected] This guide will be alive as long as our web site is alive  (so of course i'm hoping forever)  🙂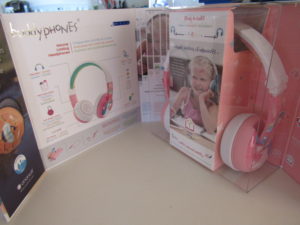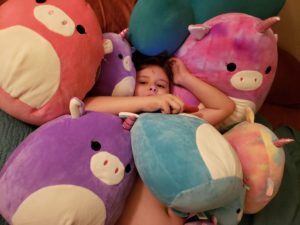 I got these items in exchange for an honest review all opinions are my own