We got To Kill a Mockingbird 60th Anniversary free in exchange for an honest post,  All opinions are our own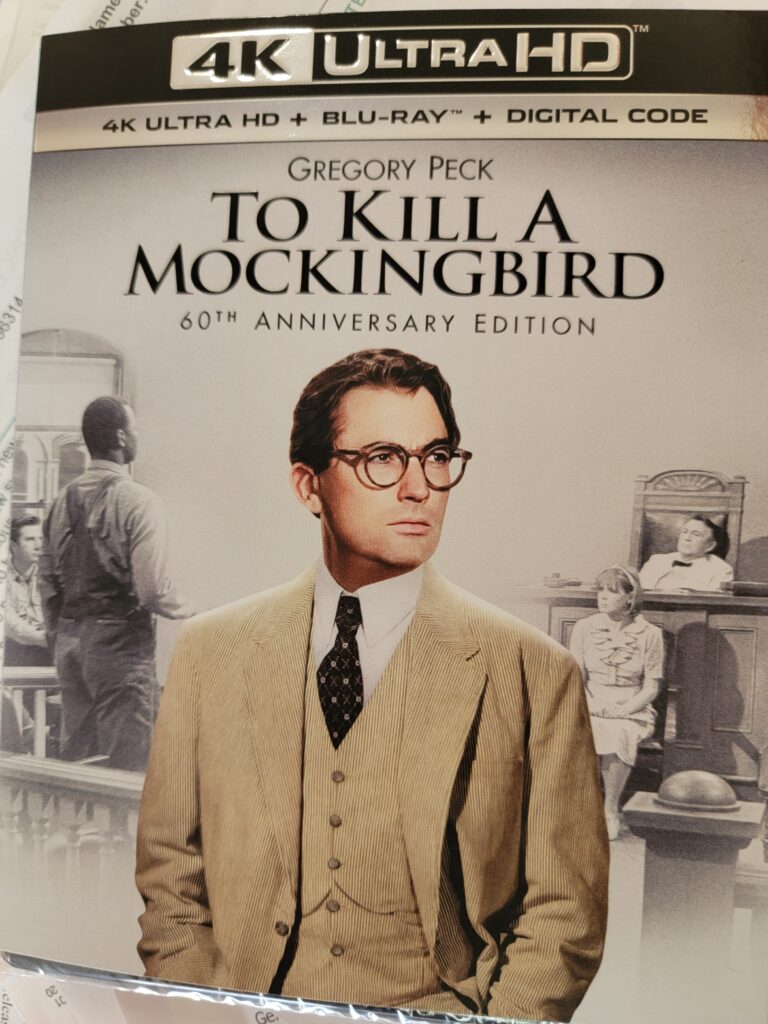 Do you have a classic movie lover in the family?  Then To Kill A Mockingbird 60th anniversary id going to be an amazing gift for them.  They can watch any time and have the extras to watch too.
THE CLASSIC TALE STARRING SCREEN LEGEND GREGORY PECK COMES 

TO

 4K ULTRA HD FOR THE FIRST TIME IN A LIMITED EDITION SET
Available October 11, 2022
SHOWCASING OVER FOUR HOURS OF BONUS CONTENT INCLUDING A BRAND-NEW FEATURETTE ABOUT THE FILM'S ENDURING LEGACY
OWN THE NEW 4K ULTRA HD COMBO PACK WITH BLU-RAY™ AND DIGITAL CODE
AND RELEASING ON BLU-RAY™ & DVD ON OCTOBER 11, 2022
FROM UNIVERSAL PICTURES HOME ENTERTAINMENT
Universal City, California, August 23, 2022 – One of the most critically acclaimed and cherished films to ever grace the silver screen, TO KILL A MOCKINGBIRD, celebrates its 60th anniversary with a first time 4K Ultra HD release from Universal Pictures Home Entertainment on October 11, 2022. The TO KILL A MOCKINGBIRD 60TH ANNIVERSARY LIMITED EDITION set includes a 44-page booklet, four collectable international theatrical poster cards, and a film strip replica. The limited edition packs also include a new introspective featurette with the filmmakers, historians and family members reflecting on the film's lasting messages of courage and hope that are still relevant 60 years later.
Experience one of the most significant milestones in film history like never before with TO KILL A MOCKINGBIRD.  Gregory Peck stars as courageous Southern lawyer Atticus Finch—the Academy Award®-winning performance hailed by the American Film Institute as the Greatest Movie Hero of All Time. Based on Harper Lee's Pulitzer Prize winning novel about innocence, strength and conviction and nominated for eight Academy Awards®, this beloved classic includes hours of unforgettable bonus features. Watch it and remember why "it's a sin to kill a mockingbird."
BONUS FEATURES ON TO KILL A MOCKINGBIRD 60TH ANNIVERSARY EDITION ON 4K ULTrA HD, BLU-RAY™ & DVD
TO KILL A MOCKINGBIRD: ALL POINTS OF VIEW (NEW) – Delve deep into the impact and legacy of To Kill a Mockingbird in this new documentary as film historians, scholars, and Gregory Peck's grandson, Christopher Peck, reflect on the message of hope, courage and integrity that are still relevant 60 years after the film was released.
FEARFUL SYMMETRY – A feature-length documentary on the making of To Kill a Mockingbird with cast and crew interviews and a visit to author Harper Lee's home town.
A CONVERSATION WITH GREGORY PECK – An intimate feature-length documentary on one of the most beloved actors in film history with interviews, film clips, home movies and more.
ACADEMY AWARD® BEST ACTOR ACCEPTANCE SPEECH – Gregory Peck gives a speech at the Academy Awards® after winning for his performance as Atticus Finch.
AMERICAN FILM INSTITUTE LIFE ACHIEVEMENT SPEECH – Gregory Peck's speech after receiving the AFI Life Achievement Award.
EXCERPT FROM "TRIBUTE TO GREGORY PECK" – Cecilia Peck's heartwarming farewell to her father given at the Academy in celebration of his life.
SCOUT REMEMBERS – Actress Mary Badham talks about her time acting alongside Gregory Peck.
FEATURE COMMENTARY WITH DIRECTOR ROBERT MULLIGAN AND PRODUCER ALAN PAKULA
ORIGINAL THEATRICAL TRAILER
100 YEARS OF UNIVERSAL: RESTORING THE CLASSICS – Join in on the in-depth look at the film restoration process.