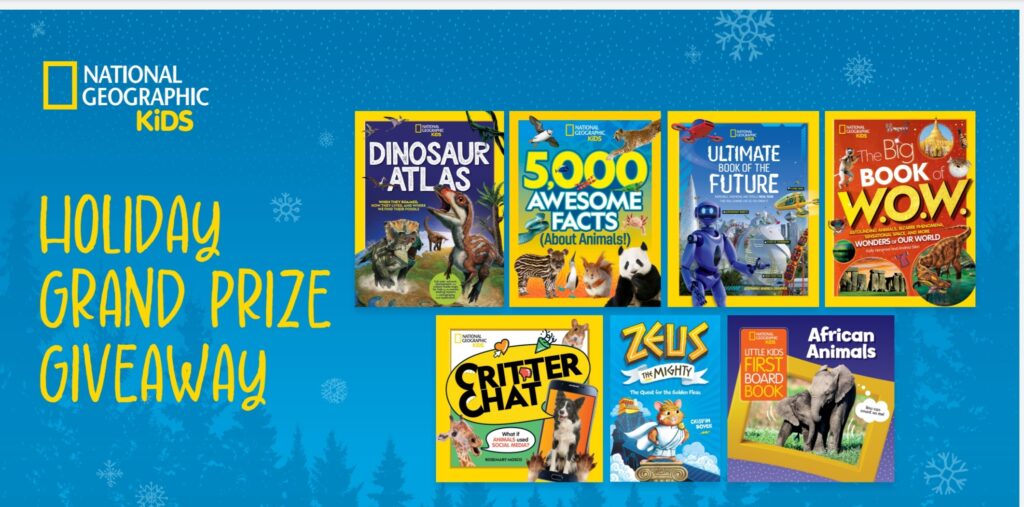 This is a gift that kids can really sink their teeth into!  With more than 75 prehistoric creatures featured, the 

National

 

Geographic

 Kids Dinosaur Atlas

 ​(

Hardcover, ages 7-10, $24.99) takes readers on a tour of every dinosaur-inhabited continent, from Pangea to the modern day, revealing which creatures lived there, what their habitats were like and where dinosaur bones are being found today. Special sections introducing the dinosaur family tree, a prehistoric era

 timeline, the 

geography

 of the prehistoric globe, what happened to the dinosaurs, and a dinosaur dictionary (with phonetic pronunciations) are also included.  Readers will find inspiration from profiles of diverse paleontologists from around the world. The oversized hardcover format showcases stunning, full color dinosaur illustrations on every page and the custom-made, kid-friendly maps were created by 

National

 

Geographic

's legendary cartography and exploration experts. Vetted and curated by Dr. Steve Brusatte — a paleontologist on faculty at the School of Geosciences at the University of Edinburg, a PhD recipient from Columbia University, and the science consultant for the 

Jurassic Worl

d franchise — this atlas contains the most detailed and accurate information not only about dino "fan favorites" but also about the most recent dinosaur discoveries from less explored dig sites around the world.
(Hardcover, ages 8-12, $19.99) Robot dogs! Jet packs! Cyborgs! Super-sleek space suits! It's not science fiction, it's science reality. And soon, it may be part of everyday life. This book is a jam-packed collection of the coolest tech and wildest ideas that are shaping the world of tomorrow.  With chapters on future cities, space travel, high-tech entertainment, and even saving the world, Ultimate Book of the Future is a thorough, fun compendium of high-tech gadgets being built today and the coolest stuff tomorrow has to offer, plus the amazing dreamers making it all happen. Special "Could It Happen?" features tackle kids" burning hypothetical questions, like whether Jurassic Park could really exist, or whether a robot could become president. Each chapter also includes a "Future Fail!" that profiles one thing we thought we'd have by now, but don't (like everything from The Jetsons.) And kids will see where they might fit into the picture through the "Jobs of Tomorrow" profiled in each chapter. (Job titles include mind reader, space pilot, and robot-human communicator. Seriously!)
STOCKING STUFFERS — sized and priced just right!:
(Board Book, ages 0-2, $7.99)  Little learners are invited to start counting from 1 to 10 on this fun-packed tour through the savanna and jungles of Africa. Each spread introduces a new number and corresponding images of amazing African animals along with super-simple facts. Toddlers will be delighted by the variety of wild creatures featured, inlcuding lions, elephants, meerkats and more. With its square shape, bright and playful design, awesome photography, clear text, and cues to encourage interactive learning, the Little Kids First Board Book takes a fresh new approach to excite a baby's sense of wonder and make learning about nature and science fun.