With all the serums out on the market these days it's hard to find the right one for you for the right budget. Timeless has a great product out that will not break the bank.   I got to try the Hyaluronic Acid, and the Matrixyl S6 Serum + Hyaluronic Acid.  Both of these were great for my skin.
                                                             
   They both absorbed very quickly into my skin and did not leave a greasy feeling at all.
                                                          
   The hyaluronic acid can hold up to 1000 times it weight in water which will diminish fine lines and wrinkles.    The S6 serum helps stimulate the collagen in your face for a nice smoother look.
                                          
  I love the S6 in the morning I put it on before my sun screen and it helped give my makeup a nice smoother looks.  You will start seeing results from both of these in just a few weeks.  The bottle is big enough that you will not have to replace every other week.  If you are looking for the bang for your buck Timeless is a fantastic way to go.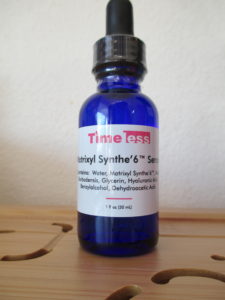 This is a sponsored post.  All opinions are 100% mine.