I got the Art of Racing in the Rain DVD free in exchange for an honest review
I'm not crying your crying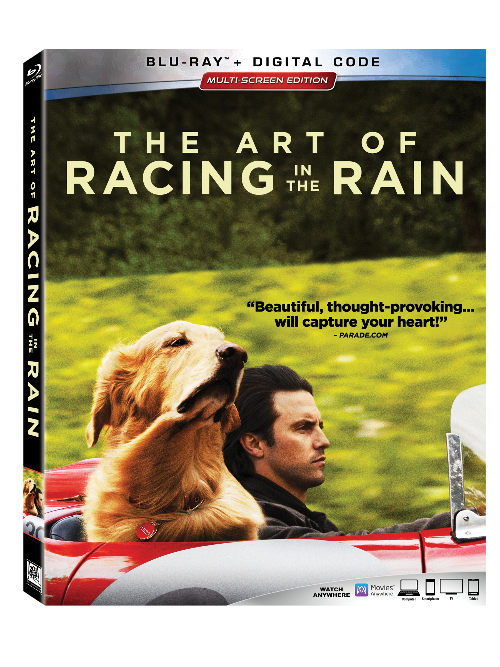 There are a lot of movies out there made to tear at your heart strings.  The Art of Racing in the Rain is one of them.  After Denny finds his new best friend Enzo everything starts to go his way. He is racing cars, he found the love of his life, and now has a beautiful baby girl.   After years of happiness everything starts to go downhill.  Nothing that he did but seems like if it can go wrong for Denny it does.
This story is told my Enzo's point of view.  Everything the dog sees and does it to protect him family and now that he is at the end of his life, he is remembering it all and telling us the story.  Enzo is hoping to come back as a human and relives his whole life for us.
My question for you when everything starts to go down hill what do you do?  Do you fight with everything you have to save it?  Or do you give up?  If you fight what is keeping you fighting?
Based on the best-selling novel by Garth Stein, THE ART OF RACING IN THE RAIN is a heart-warming tale narrated by a witty and philosophical dog named Enzo (voiced by Kevin Costner). Through his unique insight into the human condition, Enzo helps his owners — race car driver Denny Swift (Milo Ventimiglia), his wife Eve (Amanda Seyfried) and daughter Zoe (Ryan Kiera Armstrong) — navigate life with a refreshing perspective on friendship, family and unconditional love.
The In-Home release comes fully loaded with more adorable Enzo moments in the special features along with insights into the making of the film from the cast and filmmakers. See for yourself why audiences love Enzo and give this film an A- CinemaScore® when you add THE ART OF RACING IN THE RAIN to your digital collection on Movies Anywhere October 29 and on Blu-rayTM and DVD November 5.