We got this Swift DVD free in exchange for an honest review. All opinions are our own.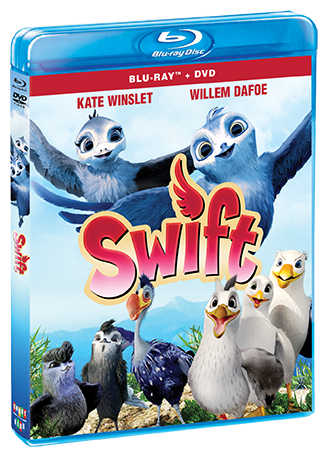 When a young bird finally hatches he realizes he is all alone.  Looking up he finds a mama bird laying on another egg.  The mom quickly realizes what is going on and takes this young one into her nest to raise as her own.  When his new little brother hatches he makes a promise to always take care of him.
Knowing he is different he try's so hard to fit in with his family, but he never does good enough for his father.  This is when he joins in a race to prove he belongs.   When he gets put in charge of the eggs everything starts to go wrong.  Will he finally find is family?  Will they accept him?  What will become of him? Find the answered and more when you watch his adventure.
Los Angeles, CA – Take flight with 
Swift
, a wonderfully uplifting, family friendly journey about standing up for what you believe and finding your place in the world, when it comes to Blu-ray™ and DVD on April 7, 2020 from Shout! Kids. Starring the voice talent of Kate Winslet (Titanic, Mary and the Witch's Flower) as Blanche, Willem Dafoe (The Lighthouse, Finding Dory) as Yves, and Josh Keaton (Voltron: Legendary Defender) as Manou, this is a film for the whole family. Bonus features on the Blu-ray and DVD include an interview with Willem Dafoe, a look at the making of the film, and the theatrical trailer. Meet Manou, a sweet bird who grows up believing he is a seagull like his parents. He strives to swim, fish and fly like them … but feels that he is not very gifted. To his great shock, Manou discovers that he was adopted, and is actually the offspring of the much-hated swifts! After a tragedy, Manou has to navigate the differences between swifts and seagulls, and ultimately try to find his own identity – and save his friends and family along the way.
I have some awesome news 3 lucky  U.S winners will get their very own copy.  Please note due to what is going on in the world I do not know what shipping time will be.