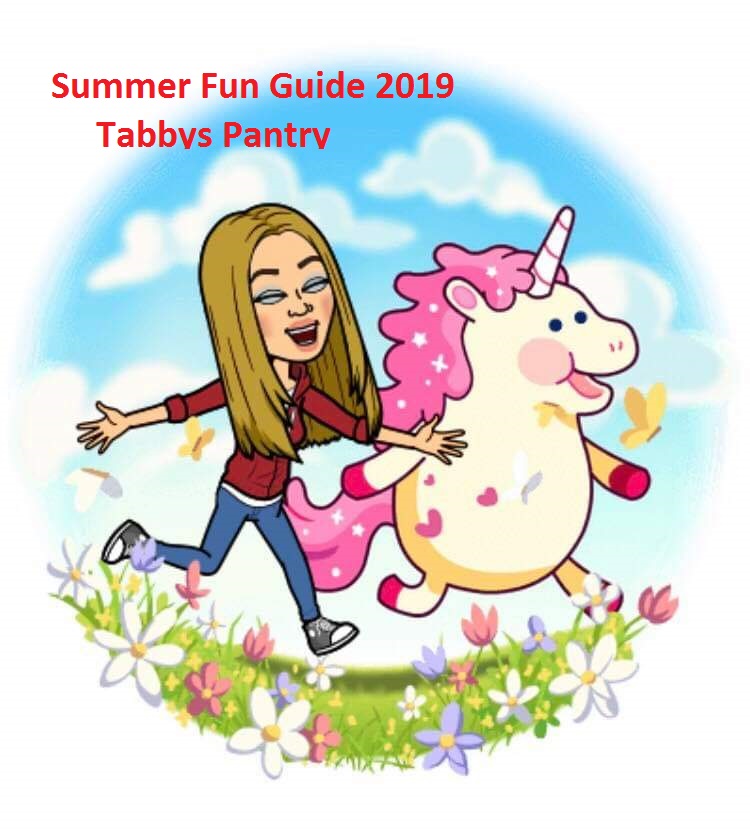 Who else is excited for a summer of fun.  Along with trips in town and vacation we have a lot of time to fill.  We have found some of the best summer fun items you are going to love.  Not only are they perfect to keep your kids busy, but a lot of them will be perfect to keep you busy as well
As most of you know there is nothing my son loves more then his pets.  When he saw that he could actually raise butterfly's he was so ecstatic.   I don't think I had ever seen him so excited.  When the Uncle Milton Wildlife Habitats showed up, he was so ready to get started.
Do you have a bubble lover then Gazillion Bubbles from Funrise toys is a must.  They have a wide range of bubble making toys your kids are going to love.  My son can't get enough of bubbles and had a blast.  Are you one of the parents that once you start blowing bubbles they never let you stop?  Then make sure to check out Gazillion Bubbles they even have machines that will blow them for you so you can finally sit back relax and just watch the fun for a few minutes.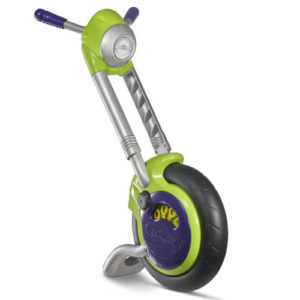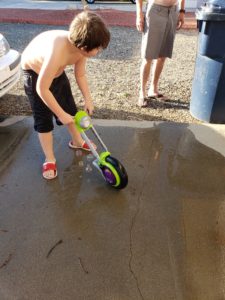 Yaaaa ZURU has made our parties so much easier.  Balloons are my sons #1 recommend for any party.  He does not consider it a party until we got balloons.  Before ZURU It meant we spent a ton of money to get them already done, or everyone that came over got put to work on blowing them up, tying, and adding the extras.  It was always a process. Now Bunch O Balloons Party Pump Starter Pack has made it easy.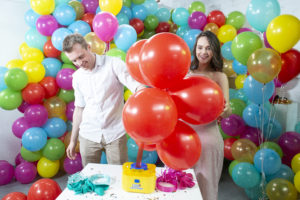 Hatchimals lovers you are going to be so excited.  They have some new friends out and they are adorable.  The Hatchimals Pixies are too cute for words and come with accessories.   There are 8 different ones you can collect.  They each come with their very own pixie bed + 3 accessories.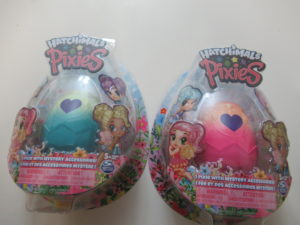 Are your kids obsessed with cars.  Then these tracks and little cars are going to keep them busy for hours.  They have a ton of Micro Wheels to collect.  Each little pack has a surprise car.  My son loves just pulling the cars back and watching them go.  I love that the cars go right into their little garage at the end of the track its like they put themselves away.  The garages also connect to make it easy to store them and easy to find again later to play with. Check out the video below for more Micro Wheels fun.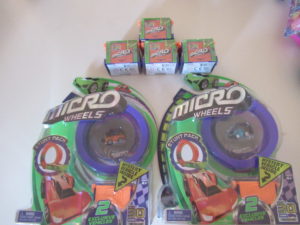 Best Furry Friends are at the top of my list.  I want to collect them all.  as you all know me and little guy are both animal obsessed.  These are not only very cute there are so many to collect and play with.  They have a whole line your little is going to love.  Best Furry Friends not only have the very cute friends they have a animated series I love on youtube.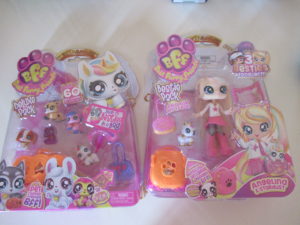 Think of a fun game of Good vs. Evil your job is to get the main werewolf out while avoiding the other werewolves.  So when you get it read the directions.  At first I though this would be a little to complicated for my little guy.  Yet he was actually the one who remembered the rules and remembered everything.  We went to him for tips lol.  This was a great family game for the whole family. We even had the Glow bracelets on the two puppies running around.  Of course they had no idea what was going on so they made perfect wolfs lol See full review here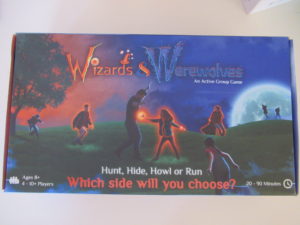 My son loved anything that is interactive.  He loved to build and play and magnets are one of his favorites.  I was so excited to show him the MagStix by BizyBeez when they came.  They were out of the box in no time and he played with them for hours.  They really are a new concept on an old favorite.  There are so many possibilities that you can do with these great pieces.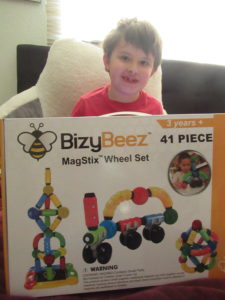 Now living in Arizona with the hot summers we can bring this home for our little guy. The Splash2o: World's First Home, Portable Splash Pad is perfect for the summer.  For the price of just your family getting into a park you can now have this at your home all year round.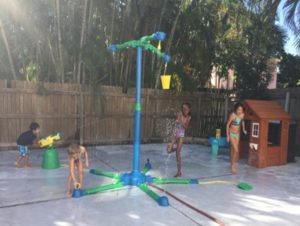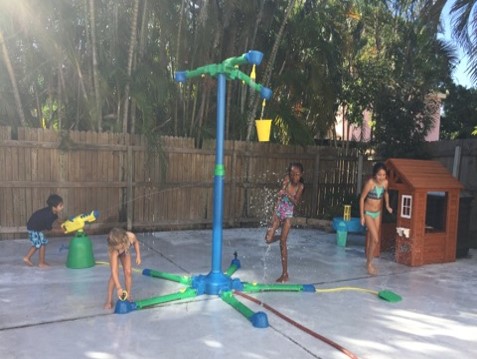 Did you all know X-Shot made water guns?  I had no idea till this showed up and little guy was so excited to play.  This baby is also a fast fill so we keep a bucket of water near us and we are off to play.  This was awesome we were filled in no time and off to play again. ZURU has outdone them selves with the X Shot water gun.  It was very easy to use and my son could even spray it.  Normally we have to buy he cheep ones that don't last because they are easy to pull the trigger.  Now we have a great one that takes no time to fill and keeps the fun going all day long.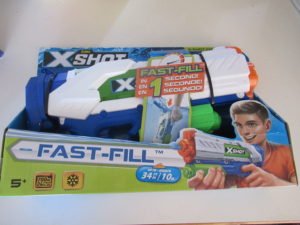 MAGFORMERS are a number one in our house.   They are a great learning toy for my son that he loves.  He can build all day long.  This MAGFORMERS 50 piece set is not only fun to play with, but gives us a great chance to talk to him about the police and how they will always be there to help him. his is a great STEM toy your kids are going to love this summer.  Keep them building and learning all summer long.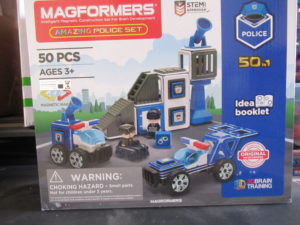 What says summer better then a Coconut Pool Float?  Even better they have Jurassic World.  This is another movie that me and little guy watch weekly. He loves Blue and the Indoraptor.  These are not only our favorite charters they are cute and a great ride on for the pool.  Coconut Float makes a wide range of pool floats you are going to love.  they are very well priced and fantastic quality.  I have had some of mine for a long time and they are still in perfect condition.  They are a must have this summer.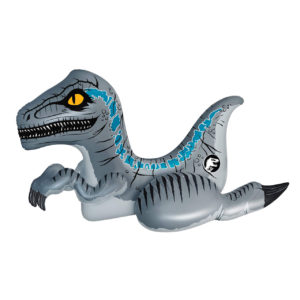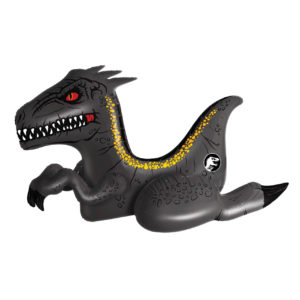 Were are my Harry Potter Lovers?  I am always looking for the new and best of the Harry Potter world.  When I saw the Harry Potter Pop-Up guide I was so excited.  This book is beautiful and would make a perfect addition to any Harry Potter collection.  Come check out more at Insight Editions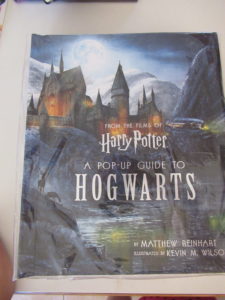 The Mindful Traveler Exploration Journal.  Do you love traveling?  Do you always look for deeper meanings in life?  Then the Mindful Traveler Exploration Journal is what you need.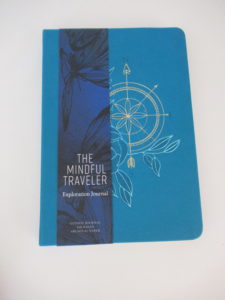 Supernatural Hardcover Ruled Journal
The Essential Supernatural [Revised and Updated Edition]
Supernatural is a must for any sci-fi lover.  This is not only one of the top shows till this day, it is one of the longest running Science Fiction shows.  Not to mention a few really dreamy main charters that I am in love with.  I don't know a girl out their that does not love Dean, this girl included.  Sorry Sam I love you too but I am totally a Dean girl.  Which are you Team Dean or Team Sam?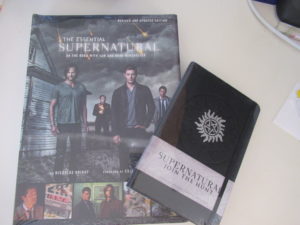 Buffy the Vampire Slayer Sunnydale High Hardcover Ruled Journal
Buffy the Vampire Slayer: The Official Grimoire
Now Buffy The Vampire Slayer was not no only a huge hit when I was in High School, but it still has a huge following today.  I have seen every episode a few times.  There was nothing like day dreaming about being a vampire slayer.   From our favorite Vampire Slayer to our Favorite Witch they had so much for their fans.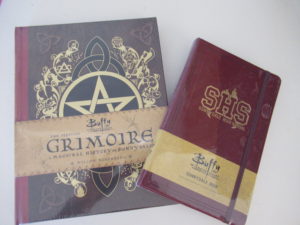 Crayola always bring big fun for the family especially during the summer.  With the outside chalk my son and nephews had hours of fun in the driveway. The Mess free is perfect for any travel they can hold right in their lap and no worries about pens in the back seat where you can not see them.  If you are looking for some great outdoor fun then you can not go wrong with all the new and fantastic Chalk colors this summer from Crayola.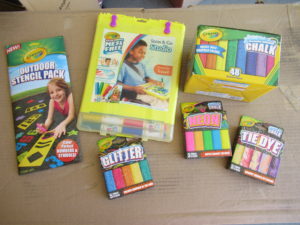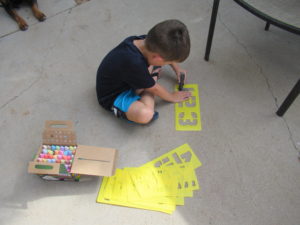 Goliath games has been a huge part of our summer fun for years now.  With so many fun games for them to play outside how you you go wrong.  The top one for this summer has become the Flag Football.  My boys could not get enough of it.  The best part they can use the flag to hold the football up right to kick it.  No one else is requires so they could play together and even play on their own.  Make sure to check out Goliath games for your summer fun .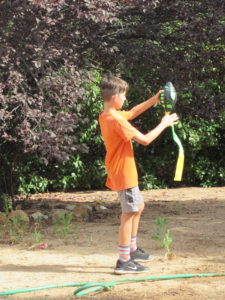 Do you love Pinball?  Do you love water? Then HYDRO Strike from Pressman toys is a must for this summer.  This is a action packed game your kids and even you will love this summer.  Have a little fun and cool down at the same time.  Hydro Strike is going to be a party hit.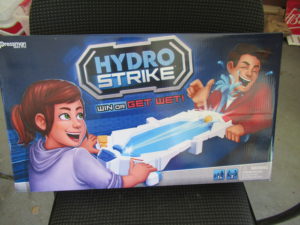 Why let the learning stop during the summer?  This is not only a great STEM toy for your little one you are going to have a blast learning with them.  Kid's First Big & Fun Microscope  This big, colorful microscope was designed specifically to enable young kids to have successful microscopic viewing experiences, and to be a fun tool for early biological investigations! The kit comes with 24 printed slides and one blank slide as well as a storybook-style manual that instructs kids how to use the microscope and guides them on a series of introductory lessons. Ages 4+ MSRP $34.95.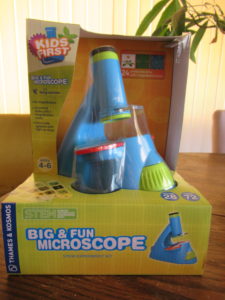 Ok we had way to much fun with these magnets.  This is hours of fun for your little ones.  Then when you combine them with the Police up above you can have even more fun.  See below for even more building fun pictures.  Click and create your own adventure with Magformers AMAZING Sets! Magformers are a magnetic construction toy where the possibilities are endless. Kids now have the opportunity to live out their dreams and become one of their dream professions such as a firefighter, a police officer, and construction worker through one of the four new Magformers AMAZING sets! Great for children aged 3 and up. Create 50 ideas with the follow-along idea booklet or build your own adventure! Ages 3+ MSRP $59.99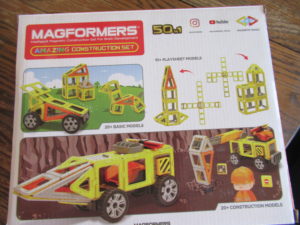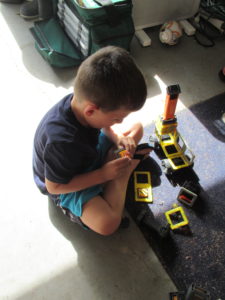 My son till this day LOVES PBS I love that I can let him have screen time and he is still learning.  Even better with this Tablet they can also play dvd's.  It even came with one so you are ready to go.  Make sure when you get it to charge it right away.  Then it walks you threw setting it up , it was so easy. PBS KIDS Playtime Pad DVD Combo  A 2-in-1 tablet and DVD player, the PBS Kids 7" HD Kid Safe Tablet & DVD Player is the perfect portable entertainment provider for kids! Preloaded with over 23 educational games, 120 video clips, songs, and music videos in subjects include reading, math, and more making this tablet great for keeping kids entertained while at home or on the road. Featuring parental controls, you can now manage and customize your child's entertainment experience. Available now on Walmart.com. MSRP $99.99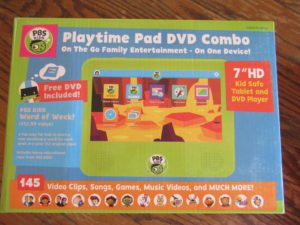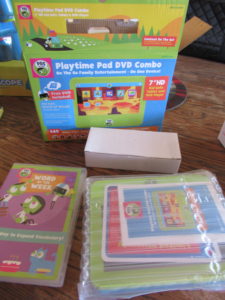 Let them build their very own rocket and lunar lander with the all new Apollo 11 Series from Plus-Plus. This collection will not only provide endless hours of fun for everyone involved, but it can also serve as a great way to sneak in a little bit of a U.S. History lesson on our country's first trip to the moon! MSRP: $39.99
Or perhaps they may enjoy these fun new food tubes!
There is nothing better then laying next to the pool and playing cards.  Lets be honest once people get a few drinks in or kids are playing around the cards end up wet or in the pool.  This is no longer a worry with Hoyle® Waterproof cards.  They were designed and constructed for card players of all ages who want durable, waterproof playing cards for their gaming needs. Way beyond typical all-plastic playing cards, they're washable, flexible, easy to shuffle, and packaged in a clear reusable plastic case.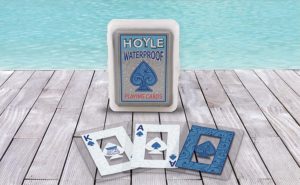 Each one of these has a surprise inside and they are so cute.  I love the look of the fortune cookies I almost did not want open them they were so cute.   When we did open them each bracelet was unique and cute.  Your kids are going to fall in love. See full review here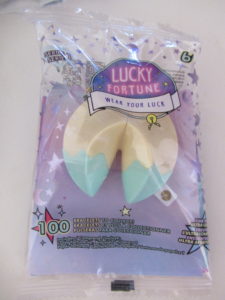 As you all know I love to travel.  When I do travel, I never have enough room in my carry on or checked bag.  I am actually a very un-organized person.  Which means I need someone else to come up with how to organize my items or I am at a compete loss.  Luckily, I found Simplily Co.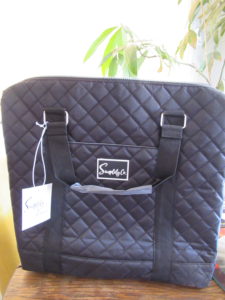 Want to see these toys in action scroll below to see more