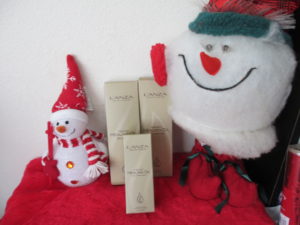 I have loved Lanza for a while now.  Their products smell wonderful and make a huge difference in the way my hair looks and feels. The Keratin Healing oil products will make you hair bounce and shine like never before.  I was so excited to see that Lanza Healing Haircare has stocking stuffer packs out for the season.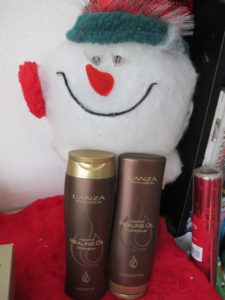 The stocking stuffers will cost from $28.00 – $46.00 and available at a salon near you.  I love that they have a different kit for all your hair challenges so you can make sure you get the right one for your hair and the right one for that special someone this holiday season.   Some people have asked before so I want to assure you now NO they do not test on animals.  I know this is important for a lot of us out there and wanted to make sure I reassured you.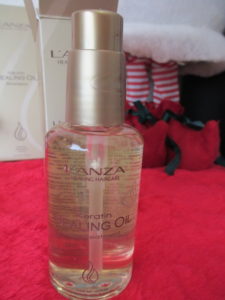 Our stockings every year are always filled with everyday needs and I love the idea of finding a great Lanza kit in my stocking this year.  Of course, I am already using mine but maybe Santa will have to bring another one for me this year.  Their products will last you quite a long time, a little goes a long way and better yet they don't leave your hair weighed down and greasy.
The Perfect 10 For Holiday:

1. L'ANZA Keratin Healing Oil Shampoo (300ml) and L'ANZA Keratin Healing Oil Hair Treatment(100ml), w/free L'ANZA Keratin Healing Oil Conditioner (250 ml), $42.00
2. L'ANZA Healing ColorCare Color-Preserving Shampoo (300ml) and L'ANZA Healing ColorCare Trauma Treatment (150ml), w/free L'ANZA Healing ColorCare Color-Preserving Conditioner (250ml), $26.50
3. L'ANZA Healing Moisture Tamanu Cream Shampoo (300ml) and L'ANZA Healing Moisture Kukui Nut Conditioner (250ml), w/free L'ANZA Healing Moisture Noni Fruit Leave-In Conditioner (250ml), $26.00
4. L'ANZA Healing Strength White Tea Shampoo (300ml) and L'ANZA Healing Strength Neem Plant Silk Serum (100ml), w/free L'ANZA Healing Strength Manuka Honey Conditioner (250ml), $29.00
5. L'ANZA Healing Volume Thickening Shampoo (300ml) and L'ANZA Healing Volume Thickening Conditioner (250ml), w/free L'ANZA Healing Volume Zero Weight Gel (200ml), $26.00
6. L'ANZA Healing Smooth Glossifying Shampoo (300ml) and L'ANZA Healing Smooth Glossifying Conditioner (250ml), w/free L'ANZA Healing Smooth Smoother Straightening Balm (250ml), $26.00
7. L'ANZA Healing Nourish Stimulating Shampoo (300ml) and L'ANZA Healing Nourish Stimulating Treatment (100ml), w/free L'ANZA Healing Nourish Stimulating Conditioner (250ml), $28.00
8. L'ANZA Healing Remedy Scalp Balancing Cleanser (300ml) and L'ANZA Healing Remedy Scalp Balancing Treatment (100ml), w/free L'ANZA Healing Remedy Scalp Balancing Conditioner (250 ml), $28.00
9. L'ANZA Keratin Healing Oil Shampoo (50ml), L'ANZA Keratin Healing Oil Conditioner (50ml), L'ANZA Keratin Healing Oil Hair Treatment (10ml), Keratin Healing Oil Finishing Spray Stick (45ml), w/free L'ANZA Holiday Cosmetic Bag, $15.00
10. L'ANZA Healing ColorCare Color-Preserving Shampoo (50ml), L'ANZA Healing    ColorCare Color-Preserving Conditioner (50ml), L'ANZA Healing Colorcare Trauma Treatment (150ml), w/free L'ANZA Holiday Cosmetic Bag, $15.00
I got this free in exchange for an honest review
Don't forget to check out our full Holiday Gift Guide