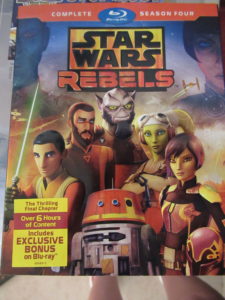 Hello Star Wars lovers.  I heard from so many people that they love Star Wars but hate waiting in between movies.  Well guess what, you don't have to wait for a new Star Wars adventure in between.  If you have not been watching Star Wars REBELS then you have been missing out.  4 seasons of Star Wars that will be new and fun adventures.  This is the fourth and final season.  If you are missing the Empire and the Rebellion and want a new and fun story line make sure to pick this series up and join in on all the Star Wars fun.  Our family is Star Wars lovers and we loved it.  It is a little weird watching it as a cartoon at first but you get sucked right in and can't help but binge watch it.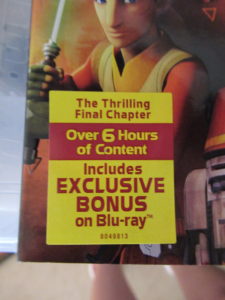 Join the Ghost crew as they embark on their most important mission
in Star Wars Rebels: The Complete Fourth Season,
available on Blu-ray™ and DVD July 31st
BURBANK, California, June 28, 2018 –– Star Wars Rebels: The Complete Fourth Season delivers all 15 action-packed episodes of the hit CG animated series' final season, plus exclusive, never-before-seen bonus extras on Blu-ray™!
Available July 31, Star Wars Rebels: The Complete Fourth Season features some of the most critically-acclaimed Star Wars storytelling to date, with compelling characters, harrowing conflicts and astounding space battles. Old friends are reunited and new alliances are forged as Star Wars Rebels builds to an epic conclusion, drawing connections to the entire Star Warssaga.
Star Wars Rebels was created by Dave Filoni (Star Wars: The Clone Wars), Simon Kinberg ("X-Men: Days of Future Past"), and Carrie Beck ("LEGO Star Wars: The Freemaker Adventures"). The Lucasfilm Animation production is also executive-produced by Filoni and Kinberg.
The season four voice cast includes Taylor Gray as Ezra, Vanessa Marshall as Hera, Freddie Prinze, Jr. as Kanan, Tiya Sircar as Sabine, Steve Blum as Zeb, Dee Bradley Baker as Rex, Mary Elizabeth McGlynn as Pryce, David Oyelowo as Kallus and Lars Mikkelsen as Thrawn.
Bonus Extras:
Blu-ray:
Featuring Dave Filoni (Executive Producer)
As paths come together, we explore the journey of the Ghost crew with some of the talented people who brought them to life.
Executive Producer Dave Filoni shares insights into the Force and its importance across the Star Wars saga.
Kevin Kiner: The Rebel Symphony
Go behind the scenes with composer Kevin Kiner to discover what inspired some of the most iconic music in the series.
Go behind the scenes with the cast and crew in 8 entertaining and information-packed episode recaps!
DVD:
Go behind the scenes with the cast and crew in 8 entertaining and information-packed episode recaps!
Disc Specifications:
Release Date:               
July 31, 2018
Format:                        Blu-ray (2-Disc) & DVD (3-Disc)
Rating:                         US: TVY7-FV, Bonus Material Not Rated CE: PG, CF: G (Bonus Material Not Rated
Run Time:                    Approximately  353 minutes
Closed Captioned:        Yes
Aspect Ratio:               1:78:1 (Widescreen)
Audio:                          English & French 5.1 Dolby Digital, Spanish 2.0 Dolby Digital
Languages/ Subtitles:    English, French, & Spanish
Social:
Facebook: Facebook.com/starwarsrebels
Twitter: twitter.com/starwars
Instagram: Instagram.com/starwars
Website: https://www.starwars.com/star-wars-rebels-home-video
Want even better news all.  One Lucky U.S winner will get a copy of their very own
I got this free in exchange for an honest review.