We got red Shoes and The Seven Dwarfs DVD free in exchange for an honest review.  All opinions are our own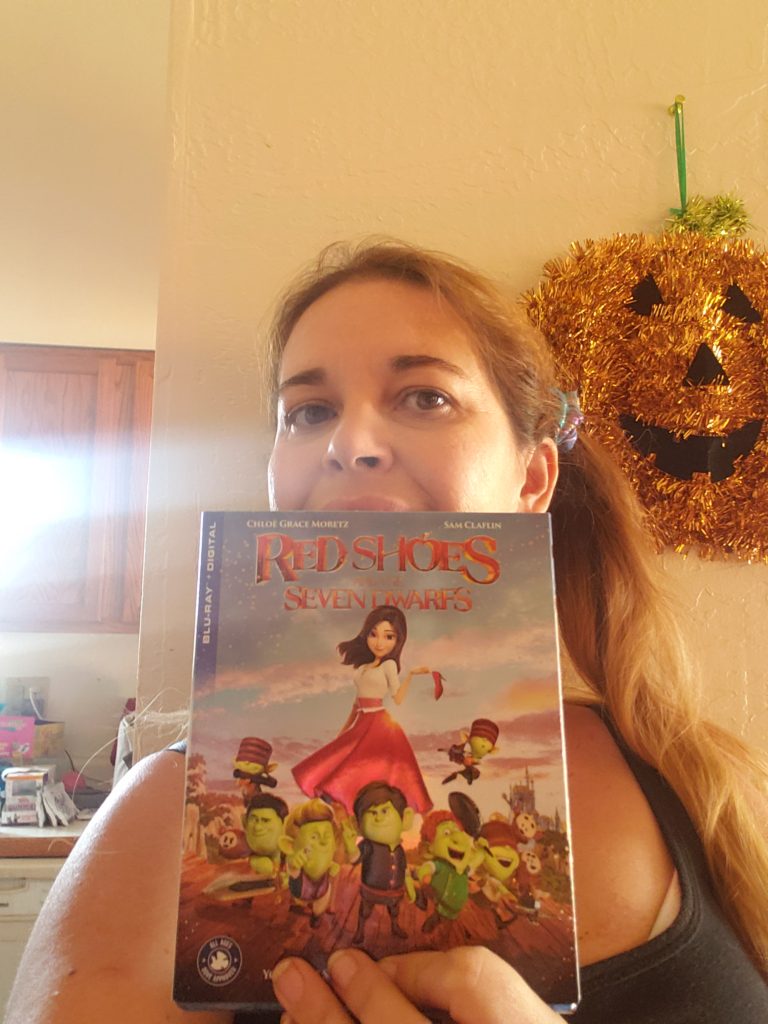 Who is excited for a new great movie from Lionsgate.  If you love a great fairy tale then Red Shoes and The Seven Dwarfs is going to be the perfect family movie night movie. This movie is so many great Fairytales in one great movie.  I love the adventure and fun and my son was sucked it right away.
Have you ever wanted to find the perfect pair of shoes and become a princess.  Well now is your change to see how it could all go.  Will it work out?  Will she learn a few lessons on the way?  Of course she is going to learn a few lessons.  I think they are lessons all kids should learn.
This outrageous fairy tale spoof starts as Snow White steals a pair of red shoes that transform her into a princess. Meanwhile, a witch's curse turns seven brave princes into dwarfs, forcing them to seek out the princess, hoping for a kiss to break their spell. Together, they must face Snow White's wicked stepmother – who will stop at nothing to get her precious shoes back – and, along the way, learn that true beauty lies within!
Red Shoes and the Seven Dwarfs was directed by Sung-ho Hong, and features character design and animation direction from Jin Kim, who worked on Disney's animated classics Fantasia 2000, Frozen II, and Tangled. Music is by Primetime Emmy® award-winning composer Geoff Zanelli (2006, Outstanding Music Composition for a Miniseries, "Into the West"; Emmy® nomination: 2010, Outstanding Music Composition for a Miniseries, "The Pacific"), whose theatrical work includes Maleficent: Mistress of Evil and Pirates of the Caribbean: Dead Men Tell No Tales. Voice direction is from Tony Bancroft, the director of Disney's Mulan. It was produced by Locus Animation Studio.
Go behind the scenes of this must-own animated adventure with enchanting Blu-ray and DVD bonus features, including two "making-of" featurettes and two music videos featuring the all-new original songs! The Red Shoes and the Seven Dwarfs Blu-ray and DVD will be available for the price of $21.99 and $19.98, respectively.
BLU-RAY / DVD / DIGITAL SPECIAL FEATURES
"The Making of 

Red

 

Shoes

 and the Seven Dwarfs" Featurette
"From Storyboard to Animation: Creating 

Red

 

Shoes

 and the Seven Dwarfs" Featurette
"Start of Something Right" Music Video
"Something So Beautiful" Music Video
Don't forget to join the Twitter party 🙂
Date: Tuesday, Sept. 22 Time 6-7 PM PST
Hashtag: #RedShoesMovieParty
RSVP: http://forms.gle/hbmHcQ2c6a14PQ… On Digital + On Demand 9/18 On Blu-ray + DVD 9/22 (SP)