Genndy Tartakovsky's Primal:
 The Complete Second Season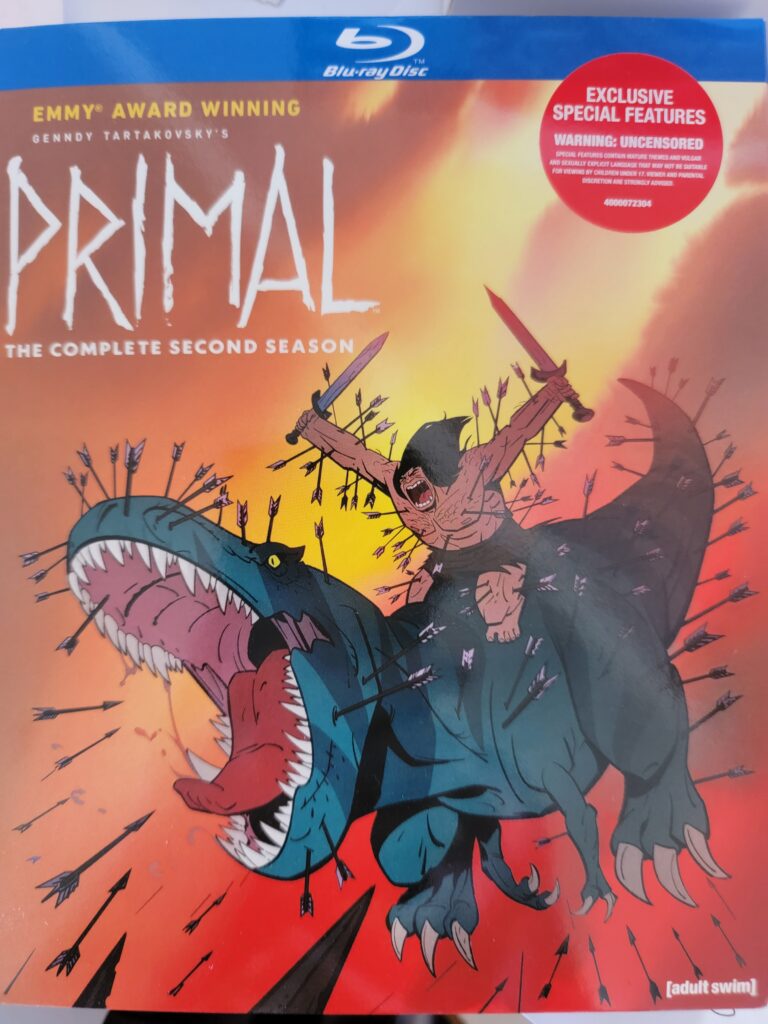 Available to Own on Blu-rayTM Disc & DVD April 25, 2023
#Primal
To download box art: https://warnerbros.box.com/s/9bkr59cdfjd0mwcj22b78er4ys9s9p2g
BURBANK, CA (February 16, 2023) – Eat, or be eaten! Kill, or be killed! Get in survival mode as Adult Swim's #1 prehistoric animated series, Genndy Tartakovsky's Primal: The Complete Second Season, arrives on Blu-ray and DVD on April 25, 2023. The critically acclaimed series from Cartoon Network Studios has won a total of 5 Emmy® Awards including "Outstanding Animated Program." Binge all 10 episodes from the second season and go behind the scenes with an all-new featurette exclusive to this release.
Named "Best Animated TV Show of 2022" by Vulture, Genndy Tartakovsky's Primal follows the tale of a caveman at the dawn of evolution as he forms an unlikely friendship with an almost extinct dinosaur. In Season Two, Spear and Fang journey to a new world to rescue Mira from her captors only to find it is a place filled with savage brutality.
Genndy Tartakovsky's Primal: The Complete Second Season will be available on April 25, 2023 to purchase on Blu-ray Disc and DVD both online and in-store at major retailers. The series is also now available to purchase Digitally from Amazon Prime Video, AppleTV, Google Play, Vudu and more.
SPECIAL FEATURES
Genndy Tartakovsky's Primal: Inside the Evolution (New Featurette) – Go Inside the Evolution of the Emmy award-winning show, with Genndy Tartakovsky and his team. They share their inspiration behind the second season and how a four-legged friend inspired one of the most beloved characters.
Pricing and series information:
Includes all 10 episodes from the second season:
Sea of Despair
Shadow of Fate
Dawn of Man
The Red Mist
The 

Primal

 Theory
Vidarr
The Colossaeus, Part I
The Colossaeus, Part II
The Colossaeus, Part III
Echoes of Eternity
PRODUCT                                         SRP
Blu-ray                                               $29.98 SRP ($39.99 in Canada)
DVD                                                   $24.98 SRP ($29.98 in Canada)
Blu-ray and DVD Audio – English (5.1)
Blu-ray and DVD Subtitles – English SDH
Total Runtime: Approx. 221
Enhanced Content Runtime: Approx. 13 min
Rated: TV-MA
About Adult Swim
Adult Swim is the leader in adult animation and #1 destination for young adults for over fifteen years, offering critically acclaimed, award-winning original and acquired series such as "Rick and Morty," "Genndy Tartakovsky's Primal," "The Eric Andre Show," and "Tuca & Bertie." Fan favorite anime block, Toonami, airs on Saturday nights and has expanded beyond acquisitions, producing original series including "Housing Complex C," "Uzumaki," and new seasons of "FLCL." The annual Adult Swim Festival reaches a global audience, and features performances by top musicians and comedians. Adult Swim airs nightly from 8 p.m. to 6 a.m. (ET/PT) on its linear channel and reaches fans via HBO Max. Connect with Adult Swim on Facebook, Twitter, Instagram and Tik Tok. Subscribe to Adult Swim on YouTube.