Today, The Pokémon Company International announced the newest expansion for the Pokémon Trading Card Game, Champion's Path, available worldwide starting September 25.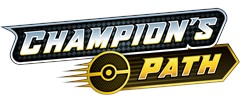 The expansion recreates a Trainer's journey through the Galar region as seen in the Pokémon Sword and Pokémon Shield video games by collecting various pins featuring Gym logos as well as foil cards for the partner Pokémon of each Gym Leader. Champion's Path also adds new Pokémon V and Pokémon VMAX like Venusaur V, Lucario V, Drednaw VMAX, Alcremie VMAX, and more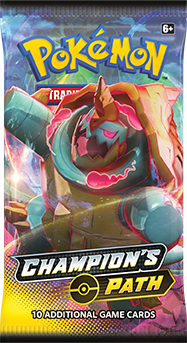 Champion's Path Pin Collection and Champion's Path Special Pin Collection
The 
Champion's Path
 Pin Collection includes six versions—each themed after a different Gym Leader in the Galar region with a corresponding pin and foil card. Pin collections based on Milo's Turffield Gym, Nessa's Hulbury Gym, and Kabu's Motostoke Gym will release on September 25, 2020, while pin collections inspired by Opal's Ballonlea Gym, Piers' Spikemuth Gym, and Raihan's Hammerlocke Gym will launch on November 13, 2020.
In addition, the Champion's Path Special Pin Collection comes with two versions representing the Stow-on-Side Gym and Circhester Gym. In each of these pin collections, Trainers will find collector's pins featuring each Gym's two logos and two foil cards showcasing the partner Pokémon of both Gym Leaders. The Champion's Path Special Pin Collection will be available on October 2, 2020.
Trainers can choose to represent their favorite Gym Leader or even collect the full lineup.