Buffets are one of the best ways to feed everyone at your party. They don't require space to sit down, and everyone can bring a dish and contribute. However, the problem with buffets is that they can get a little boring, especially if you serve the same 10 dishes every single time. Fortunately, you can find a wealth of exciting and delicious buffet dishes to try out at your next party, below. Keep reading to discover what they are. 
Baked Camembert 
Buffet food doesn't get any easier or tastier than this. Take a large camembert and place it in an oven-proof dish, one that is circular and closely fits the size of the cheese is best. Then score diamond shapes on the top of the cheese and add raw garlic cloves and small sprigs of rosemary. Drizzle with olive oil and then place in a medium-hot oven for 20 minutes or until the top of the cheese is bubbling and liquid. Serve with raw crudites, and crusty bread to delight your guests! Just be sure to choose an unpasteurized Camembert for this process, as pasteurized ones do not melt properly!  
German Potato Salad
Potato salad is a long-time buffet favorite, but why not try changing things up a bit with this delicious german variation? Of course, you'll still need plenty of cooked potatoes. However, instead of a typical mayonnaise dressing, you'll be making a rue, and then adding it to a chicken broth mixture to create a creamy sauce. Check out this great German Potato Salad to get detailed instructions. The whole dish is finished off with bacon and scallions and is just as tasty cold as it is still warm from the pan. 
Smoked salmon and quail eggs 
What I love about this buffet dish is that it's so quick and easy, and yet so sophisticated. All you'll need is some smoked salmon, some quails eggs, some good quality mayonnaise, and a little smoked paprika. 
First of all, boil the quail eggs for two minutes for soft and three for hard. Then blanch them in cold water to stop the cooking process and make the shelling easier. While the eggs are boiling, cut the salmon into long strips and place them in a large bowl. Once the eggs have boiled and been blanched, shell them under a running tap and cut each egg in half. 
At this point add a tablespoon of mayo for every strip of salmon, season well with smoked paprika and stir. Lay the salmon out on a plate, and then dot the quail eggs on top of the salmon. Add a good grind of sea salt and black pepper and serve with whole meal toast! 
Spanish Tortilla
The great thing about Spanish Tortilla is that it can be cooked beforehand but tastes just as good cold. You can also easily customize it to your own and your party guests' tastes by adding additional items such as goat's cheese, red peppers and sundried tomatoes. 
The basic Spanish Tortilla is a mix of cooked, sliced potatoes, a little onion and the whipped-up egg. Be sure to add plenty of salt and pepper to the mix to season. Potatoes need to be cooked beforehand and can be large ones sliced into smaller pieces or smaller new potatoes cut in half.  
To make, add the cooked potato slices, and cooked onion to a large ovenproof pan or skillet. 
Pour over the egg mix (1 egg per portion that you want to make, plus one extra egg) and add any additional ingredients such as peppers and tomatoes (they also need to be cooked first). If using cheese, sprinkle or place this last and pop in the oven at medium heat for 30 minutes. Check that the tortilla is fully cooked and nicely browned on the sides and top before removing it from the oven, cool, and serve. 
White chocolate and raspberry cupcakes 
There is a reason why cupcakes of any sort are the best dessert for a buffet. It's because they already come in their individual servings, and do not require the attention of the host to give out. They don't even ask your guests to serve themselves with messy knives or spoons either, so keep waste and mess to a minimum while making sure everyone gets a delicious sweet treat.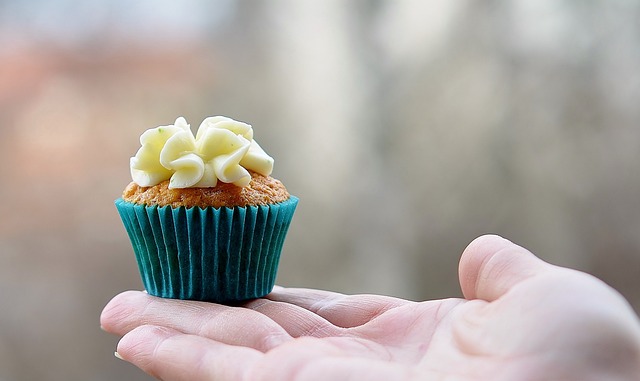 Picture found at Pixabay – License CC0
Chocolate cupcakes tend to be the most popular in my experience, but why not try a new twist on an old idea with these white chocolate and raspberry cupcakes? They are sweet and summery, decedent and delicious and ideal when to end a BBQ buffet.