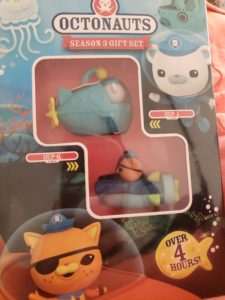 Octonauts Season 3  is out and we could not be more excited.  We love the Octonauts and all the great lessons they teach our little ones.  Whats even better this great gift set also comes with a few toys.  So our little's can play while watching and learning.
Octonauts brings up some fantastic lessons about the sea and the life of the animals.  If you have a little one that loves to learn about different animals and the sea this series is the one for them. .   This dvd set also has over 4 hours for you and your little ones to watch.
Octonauts: Season 3 with Speeder Toys
The Octonauts are a team of adventurers who explore the world's oceans, rescue aquatic creatures and protect their habitats – from the bustling eco-system along the Amazon River to the deepest depths of the Mariana Trench. Deploying a set of aquatic vehicles, Captain Barnacles, daredevil ex-pirate, Kwazii, medic Peso and the rest of the crew embark on missions around the globe before returning safely to their home base, the Octopod.
In this season set, encounter all types of creatures from Barracudas and Sea Pigs to Humpback Whales and Hammerhead Sharks! The adventures don't end there! Embark on a mission in the Deep Sea Octo-Lab as the
Octonauts
explore the deepest, darkest reaches of the ocean! Come aboard and join the Octonauts on 23 exciting adventures!
We got Octonauts free in exchange for an honest review