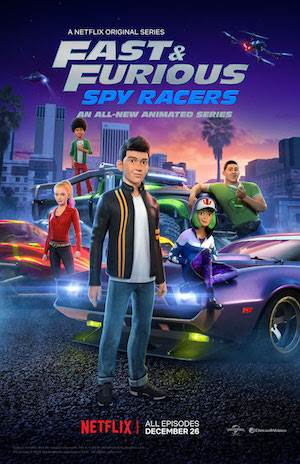 I am so excite for this new series to come out. This is a Netflix original and all the Fast and Furious lovers are going to go nuts for it.
Universal and DreamWorks Animation New Series
Fast & Furious: Spy Racers 
Accelerates on to Netflix December 26th!
Watch the series debut exclusively on Netflix starting this Thursday
Check out four exhilarating clips from Universal and DreamWorks highly-anticipated series, Fast & Furious: Spy Racers below!
Inspired by Universal's multi-billion dollar ​Fast & Furious ​franchise, Fast & Furious: Spy Racers is an all new animated series geared toward a younger audience.
Teenager Tony Toretto follows in the footsteps of his cousin Dom when he and his friends are recruited by a government agency to infiltrate SH1FT3R, an elite racing league serving as a front for a nefarious crime organization bent on world domination. Tim Hedrick (DreamWorks Voltron Legendary Defender) and Bret Haaland (All Hail King Julien) will serve as executive producers and showrunners. The series is also executive produced by Vin Diesel, Neal H. Moritz and Chris Morgan who also serve as producers on the live-action Fast & Furious franchise.