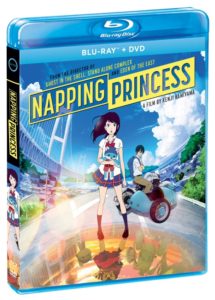 Are you looking for a new movie that has great graphics, action, adventure and so much more?  Then Napping Princess is what you are looking for.  This is a story about a girl who follows her dreams to help save her dad.  She goes on a fantastic adventure with her best friend all while learning more about herself and her family.  I had a blast watching this one.  It keep me sucked in from the beginning to the end.  If you are looking for a new animated movie then this should be on your list.
About Napping Princess
From visionary director Kenji Kamiyama (Ghost in the Shell: Stand Alone Complex and Eden of the East) comes a sci-fi fantasy that effortlessly weaves together the rapidly evolving technology of today's world with the fantastic imagination of the next generation, which was nominated for Best Animated Feature – Independent, at this year's Annie Awards.
The year is 2020, three days before the opening of the Tokyo Olympics. While she should be studying for her exams, Kokone Morikawa often dozes off, entering a dream-world called Heartland full of fantastic motorized contraptions. But when her father, a talented but mysterious mechanic, is kidnapped for stealing technology from a powerful corporation, it's up to Kokone and her childhood friend Morio to save him. Together they realize that Kokone's dream-world holds the answers to the mystery behind the stolen tech, uncovering a trail of clues to her father's disappearance and ultimately a surprising revelation about Kokone's family.
With an ambitious mix of multilayered action, whimsical characters and inventive machines, NappingPrincess is a genre- and universe-blending film that shows that following your dreams is sometimes the best way to discover your past.
Available in a Blu-ray/DVD combo and on EST/VOD, Napping Princess is now available for pre-order.
Bonus Features:
·         Interview with Kenji Kamiyama
·         Special Interview with Cast
·         Intro at Japanese Release
·         Okayama Scenery
·         Special TV Program
·         Trailers and TV Spots
I got this free in exchange for an honest review
Want even better news 2 lucky U.S winners will get their very own copy.