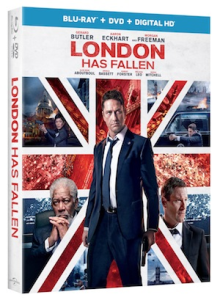 OMG all I can not tell you how excited I am for this one to come out.  I missed it in the theaters so this is going to have to be a must on release day.  The first was one of the most awesome movies I have ever seen.
Just announced this morning, Gerard Butler, Aaron Eckhart, Angela Bassett, and Morgan Freeman are back in action for the explosive sequel to Olympus Has Fallen, LONDON HAS FALLEN. It is available on Digital Download May 31st and Digital HD, Blu-ray, and DVD June 14 from Universal Pictures Home Entertainment.
BLU-RAYTM and DVD BONUS FEATURES:
The Making of London Has Fallen – An inside look at the massive undertaking of shooting such a large-scale film in London. Featuring interviews with cast and crew, this piece shows the unique challenges encountered on-set, director Babak Najafi's process, and the cast's inspiration for their characterizations.
            Guns, Knives & Explosives – Delve deeper into Gerard Butler's iconic character of Mike Banning, and the extensive training and preparation the actor needed to play a Secret Service agent.
The film will be available on Blu-ray™ with DIGITAL HD and UltraViolet™ and DVD.
Blu-ray™ unleashes the power of your HDTV and is the best way to watch movies at home, featuring 6X the picture resolution of DVD, exclusive extras and theater-quality surround sound.
DVD offers the flexibility and convenience of playing movies in more places, both at home and away.
DIGITAL HD with UltraViolet™ lets fans watch movies anywhere on their favorite devices. Users can instantly stream or download.
For artwork, please log onto our website at www.uphe.com
Website: http://uni.pictures/LHF
Trailer: http://uni.pictures/LHFTrailer
Facebook: https://www.facebook.com/LondonHasFallenOfficial
Twitter: https://twitter.com/londonfallen
Instagram https: https://www.instagram.com/londonhasfallenmovie/
Hashtag: #LondonHasFallen