Who else is excited for DreamWorks Kipo and the Age of Wonderbeasts. Well you don't have long to wait anymore and we have a great new trailer for you.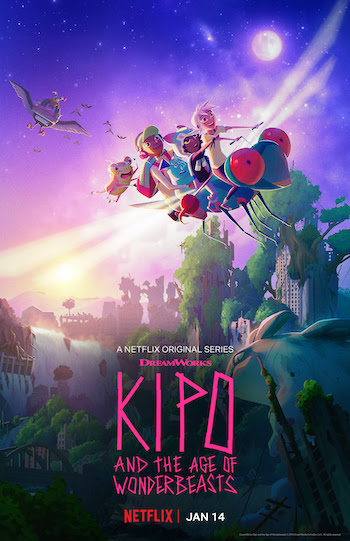 DreamWorks Animation Debuts Trailer Introducing Exciting New World Of
Kipo and the Age of Wonderbeasts
10 fantastical episodes premiere exclusively on Netflix January 14th
After spending her entire life living in an underground burrow, a young girl named Kipo (Karen Fukuhara) is thrust into an adventure on the surface of a fantastical post-apocalyptic Earth. She joins a ragtag group of survivors as they embark on a journey through a vibrant wonderland where everything trying to kill them is downright adorable. The series is created and executive produced by Radford Sechrist (How to Train Your Dragon 2) and executive produced and developed for television by Bill Wolkoff (The Man Who Fell To Earth).
The exciting trailer introduces Kipo's post-apocalyptic, weird and whimsical setting as she's separated from her family and must learn to navigate a peculiar and dangerous surface world full of absurdly cute, but deadly creatures! Luckily, she won't have to do it alone!