Welcome to our Holiday Gift Guide.  We have a little of everything for everyone.  All items were given to us for consideration for the Holiday Gift Guide.  This post does contain affiliate links
Globber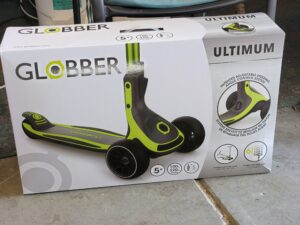 OMG these scooters are so much fun and I love that they make different shapes and sizes for  everyone in your life.  I might even get little guy to get on this one. Globber has the best scooters on the market to get the little ones rollin' in style this Holiday season. From the Explorer Trike 4in1 that grows as kids grow from 10M-5Y to the Ultimum which is the only 3-wheel scooter on the market suitable for kids, teens AND adults – Globber is the perfect gift that keeps on giving!
This is such a fun game to play.  If you are a unicorn collector like me they are a must have for a fun game and for your collection Gift your kiddos an adorable reversible mood plushie and/or the Unstable UnicornsGame this holiday season! Unstable Unicorns is a strategic card game that will destroy your friendships but in a good way. The game was one of Kickstarter's top 100 most backed projects of all time and has sold over a million copies worldwide. What child doesn't love interactive games?
Tee Turtle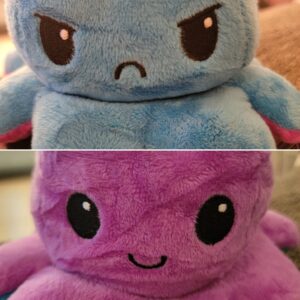 I love this little guy.  The Reversible Octopus Plushies is not only adorable, but my son loves to use him to let us know what kind of mood he is in.  He is a perfect plushie for your collection. These octopus mood plushies are Available in a wide range of vibrant colors and are fun gifts for the little ones. Collect them all! TeeTurtle makes reversible unicorns, narwhals, cats, dogs, pandas, turtles, and more, in tons of different colors!
Adventure Force
A must have for the Holidays.  We have so much fun with these on Christmas morning the whole family has a blast. I love the Adventure Force blasting guns.  We have so much fun with them and I love that the loading on them is so easy.  Even little guy can use them and have a blast.
Lash Spell
Anne Cate
  3 Wishes
Create On
PinXies
 Filthy Rich Lawyers
ZipLinx
GeoMag
  These are the Christmas movies I grew up with and I am so excited that little guy gets to watch them with me. mNEWLY RESTORED ON BOTH 4K ULTRA HD AND BLU-RAY™ OWN THE BRAND NEW 4K ULTRA HD COLLECTION AND SINGLE 4K ULTRA HD FROM UNIVERSAL PICTURES HOME ENTERTAINMENT INCLUDES BLU-RAY™ AND DIGITAL CODE
 Banana Phone
Bug Hunter
Crisbi SmartMat
Ok this was just awesome the perfect gift for any cook.  It is not only a hot pad but it will also hold your phone or tablet while you are in the kitchen.  I am in love with this. Dual-purpose as a table, counter mat, or device holder. Use as a stand for phones/tablets or as a mat for hot pans. Features different-sized grooves at various angles for your phone or tablet . Easily follow a recipe online, read the news, or watch TV Price: $49.95 – cribsi.com
Moso Natural Air Purifying Bag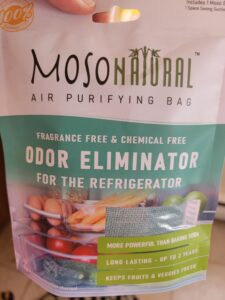 If you have a cook in the family these are a great stocking stuffer.  No more weird odors in the fridge . The Moso Bag is versatile and can be used to purify any space including cars, closets, bedrooms, kitchens, living rooms, offices, shoes, sports gear and refrigerators. Available in a variety of sizes from 200g to 600g, and in a mini size perfect for shoes. MSRP $10.95 to $22.95. Available on Amazon and Moso Natural
Heat Holders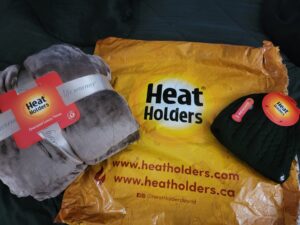 I have loved Heat Holders for many years now.  I am not a person who handles the cold that well.  I want to be warm and toasty and the Heat Holders are perfect for the winters here.  Today it is 30 deg and am cuddled under this blanket toasty and warm .  They have everything from socks to gloves, hats and blankets they are the perfect gift for the cold person in your life .
Sugar Scents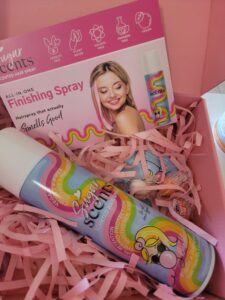 All I got to say is where was this in the 80's .  The Sugar scents is a finishing spray and it smells so good.  Now when I spray my hair I dont smell like a bunch of chemicals.  It smells like bubble gum and I love it.  Sugar Scents hairspray is the must-have hair tool to keep up with modern-day hair needs, all while smelling divine. No more strong alcohol fumes or hazy clouds that do damage to our lungs. With Sugar Scents, you get hairspray that envelopes you in great-smelling fragrances that are also helpful to your luscious locks.
Happy Nuts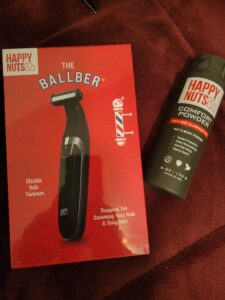 ok first of all I love the name.  I can't help but giggle a little when I hear it.  Happy nuts has a wide range of products for the man in your life. Get everything for your mans grooming needs, plus they  proudly partnered with the Prostate Cancer Institute at the National University of Ireland – Galway to provide funding for scientific research to cure prostate cancer.
DoodleJamz BrightBoard (Sky Castle)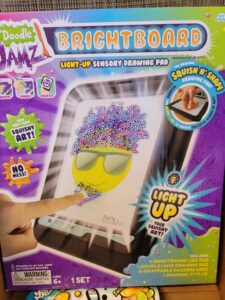 How coo is this a light up doodle board for your little one Amid the explosion of ASMR and sensory hashtags on social media comes DoodleJamz – a line of hand-held squish 'n shape drawing pads. Think Woolly Willy in the 21st century! And just in time for the holidays you can light up your DoodleJamz designs with the new DoodleJamz BrightBoard. The hand-held light-up case is compatible with both DoodleJamz Jelly Pics and DoodleJamz Jelly Boards. Frame your designs, light them up, and use the kickstand to display your designs vertically or horizontally. Available on Amazon in October.
Feel Goo! (Hog Wild)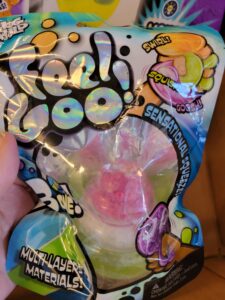 My son is going to love this.  Such a great fun sensory toy for him. – A cool, super-squishy line of sensory plaything from Hog Wild Toys. Each Feel Goo! hand-held ball delivers a unique combination of sensory sensations –satisfying textures, bright colors, and different sounds. Feel Goo! comes in a variety of shapes from spheres and ovals to animals and food. Available on Amazon in October.
ChapStick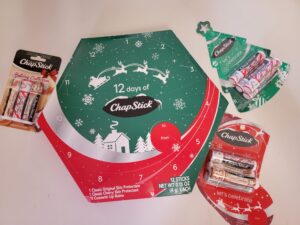 It is not the holidays in out house if I don't have my yearly supply of ChapStick .   When the peppermint comes out I make sure i but enough for the whole year.  I keep them everywhere and when I run out its not a good day for anyone lol.  I can not believe I never knew they had their very own advent calendar I am in LOVE.  You can pick these up at most local stores or get then delivered right to your door with amazon.