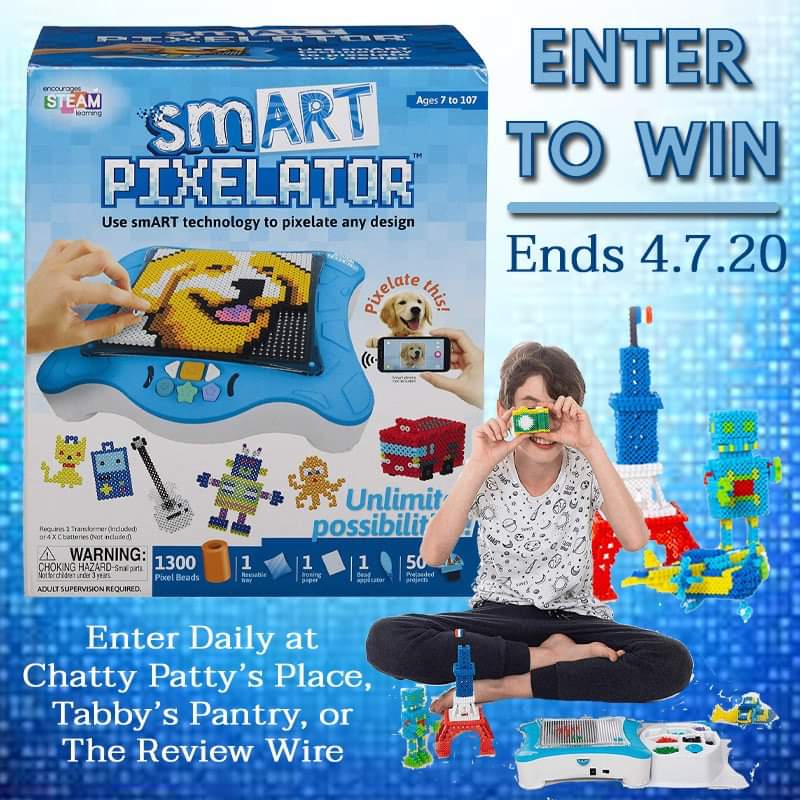 With the recent concerns surrounding the Coronavirus, many families are staying home to avoid potential exposure. But what can you do to keep kids entertained while at home? From fun new games to arts and crafts to even the latest shows, below please find an assortment of fun games, toys and programs that will keep your family entertained during your time at home. We also have a great giveaway below for a SmART Pixelator , so be sure to enter!
ENTERTAINMENT
Everyday Edisons
Before there was Shark Tank, there was Everyday Edisons, the original and hugely successful Emmy award-winning TV series featuring real inventors and their brilliant ideas… and it's BACK with eight new episodes, four judges and 24 new inventors who are ready to change the world with their ideas. Currently streaming on Crackle, Everyday Edisons connects inventors with a team of proven mentors, who provide invaluable advice in advance of their pitch before a panel of judges. The series, which first aired in 2006 on PBS and ran for four consecutive seasons, is being brought back by Chris Ferguson, the CEO of Edison Nation along with the original show producer and 23-time Emmy Award-Winner, Michael Cable and Louis Foreman, the founder of Edison Nation, returning as lead judge.
STEAM TOYS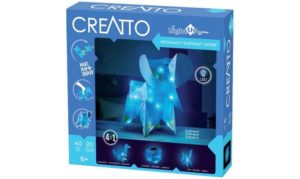 Thames and Kosmos CREATTO™ Light-Up Crafting™ Kits
Creatto™ is a simple yet versatile building system that consists of just two primary components that can be woven together into countless 3D creations. The flexible yet durable plastic tiles interlock quickly and easily for all skill levels; no additional materials or hardware required! Each Creatto kit includes assembly instructions for four different configurations, but the possibilities are limited only by your imagination. Add strings of colored LED lights to illuminate your works of art from the inside out. Creatto is available in 3 fun sizes: mini, medi, and maxi. Kids can choose to build: Moonlight Elephant Safari: Ages 6+ MSRP: $9.95; Magical Moose & Forest Friends: Ages 6+ MSRP: $9.95; Starlight Kitty & Cutie Crew: Ages 8+ MSRP: $19.95; Shimmer Shark & Ocean Pals: Ages 9+ MSRP: $29.95; Sparkle Unicorn & Friends: Ages 9+ MSRP: $29.95.
Magformers Amazing Rescue 50-Piece Set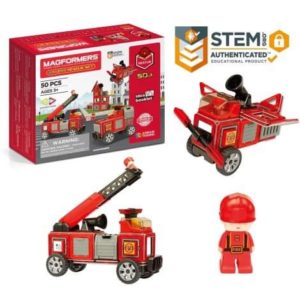 Click and create your own adventure with Magformers AMAZING Rescue 50-Piece Set! Magformers are a magnetic construction toy where the possibilities are endless. Build and create your own fire adventure. Build a fire station and fire truck, add wheels and fire accessories. This 50 piece set comes with 24 magnetic pieces, 2 characters and emergency vehicle accessories and much more to keep the city safe.Ages 3+ MSRP $59.99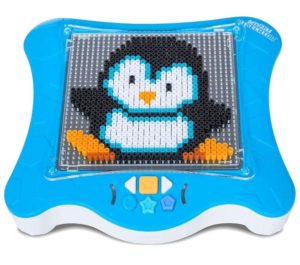 The smART Pixelator empowers kids to design and build 2D and 3D projects using Bluetooth connectivity, easy-to-follow lights, and smART Pixel Beads, Sequins or Pegs. Right out of the box, kids have a choice of creating 50 step-by-step designs using Pixel Beads. A smART Pixelator app and any mobile device also let them engineer their own projects, encouraging customization and experimentation. Additional beads, sequins, pegs, and projects are available to keep the fun flowing. Ideal for kids 7 to 107 years old. MSRP: $59.99.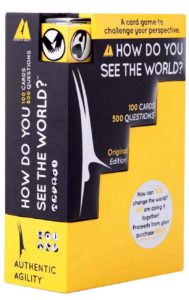 Authentic Agility How Do You See The World
How Do You See the World from Authentic Agility Games is an engaging card game that encourages people to go beyond their comfort zone while truly learning how others view the world by asking important questions. The game includes one dice that will select one of the below five categories. Players then just pull the card and read the question from the associated category. With variations of game rules and suggestions available, this game can be played around the family dinner table, with longtime companions or with your newest neighbor. So whether you want to have deeper conversations in your social circles or really want to connect with your family, How Do You See the World? from Authentic Agility Games will spark the conversation and is an ideal gift for a friend, spouse, loved one or co-worker. Available on Amazon and Authenticagilitygames.com for $24.99.
Bicycle® Standard Index Playing Cards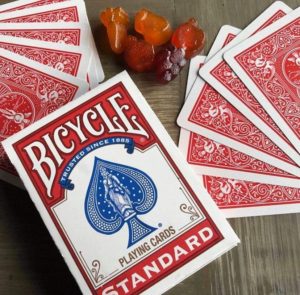 Do you remember learning your first card game? How about winning at an old-fashioned game of solitaire? Or that holiday tradition of Gin Rummy after dinner? Since 1885, Bicycle playing cards have been a part of household gaming. Known for its quality and rich heritage, Bicycle® playing cards have been bringing people together for generations. Every Bicycle® playing card deck is specially crafted so that you can trust Bicycle® cards performance, hand after hand. Great for all card games. Great for all players. MSRP: $3.99.
Nothing to do? Pull up the How To Play App- it has the complete rules to over 75 card games, new and old, written step-by-step – and video too if, you're into that. Visit Bicycle on Instagram
ADULT GAMES
Authentic Why Can't We All Just Get Along?
From Authentic Agility Games is the second game in the series of engaging card games. This unique experience allows people to truly connect through question asking with those you know or wish to know better. In today's divided world, we are longing for a way to communicate and understand one another's perspectives. Why Can't We All Just Get Along? is a tool that will empower every person to have challenging conversations on important topics, such as politics and religion. Get in the game, with respect and without judgment. The game includes one dice that will select one of the following five categories: Reflections, Relationships, Aspirations, Life's Purpose and Beliefs. Players then draw a card and read the question from the associated category and discussion follows. With variations of game rules available, this game can be played with all ages around the family dinner table or with your newest neighbor. Available on Amazon.com, Teen and up, $24.99.
TACTILE FUN WITH SLIME AND COMPOUNDS
Fluffy Cloudz
Fluffy Cloudz is the hottest new slime to hit the toy aisle this year! Sure to ooze children with delight, the colorful, super-stretchy CLOUD SLIME assortment features fruit flavored scents including Berry Blast, Cococraze, Grape Squeeze, Melon Mania, Peach Paradise, and Piney Party. Also comes with surprise charms! Hold it high and let gravity drizzle the slime down. MSRP: $4.99, ages 4+. Available at Target and Michael's.
OMG Jewelry Surprise Balloon Singles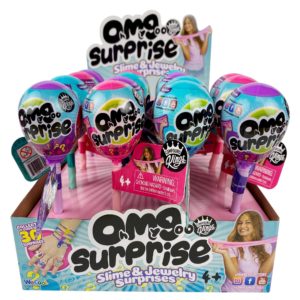 The Oh My Goo, Single Pop balloons are bring and cheerful, each on a stick, are offered in a variety of three great colors- your choice of pink, purple, and blue. Right on trend, these fun pops are filled with glitzy slimy compound and a surprise piece of jewelry! Children will be surprised with a variety of trendy rings and bracelets. Crack open each balloon to reveal your fun jewelry surprise. Collect them all! MSRP: $2.88, ages 4+. Available at Walmart.
GIVEAWAY
One winner will receive a smArt Pixelator MSRP: $59.99.
All entries will be verified. Only one entrant per mailing address per giveaway. If you have won the same prize on another blog, you will not be eligible to win it again. Any person who has won a prize (or whose household has won a prize) in any promotion sponsored by Sponsor in the thirty (30) days before this contest start date is not eligible to win a prize in this contest. Entrants who have created social accounts purely for the purpose of entering Competitions or Sweepstakes will not be eligible to win. All social accounts used must be public.
The winner will be chosen randomly through Giveaway Tools and contacted via email. A reply to the winning email is required within 48 hours before a new winner is chosen. Void where prohibited by law. One person entering per household, please. The Review Wire, Tabby's Pantry and Chatty Patty's Place are not responsible for shipment of prize.