Let's not forget the great gifts for the Home, Hostess, Furry Friends and for family.
Fish Tales Novelty Fun Bookmark Book Mark Reading Page Holder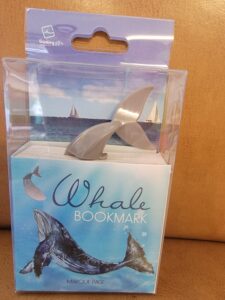 For the reader in your family.  This is a awesome Fish Tale Book Mark.  They come in a few different designs.  I love that they are also perfect for the college student in your life.  They work great and they are a cute way to keep your place in your book. COOL GIFT FOR WHALE LOVERS – Fun Bookmarks to spark readers imagination. Each Cute book mark is made from durable ABS plastic. Designed for Men, Women & all Big Kids. Ideal for Birthdays or Special Occasions.
Bentgo Prep 60-Piece Meal Prep Kit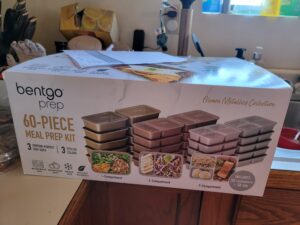 This is a great gift for the house.  This 60 piece set is ready to use and have 3 different styles in the one box.  You can meal prep or store left overs all in one container.  I love that the price is amazing. Bentgo Prep 60-Piece Meal Prep Kit – $29.99 The clean, modern design features a ribbed lid that makes it easy to open and close. Each meal prep container can be reused up to 10 times and is safe to pop in the microwave or store in the freezer. Bentgo Prep is made with food-grade materials that contain no BPA, PVC, phthalates, lead, or vinyl.
Heat Holders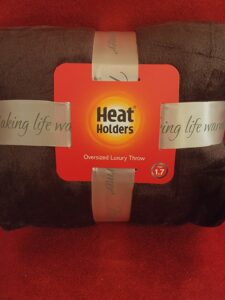 I have been in love with the Heat Holders line for awhile now.  I love winter time, but I am always cold. I live in their beanie and gloves.  This year I will be living under their Heat Holders Luxury Throw.  At least I hope I will be.  When this showed up my mom tried to steel it right away.  That is what makes this a perfect gift for everyone.  It is oversized and helps keep the heat in during the winter.  I can warm up under this cozy throw al winter long.  If I get to keep it.  Buy a few because these make great last minute gifts and a great gift for yourself this year.   They have a few different designs and sizes to choose from so go nuts this year.
X–Mas Tree Plush Dog Toy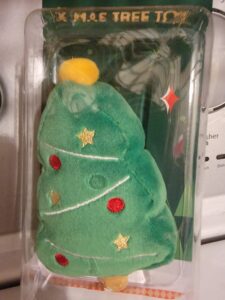 Let's not forget our furry friends.  I love to get my babies X Mas toys and they love to get them. X–Mas Tree Plush Dog Toy ($9.95 USD) from Howlpot featured in your holiday gift guide for pets. It assembles the shape of a Christmas tree, and is fluffy, squeaky, and festively adorable, a great gift to dog parents and their pups to keep the holiday spirit up
dog's bed LAYR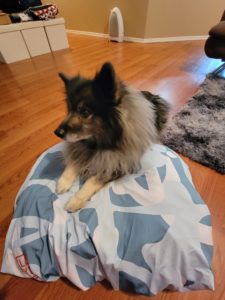 I brought this to Kava and she loved it.  The material was just amazing.  I want sheets made for me. Extend the life of your dog's bed with LAYR, the original dog bed sheet. Bold patterns and fun designs will have both owner and pet feeling good vibes and giving our devoted companions a clean and comfy place to rest. The patterns blend nicely into everyday decor and can easily be changed up and washed, eliminating the textile waste of frequently replacing a dog bed. Every member of the family deserves a clean bed and a good nights sleep.
TickledPet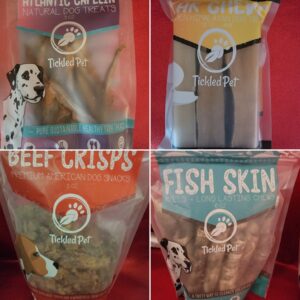 I always love giving goodies to my fur babies for the holidays.  It's funny my babies love all goodies but my moms dog is so picky she's over 10 years old and to this day we have only found like 3 goodies she will eat.  We were floored when this bag showed up and she got all excited.  She has never liked anything fish yet she went nuts for the Cod skins and the Atlantic Capelin.   Of course my dogs loved them too.  The Yak Chews are a perfect stocking stuffer my dogs love them and I could not believe the price when I saw them.  It is amazing. The Beef Lung is a perfect training goodie they are not to big but the babies go nuts for them.  I love Tickled Pet they have a great selection for your fur friends.
Meat District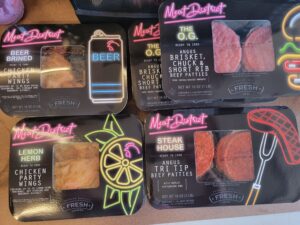 OMG yes a great box of meat for a family gift or even a hostess gift.  I love that you can send them some of the best burgers and wings.  Meat District has a ton to choose from and they taste great.  The wings come in so many flavors and they will be shipped right to you or to the person you are gifting too.  I have had the chance to try a few different of their items and have never been disappointed.  My husband is in love with the burgers hopefully this time I will get one. lol
I Health Covid Test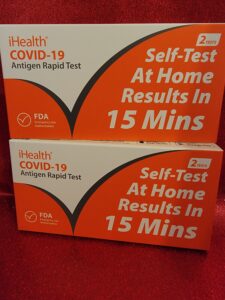 Yes I do believe that having the Covid Tests on hand could really help this Holiday Season.  Some of us have waited a long time to do a big holiday get together, But we still have people that are at risk.  I have been trying to keep these on hand just in case but they are getting so expensive I love this self-test comes in packages of two test kits for $13.98 – $6.99 per test – available today at www.ihealthlabs.com.  I can keep a few on hand and make sure that we are all healthy and ready to party with our friends and family.
Handy Band's
Masks are now a part of our life.  If you are anything like me forgetting it can be a pain.  I know I need one with me, but for some reason I walk right out of the house without one.   I love that Handy Band's come in a ton of different designs.  Then when you don't need it they turn into a wrist band.  So you have it for the next store you go into.  I love also that I can make it into a band and put it around my purse handles so it is always right these.  They are easy to use and they will be right where you put them next time you need it.
Viteyes Blue Light Defender Bundle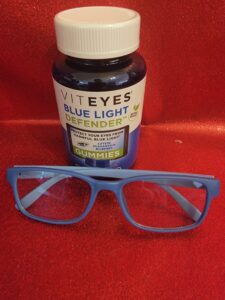 Do you know someone who stared at the TV or computer all day long?  It can be hard on our eyes and after some time it only gets worse.  The Viteyes Blue Light Defender Bundle could be the perfect gift for then this year.  Give the gift of reduced headaches, eye strain and better sleep with Viteyes® Blue Light Eye 360 Protection Starter Kit! Viteyes® Blue Light Eye 360 Protection Starter Kit helps protect your eyes from blue light emitted by digital devices and energy-efficient LED lighting, including computers, tables, smartphones, television and even UV rays! The starter kit includes Viteyes® Blue Light Defender+ supplements as well as Viteyes Blue Light Glasses. Viteyes Blue Light Defender+ is formulated with Lutein and Zeaxanthin, the only natural defense our eyes have to protect the macula from the harmful effects of blue light. Plus, the added ingredient of Astaxanthin helps combat digital eye strain and fatigue. Viteyes Blue Light Glasses reduces eye strain with blue light filtering lenses and are a great first defense to protect the eyes from the negative impacts of blue light.  Price: $29.99
Better Bites Bakery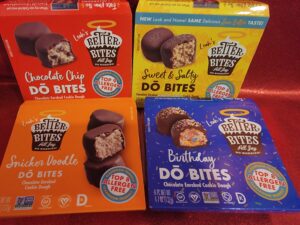 Do you have a few holiday party's to go to this year.  As we all know you should never show up empty handed and with Better Bites Bakery you wont have to.  Not all of us have time to bake the goodies we want o bring why not leave it up to the pro's.  Better Bites Bakery, a delicious line of chocolate enrobed cupcakes, cakes and cookie dough. The  perfect, most delicious gift to give the hostess at all your holiday parties.  They come in a cute package ready to give and they taste wonderful.  these are going to be a great gift for the hostess this year. Better Bites Bakery is gluten-free, dairy-free, peanut-free, tree nut-free, egg-free, soy-free, fish-free, shellfish-free, and sesame-free. They're also vegan and non-GMO! 
Pooping Dog Gnome
I love a cute gnome and the Pooping Dog Gnome is a perfect house warming/Christmas gift for my sister who has dogs.  Sometimes, as this poor gnome knows, you just gotta go. And nothing's stopping this dog from doin' his business — not even a dumb ol' sign.