Groovy Guy Gifts Humidor
This year I really wanted to get him a humidor.  One that he would love and I love that they do personalization.  Anything you want printed on it you can get.  This one is not only the perfect size, but it is really easy to get ready to go. They have a huge selection of cigar accessories you are sure to find the perfect cigar lover gift here.
This one is the Cherry Wood Personalized Humidor.  If the Cherry Wood is not what you were looking for no worries they have a ton to choose from and in every price range.
Hank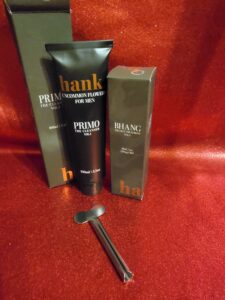 I love giving him great products for the holidays.  Hank as a whole line that not only smells fantastic hubby loves them.  I love that they have a whole line of products for him.  This company was not made for woman and threw out a few for him products.  They took their time and really made a wonderful product.   HANK Skincare tackles the everyday needs of men. The offerings feature a clean, whole-body approach to skincare typically not seen in men's grooming products. The key is in the flowers (yes, flowers for men!). The brand is changing the narrative that skincare is primarily for women. It's about time, right?
Personalized Tactical Christmas Stocking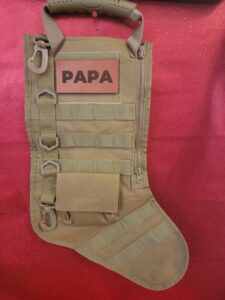 When i saw this the first thing I thought of id my dad must have this.  This is not only a durable stocking but I can put his gif right inside and it makes a awesome gift bag that he can use again and again. Our tactical Christmas stockings can be re-purposed as magazine drop pouches and are MOLLE-style which is used to define the current generation of load-bearing equipment used by the U.S. military and other NATO members i.e. covered with rows of heavy-duty nylon loops that you can attach pretty much anything to. It comes with a leather patch where you can personalize it with your name/message.
Who loves a great Discount Code?
Product Name: Personalized Tactical Christmas Stocking
Promo Code: STOCKINGS30
Discount: 30%
Valid on Black Friday Only
Bacon Scented Gift Wrapping Paper
I could not decided were to list this one.  The one thing I did know if any man on my list will be in love with this wrapping paper. Before you open your gifts, you will be thrilled by this bacon-scented wrapping paper. Who can resist the delicious aroma of bacon? This ultimate Scratch and Smell gift wrapping paper is available in 30″ wide rolls of 8′ long.  Simply scratch and smell to release the majestic aroma of freshly cooked bacon.
Want even better news all they have an awesome discount code Happy shopping
Product Name: Bacon Scented Gift Wrapping Paper
Promo Code: SMELLTHEBACON
Discount: 25%
Promo Valid: Nov-16-2021 to Dec-11-2021
Cornhole game from Creative Brainworks

Hubby Loves Cornhole.  This is a game that he loves with a new twist.  I have to say that when it first came i was truly impressed with the box it came in.  This is going to be a set you have for years.  Cornhole game from Creative Brainworks that is perfect for taking on-the-road in its portable wood carrying box that contains two regulation sized wooden game boards for a full-size outside/yard game. The wooden game set is a familiar toss game with a twist and includes 8 distinctively designed bean cube bags that challenges everyone with a fun, interactive game.  MSRP $79.99 from Amazon.
Step One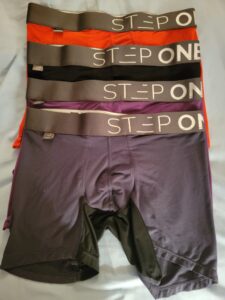 I love giving hubbby new underwear for the holidays.  Step One are soft and come in so many cute colors.  I even keep a few pairs for myself.  Their production processes are designed to minimise our impact on the environment. That's why we are 100% transparent with our process and where our materials are sourced. We aim to have the smallest possible footprint on our environment and have a positive impact on the workers throughout our whole manufacturing process.
Deckchair Bookchair Cook Tablet Holder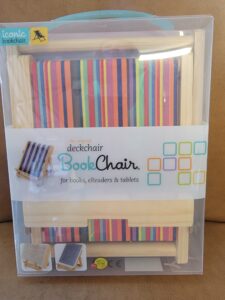 Ok this is just to cute.  It really could be a great gift for any reader in your life.  This Deckchair Bookchair Bookholder  will help hold your book or tablet in spot and its cute.  I love this also love this for recipe books while I am cooking.  HANDS FREE READING – NOW YOU CAN READ, STUDY, BROWSE THE INTERNET, WATCH VIDEOS AND FOLLOW YOUR RECIPE WITH OUR BOOKSTAND, ALL COMPLETELY HANDS FREE.
[PEGAI] Premium Leather Goods
Personalized leather goods is always a great gift for him.  The quality of this Dupage Leather Journal is amazing.  The leather is soft and the gift quality is amazing.  Anyone would be excited with one of their leather gifts. Pegia  is an online leathercrafts brand established in 2017 and is located in Dallas, Texas. They are experts in creating lifestyle products that are useful yet elegant. All of their products are personalized premium goods made of real full-grain leather that is perfect for anyone. Their goal is to help you make a statement through leather in the most authentic and stylish way possible while giving back to the community. Thus, a part of their profits is donated to charities that help the underprivileged with their education and fundamental needs.
Shinesty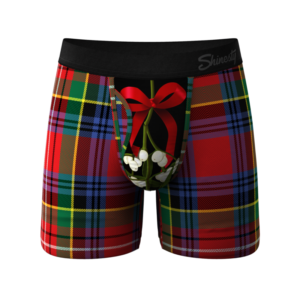 I love getting him cute underwear for the holidays.  Shinesty has a awesome collection and they have ones with fly's or no fly's they also have the ball hammock.  I love that they are Christmas , and they are so soft.  I have gotten him a few pairs and I have to say they also look great on him. (no you can't see) lol.  These are The Kiss Me There and they are adorable. These are a great price or how long they last.  I have gotten hon the 3 pairs for $15 before and guess what they stretch out and I have to buy more in a few months.  These last forever and still look brand new after a year of wearing them and washing them.