Looking for a great gift for the woman in your life? We have some great and unique picks that she is going to love this year. Whether you want to get Your Photo on Blanket or a new perfume for your loved one, it's the thought that counts. No matter what gift you choose to buy, put some thought into it. You can get almost all of your shopping done online, so shopping is easier than ever at the minute!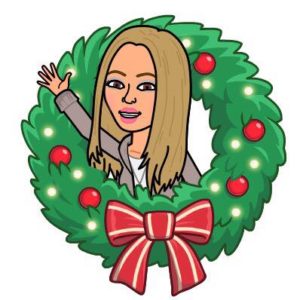 Aera Diffuser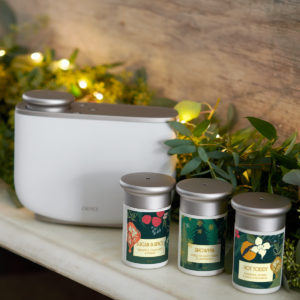 Yes this could be a great gift for anyone in the home. For this guide though I am talking about woman. A lot of us need to learn to de-stress and the Aera Diffuser can help with that. So easy to use and it can even link to Amazon Alexa how awesome is that. If you don't have Alexa you can also get one that will turn on with just a touch of a button. They have different Fragrance capsules you can buy and each one can last up to 800 hours. That is unheard of. Make sure to check them out for the holidays.
Lugz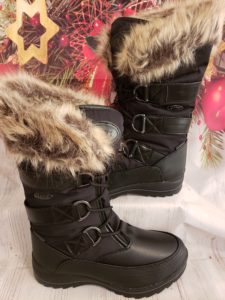 I have to ask what woman does not want a great pair of shoes for the holidays. Lugz has a wide range for the whole family I am in love with the new winter collection. The Women's Tundra 6-Inch Boot is perfect for the cold months and they look fantastic. They have keep my feet warm and even have great traction. Make sure to pick up in a few colors for this awesome price.
Tassel Rue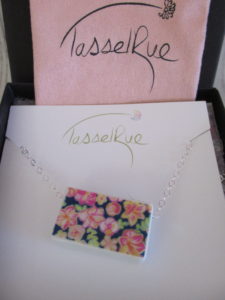 A beautiful handmade necklace that she is going to love. Tassel Rue comes on a Sterling Silver Chain and is made in the USA. The quality of this necklace is fantastic and it comes in a few different designs. See full review here
Heat Holders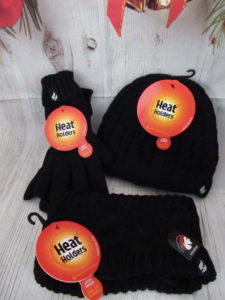 If you girl is like me and always cold then checking out Heat Holders is a must. They have a wide collection of hats, Gloves, socks, and more to help you keep the heat in this winter. When I put on the gloves I was instantly in love. They are so soft I never wanted to take them off. They have a great line with a few different colors to choose from. She is going to love her new cozy accessories this year.
Topfoxx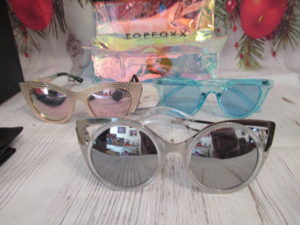 If your girl is like me then Sunglasses are always the perfect gift. I love to change my sunglasses to what ever I am wearing that day. Topfoxx has a great collection that is going to knock her socks off. With so many to choose from and at such a great price you can pick her up a few.
ILLUMINATIONS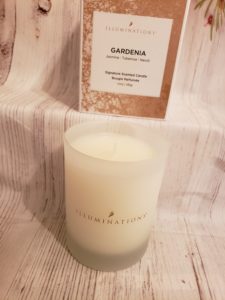 I love getting candles for the holidays. What I love even more is Gardenia. I was so excite to see Illuminations had such a great selection of scents. Gardenia was my wedding flower and this candle not only smelled fantastic, but I have been burning it for over a week now and it looks like it has not even been touched. The design is beautiful and will go with any decor. Make sure t check out their Signature line, which includes classic and new fragrances: Cranberry Orange, Gardenia, Giverny, Indonesian Patchouli Cedarwood, Lavender Fields, Meyer Lemon, Napa Valley Harvest, Pomegranate Cassis, Pumpkin Spice, Rose, Vanilla Spice and Wild Woodlands.
Rogers and Hollands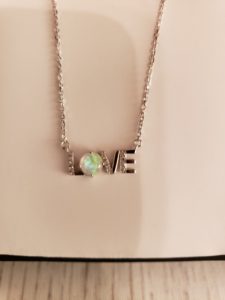 Jewelry is always an amazing gift. I love a great necklace it is always one of my go to for jewelry to finish off an outfit. This Love necklace will show you how you feel and she is going to look beautiful in it. Rogers and Hollands has a wide range of jewelry that you will love. Want even better news? There is still time to get this to you before the Holidays. The perfect gift for that someone special! Make her feel extra loved with this beautiful sterling silver 16-18 inch love pendant featuring a created opal and cubic zirconia.
Project Genius and AMIGO Games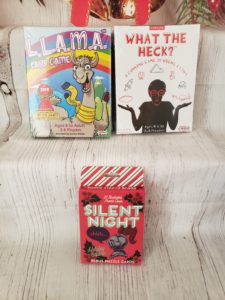 If your girl is anything like me a great night home is always better then a night out clubbing. I love to play some great games and spent time with my family Project Genius and AMIGO Games has a wide variety they your family is going to love. Here are a few they will love Llama , Silent Night, And What The Heck
Watches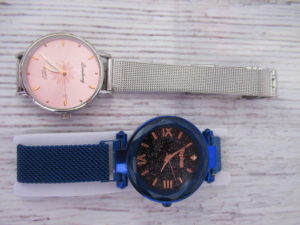 These beautiful watches are perfect for her. they have a few different designs and they are prices just right, Shipping may take a little longer to ship so buy early. They have a nice weight to them and the designs are beautiful. These are going to be a great accessory to any outfit. We loved the Starry Sky Watch A watch where the face looks like the sky at night. The band is magnetic and not a clasp. Works for men and women. Comes in four different colors. Price: $19.99. Upsy Daisy Watch A women's watch with a silver band and the face has a subtle daisy embroidered on it. Hands of the watch look like petals. Comes in five different colors. Price: $16.99
Earrings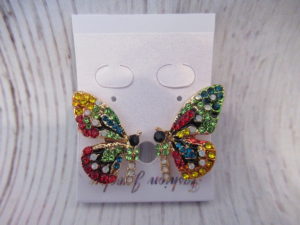 What girl does not love getting jewelry for the holidays. These look like they would weigh a ton but they really don't. The gems in them really shine and catch the light. If your girl loves jewelry and butterflies then don't miss out on these. A pair of earrings each shaped like half of a butterfly. Pictures don't do justice to how it sparkles. Comes in two colors: bright and dark. Price: $15.99
Baja Llama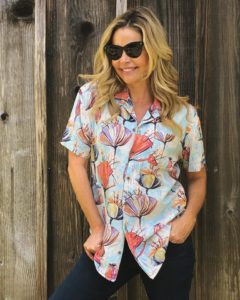 This line was first made as a men's line. Then of course us woman saw it and now we want it too. They have a great line of Baja Llama shirts that the men and woman in your life will love. The material is soft and the quality is fantastic. A huge plus you know I love a company that give back, they give back to organizations that fight against climate change, poaching, and pollution with their super detailed, custom prints
LUGZ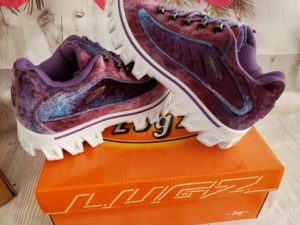 Lugz not only has a great line that is comfortable, but they have great style. I can wear these out and about every day and even pair them with a great shirt and jeans for a night out and they look fantastic. While most other girls feet are killing them by the end of the night I am still comfortable.
HVMN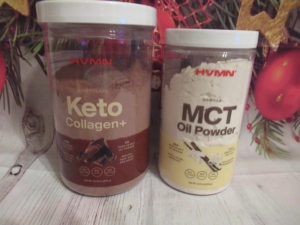 Now I know what your thinking getting a girl Collegen shakes yes men unless you have a fitness girl this is not the gift you get her. Yet a lot of us buy are friends stuff like this for the holidays and they are going to love it. The Chocolate Keto Collagen makes a fantastic shake that tasted fantastic I love to also mix it with the MCT Oil Powder that in vanilla it makes a creamy shake that taste awesome.
Body Mark By Bic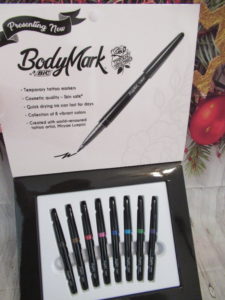 If you are anything like me you love tattoos, yet I can not think of anything I want for a life time. That is where Body Mark by Bic comes in. I can have a new one all the time and the pens are so easy to use. The perfect tool for the festival go-er or at-home artist, gift your creative counterpart with BodyMark by BIC, a temporary tattoo marker that allows you to create designs on your skin without the commitment of a permanent tattoo. Developed with celebrity tattoo artist Miryam Lumpini, these colorful and revolutionary tattoo markers are sure to make your holiday season more bright!
Block Island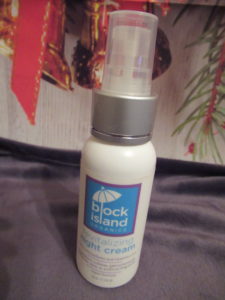 A fantastic revitalizing night cream that goes on smooth and my skin just soaked right up. Organic Revitalizing Night Cream: Packed with antioxidants like vitamin C and E, this organic cream helps nourish and replenish skin. Vitamin C is known for its anti-aging properties and a recent study by Yale University dermatologists suggests vitamin E protects against the effects of sun exposure long after sundown. Featuring gentle botanicals such as cocoa butter, calendula, rosehip, avocado, aloe vera, jojoba, blueberry and more; it revitalizes all skin types.
Ellis James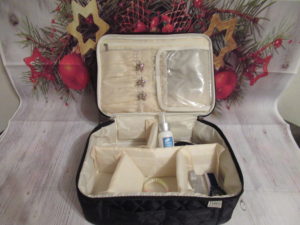 When she travels make sure she travels in style with Ellis James. This makeup bag is perfect for the girl on the go I love that the compartments on the side are adjustable With a harder outside you don't have to worry about everything being squished. Makeup Train Case, which fits everything your beauty regime needs, including your hair straightener! It's perfect to gift to the best women in your life this holiday season.
Yoga Grip Towel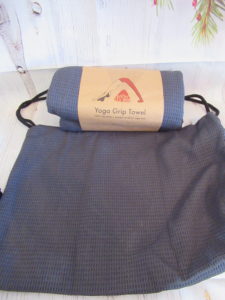 Yoga lover are going to love the Yoga Grip Towel. I love that it can be used in my home or at hot yoga. Its perfect for both, and has a safe color so no matter what she likes she is going to love it. It also comes with its own bag to store in so when you are going to class or yoga in the park just fold her up and be ready to go. Yoga Mat Towel stands out from other yoga mats as it is very durable – it can stand up to 10,000 washes! It is also nonslip so you will not have any trouble doing yoga poses.
Blanket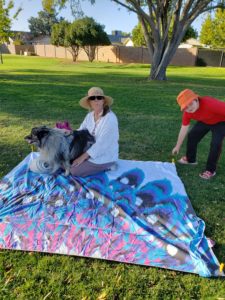 Now of course I love anything from Hawaii and your girl is going to love this blanket for a great picnic out or just reading under the tree. They have a few different designs to choose from and the quality is un-matched. We took this to the park and it has more than enough room for me little guy my mom and Kava. I loved that it has little stakes to keep it pinned down and it had little side pockets to store our puppy goodies. the PERFECT travel companion as it doubles as a travel blanket as well! It is under 2 lbs and compact. The towel itself is made to fit two people and when folded presents an easy carry shoulder strap. If you like the idea of a blanket but want to get something a little more personal, you can Create Personalized Photo Blankets on websites like getphotoblanket.com so check them out! Blankets are a really useful gift to give, so you should definitely consider them for your loved ones this Christmas
Etana Beauty Simplified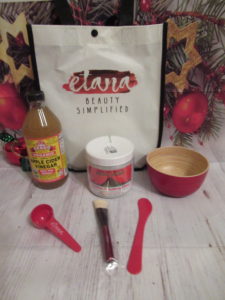 Who needs a spa day when you have do a nice relaxing mask right at home. The Aztec Clay mask is a must have. When you buy the premium set you get the Aztec Secret Indian healing clay, apple cider vinegar and the beauty tote bag. Etana Beauty brand that includes the VERY well known Aztec Secret Indian Healing Clay (the highest rated product on Amazon's beauty channel) along with a bottle of Bragg's Apple Cider Vinegar, which, when combined makes for the perfect pH balance for your skin and makes an incredible mask that draws out impurities from the skin. The kit also includes a bamboo bowl (sustainable), a measuring spoon, a mixing spoon and a brush to apply to the face.
USANA CELAVIVE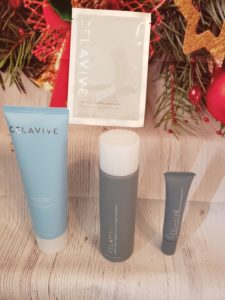 I love to find a great skin care line. Celavive has a great line that I fell in love with. The creamy foam cleanser was fantastic. I also got to try the Perfecting Toner, Hydrating Sheet Masks and the Eye Essenc. I loved them all. I have sensitive skin and none of these gave me a reaction. My face has never felt more clean. This is a great skin care line your woman is going to love. They have a wide range of products so no matter her skin type they have the perfect set for her.
Number 4's Virtue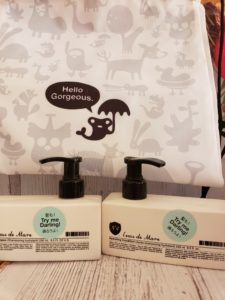 We got the Hydrating Shampoo and Hydrating Condition 8.5 oz with Le Belle Back Pack. The first thing I noticed was the smell of this set. It has a slight flower smell it is beautiful. This time of year everything needs hydrating but especially my hair. I loved this hydrating set and any woman would be excited to get this as a gift this year. All Number 4 High Performance Hair Care Holiday Gift Sets include a mix of Hydrating, Volumizing, Styling and Essential products with Anti-Aging, Color Protecting, Vegan, Paraben/Gluten/Sulfate Free formulas, fine fragrances and organic botanicals, and are available at fine salons & spas nationwide and online at www.number4hair.com.
Moroccan Magic
Lip balm is always a number one in my book for the holidays. Moroccan Magic has some your girl is not going to want to miss. These are made with Moroccan oil and your lips are not only going to suck it up but they look glossy for a long time. I love how they made my lips feel and had fantastic flavors live Elderberry + Manuka Honey. Make sure to check out the gift sets for the holidays.
Waypoint Goods Travel Scarf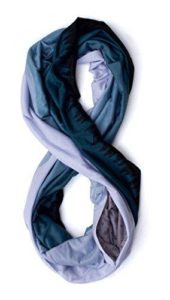 Do have a girl that loved to travel? Then the Waypoint Goods Travel Scarf is going to be a game changer for her. With a hidden zipper pocket its perfect for travel. Keeps you warm, looks stylish with any outfit and a hidden pocket for any of your must haves. Product Description: Introducing the Infinity Travel Scarf // Stylish. Secure. Unexpected. Travel made easier with a fashionable scarf to securely keep your phone, passport wallet, keys and other essentials safely concealed in a hidden pocket.
AQUAMERMAID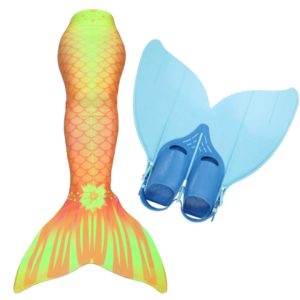 Not only do they have a great line of mermaid tails for woman and kids they also do mermaid lessons. You heard that right you can not buy her a tail and get her lessons so she can swim like a mermaid. AQUAMERMAID has a wide range of colors you can also choose from. This is a great gift your woman is going to love.
SPIRITÚ Fall Box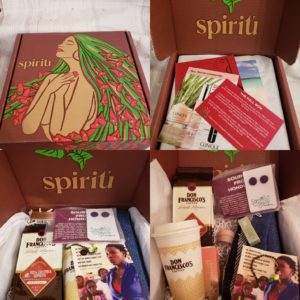 I love to find a great subscription box. SPIRITÚ is a must have the box is filled with goodies any girl would love. This box features $151 in beauty and lifestyle essentials and artisanal products. Each season she can get a new box sent straight to her. In this awesome box we got Michael Kors Wunderlust Parfum, Agavesalt Baja Shawl, Handmade woven earrings from honduras, Papillon handmade bracelet, Clinique Moisture surge, Clinique Moisture Surge eye, Don Francisco's Coffee, and a Don Francisco's coffee cup.
Bathtub Caddy/ Bed Tray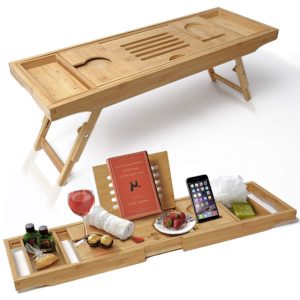 There is two things that I love cuddling in bed and watching a movie, and taking a nice warm bath and relaxing. This Bathtub Caddy / Bed tray fit right in with both of them. I love that it flips open to hold my book or tablet and can hold so many other items. The ultimate pampering experience. It can be also used for the self-employed who work from home and want to catch up on the work from bed or sofa rather than sit in front of a desk all day, or for new moms who can watch a movie in bed while cradling/nursing their little angles.
Cate&Chloe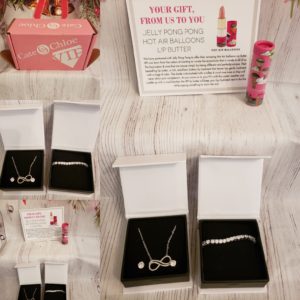 Have you checked out Cate & Chloe if not it is a must. If you have a girl that loves jewelry then this box is a must. You can get a new Cate & Chloe Vip box every month. This box starts at just $19.99 a month. You get a great deal with this. Look at all the beautiful bling you will get. I have been wearing Cate & Chloe Jewelry for over a year now each piece stays beautiful over time and I never had an reaction.
TAVI NOIR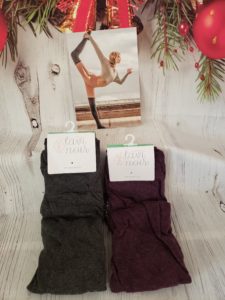 I always want socks, cute socks, comfy socks, yoga socks, and fashion socks I want them all and TAVI NOIR and toesox has so many cute socks you are going to want them all. Both ToeSox and Tavi Noir have special holiday socks for the season that more than live up to needing to be "hung by the chimney with care." They are like putting a glove on your feet when it comes to sport for fitness lovers involved in everything from yoga, Pilates, barre, dance, running and cycling! They also make everyday fashion socks perfect for the season. Now is the time to gift awesome socks and help everyone spruce up their sock drawers. Talking of awesome socks, you can get personalized photo socks for that special someone this gifting season.
Annmarie Skin Care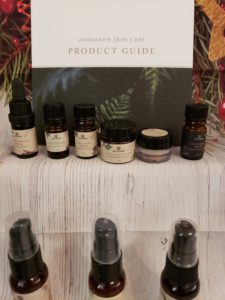 Do you have an organic girl? Then Annmarie Skin Care is a line she is going to love. They handcraft skin care-using organic and wild crafted ingredients-that promises beautiful, glowing skin. The line smells fantastic and works like a dream. I love that it is organic and the bottles are beautiful. They have a wide range of products so no matter your need you will find what you love.
Jbirdstheword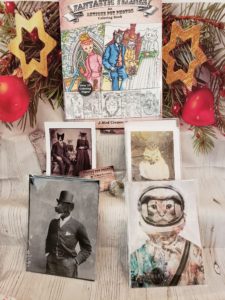 When I first saw these I knew they were going to be a beautiful gift. jbirdistheword has a wide range of beautiful Antique Pet Photos horrifyingly cute animals dressed in Victorian clothing. Several dogs, cats, and wild animals note cards, jewelry, magnets and more. She has a wide collection that any pet lover is going to love. The Cards are perfect for the holidays I love to give great note cards that people can use all year round.
B. STAMPED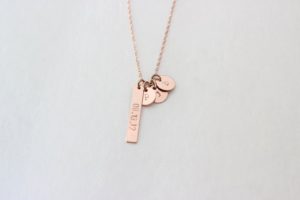 Jewelry is always a great gift for her. B. Stamped has a wide range of jewelry that she is going to love. You can get Gold, Sliver, necklaces and even fishing lures. If you are looking for a great gift that you can make special just for her then make sure to check them out.
Travel Jewelry Case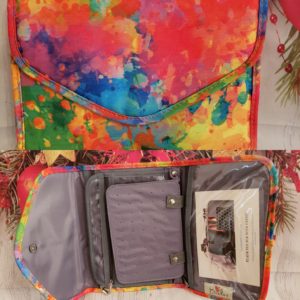 When traveling there is so much we have to pack. Jewelry is so hard to pack and keep organized. With this great Travel Jewelry Case she can be ready to go at any time. It is available in four unique styles and the cost is under $25. They have a wide range of travel products you are going to love make sure to check out brleox
Passport/Credit Card Holder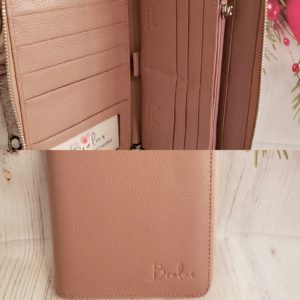 As you are getting ready to travel make sure to keep all your documents in one place and secure. The Passport/ Credit Card holder can keep everything you need safe and secure. Holds several travel documents, bills, and change with zipper,. Features genuine grain leather w/ RFID Blocking – a must for travelers! They have a wide range of travel products you are going to love make sure to check out brleox
NatraCure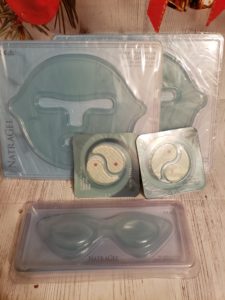 I have been a fan of them for years. They are a must go to company if you have pain or just need to relax. They have a wide range of product that help sooth your body. They are not only a company that makes great products they also care about the people that are buying from them. They truly do care. NatraCure was born out of a desire to develop superior solutions for people who value natural therapies and live active lives. But as we've grown, so has our mission. We've dedicated ourselves to the total Wellness Journey.
Fracture glass photo prints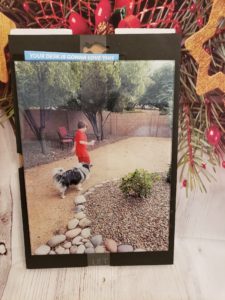 Photo's are always a fantastic gift for the holidays. We seem to always overlook that fact that our patents, grandparents, even us want the actual picture not just a digital copy on our phone. Fracture glass photo prints makes it so easy to order the print you love and it turns out beautiful. I ordered this one for my mom from my phone and it took like 4 minutes. You simply upload your image to fracture.me, pick the preferred size and have it printed directly onto durable, frameless glass shipped in a cool eco-friendly package ready to mount with a single screw that's included.
Carry On Approved Travel Case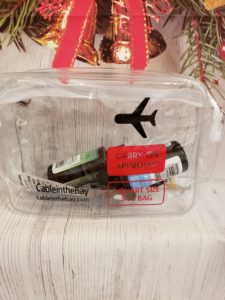 When the law's changed for traveling a lot of us woman were in trouble. We want to do just a carry on, but we have liquids that we need to bring. Of course men do too, but our makeup alone could set off the alarms. Off to the store we went to buy a ton of quart sized bags. Now we can but a Carry-On Approved court size bag that is a forever bag. It's see threw and you can get everything in there, just toss of the belt as you go by security and you are ready to go. This is must for the traveler in your family.
Blacknot Farm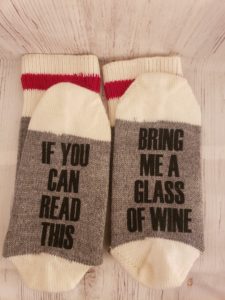 How cute are these socks. Get home at night kick back relax and let him know you really need a glass of wine. Blacknot Farm socks are not only comfy they are also warm. If You Can Read This Bring Me A Glass of Wine Printed Wool Socks long wear printed words high quality work socks warm and soft 50% wool, 25% acrylic, 25% nylon blend Made in Canada also available in 100% cotton
Sojourner
It's amazing how all the fashions always come back. I remember having a fanny pack in all the different colors. Now you can get them again, yet now they are amazing with more pockets and upgraded designs. I have always loved that they are hands free. Fanny Packs are back girls and you are going to want one to match every outfit.
Original Light Up Scarf™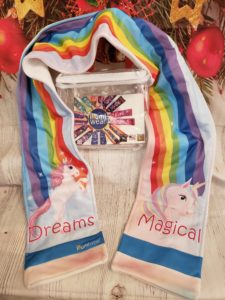 I can not tell you how much I love the idea of a light up scarf. Its getting cold, but I still want to head out at night and this Light up scarf is perfect. Of course I had to have the Unicorn Light Up Scarf. They are beautiful and have a wide range of designs. Well that's what I do I know other go our for other reasons. lol A scarf that is designed to stand alone on its looks and quality but has a 'surprise' in its LED light system inside that is just a click away. Full on, slow flash and fast flash and are powered by a rechargeable mini processor meaning no batteries to buy or replace. Made in the USA, Marthasville, MO to be exact.
Coastal Scents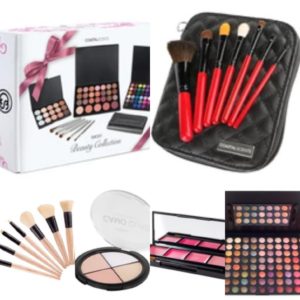 Do you have a girl who loves her makeup? Coastal Scents has a great collection that she is going to love. Even better they have great prices you can get them a few collections they are going to go nuts for. Check out the full review here
Fuzzy Babba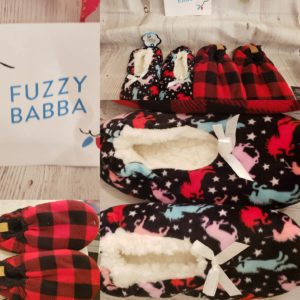 OMG I can never get enough fuzzy comfy items for the holidays. Fuzzy Babba has a great collection for the whole family. Of course I fell in love with the unicorns. They are comfy and the quality are fantastic. These are going to last me all winter long.
Mantra Medallions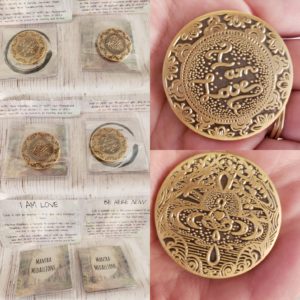 I can't even begin to tell you how much I love these. They are heavy and the designs on them are beautiful. They have a whole line to choose from. These are going to be a fantastic present topper or even a gift on their own. They are beautiful. Mantra Medallions, which are pocket-sized reminders that you, your family and friends can use to cultivate love, healing and peace. Mantra Medallions can be used to set your intention for the day, for your yoga or meditation practice, or to keep as a prompt to return to the present moment. They retail for $25, and can be customized for larger orders