I partnered with The Hopping Bloggers for this sponsored Holiday Gift Guide.
I don't know about you, but when it comes to shopping in our home finding the perfect gift for him is so hard. We have come up with a great list of gifts that he will love. We have found some unique gifts that you would have never thought of. Don't forget to also look for great coupon codes. Why not save a little while shopping.
Jord Wood Watch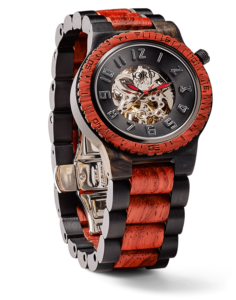 Jord wood watch's are beautiful made. No matter who your man is you will find the perfect watch for them. Head here to start shopping
Power Perch
The Power Perch makes it easier than ever to conquer the challenges of organization. This is an easy way to organize for the men in your life that hate organizing. This sturdy shelf is held in place with your existing outlet cover (no additional holes needed), and allows you to add storage space anywhere there's an outlet. He can use it to charge his phone, tablet, shaver, or any other tech devices that will fit on this handy little shelf. He can use it anywhere he needs a little extra space! Add a shelf to any outlet with Power Perch! (fits all vertical single outlets and requires no additional hardware).
Get it on: StorageTheory.com or Amazon.com
COUPON CODE: with code HOPGUIDE20 Readers will get 20% off any Power Perch products through December 31st when they use this discount code at checkout on the Storage Theory site.
Craft Beer Subscription Box
Southern Scholar Subscription Box
Give him the look of a lifetime with this subscription box. With dress socks that keep him warm, comfy, and stylish – this is the perfect holiday gift for the men in your life this year! And, it's a monthly subscription box, so it's a gift that keeps on giving!
Brand description: Superior dress socks + our Signature Style Card delivered to your door each month. Unlike other sock subscriptions, we provide high quality, professional dress socks that will keep their place and keep you comfortable throughout your entire workday. Each pair accompanied with style tips on how to pair them to get the most out of your look!
Get it on: SouthernScholar.com Coupon Code HPHOLIDAY will give 50% off your first box
BALLHAWKS Golf Ball Finding Glasses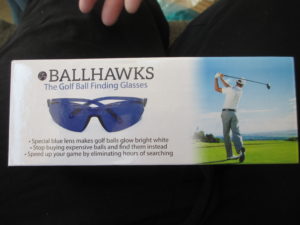 Buy your own BALLHAWKS here See the full review here
Echo Plus
Echo Plus is a hands-free speaker you control with your voice, with a built-in smart home hub. It connects to the Alexa Voice Service to play music, ask questions, make calls, provide information, news, sports scores, weather, and more-instantly. All you have to do is ask.
Echo Plus has 360° room-filling sound powered by Dolby, and can hear you from across the room from any direction. It is always getting smarter as Alexa continues to add additional features. With a built-in smart home hub and simple setup for compatible connected devices, starting your smart home or integrating into your existing system is now easier than ever.
Get it on: Amazon.com
Fitbit Ionic
Give him a gift that will keep him moving all year long and stylin' for every kind of event. Get a watch that gives you more with Fitbit Ionic-a motivating timepiece packed with fitness guidance, health insights, music storage, apps & more. A health and fitness first platform, Ionic offers a highly personalized experience not previously seen in other smartwatches. Ionic builds on Fitbit's health and fitness expertise with a new relative SpO2 sensor, making it possible to track deeper health insights like sleep apnea. Speaking of sleep apnea, if this is something that you have been living with for a while, but are not sure on how to get this treated, it may be within your best interest to visit a Dentist in McAllen (or one closer to where you live), as they will be able to help give you the advice you'll need in order to get this treated in the best way. You might not have thought about visiting a dentist about this issue, but you may find that this could be the answer to your sleep apnea related issue. Additionally, if your smartwatch has picked up on this. You can treat it. In most cases, a mouthguard can fix the issue, and you can get one for less than $50. In the future, industry-leading GPS tracking, on-device dynamic workouts, improved heart rate tracking, and water resistance up to 50 meters. Plus, smart features like contactless payments, on-board music, smart notifications, and a variety of popular apps and clock faces available in the Fitbit App Gallery. Ionic also has all the core features our users love from Fitbit like up to 5 days battery life, automatic activity and sleep tracking, and cross-platform compatibility! If you have a Fitbit watch but have not used it in a while, after choosing to install a new band on your fitbit charge3 device could help you realize that having a device like this may make a difference to you leading a healthier lifestyle.
Get it on: Amazon.com
Braun Series 9 Wet & Dry Shaver
Braun Series 9 electric shaver is our #1 shaver – providing unmatched closeness and unprecedented skin comfort. The perfect combination of efficiency and skin comfort can be found with our #1 shaver. Choosing the Series 9 means you are choosing today's standard of excellence in both – an efficient and gentle shave
Get it on: Amazon.com
Mystery Tackle Box
The Perfect Gift For Any Angler! Know a fisherman but don't know fishing? Most people wouldn't think of stepping into the world of fishing when it comes to gifts …enter Mystery Tackle Box. MTB has the perfect gift option that all anglers will love! The best part is you don't need to know a thing about fishing to give the gift of fishing this year. Here's is how it works.
1. You purchase an MTB gift certificate. Quick, easy, done.
2. Your gift recipient then creates an account and tells MTB what fish species they like to fish.
3. MTB sends a curated box of baits to them each month based on their fishing preferences.
4. They receive their first box within 10 days of signing up.
5. You win the "gifter of the year" award, which hopefully includes hugs and free food & drink of some type.
Visit MysteryTackleBox.com on Black Friday and Cyber Monday for their big Holiday sale! Use the code GIVEMTB for 5% off all Gift Subscriptions
Mavic Air Drone
We've all seen the hype surrounding the latest in tech gadgets and toys: the drone. Clearly, they are great fun as you control them while they soar through the skies. It's a good gift idea for the big kids amongst your family as there are hours of fun to be had with something like a Mavic Air drone which allows you to get panoramic and 4k images of the land below. It's also light and highly portable so you can bring it along wherever the adventure may take you!
Ninja Coffee Pot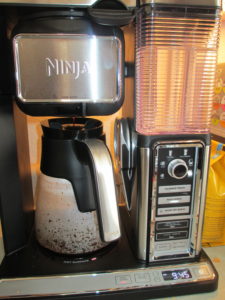 Make sure your hubby is ready to go in the morning with the Ninja Coffee Bar System see full review here
This post contains Affiliate links