Have you been a Scandal fan?  If so you won't have to wait to watch it any time you want.  The final two seasons is coming out on DVD and you won't want to miss adding this to your collection. If you think you have seen it all well we have a surprise for you. Not only does this DVD set have 34 episodes but it also has bonus extras and an extended finale.  You are going to love it.  I cannot believe it has been 7 years and its over.  Time just flew by.  Make sure to get your copy.
SCANDAL S6:  The line between predator and prey dissolves into a struggle for survival in the riveting sixth season of ABC's Scandal. Viewers will enjoy all 16 episodes, as they surrender to the riveting labyrinth of obsessive passion and wickedly decadent fun. Bonus extras include extended episode "Transfer of Power" and deleted scenes.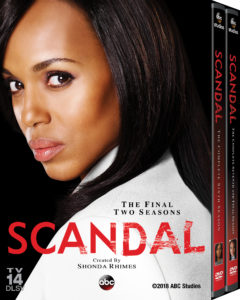 SCANDAL S7:  Savor the last, decadent drops of the most satisfying TV show, Scandal:  The Complete Seventh and Final Season. A new era
begins as Mellie Grant becomes President.  But the real authority lies with the new, self-appointed head of B613: Olivia Pope (Kerry Washington).  Unfortunately, the more power Olivia gains, the more of her soul she loses, until a  battle of wills with Rowan leads to a shattering betrayal. Fans can drink in all 18 alluring, must-own episodes of the groundbreaking final season of television's most seductive drama, plus a bonus extra: extended episode "Over a Cliff" (finale).
Make sure to check out the last season of Once Upon A Time Here
I got this free in exchange for an honest review this post may contain affiliate links